Behind the Camera with Andy Taylor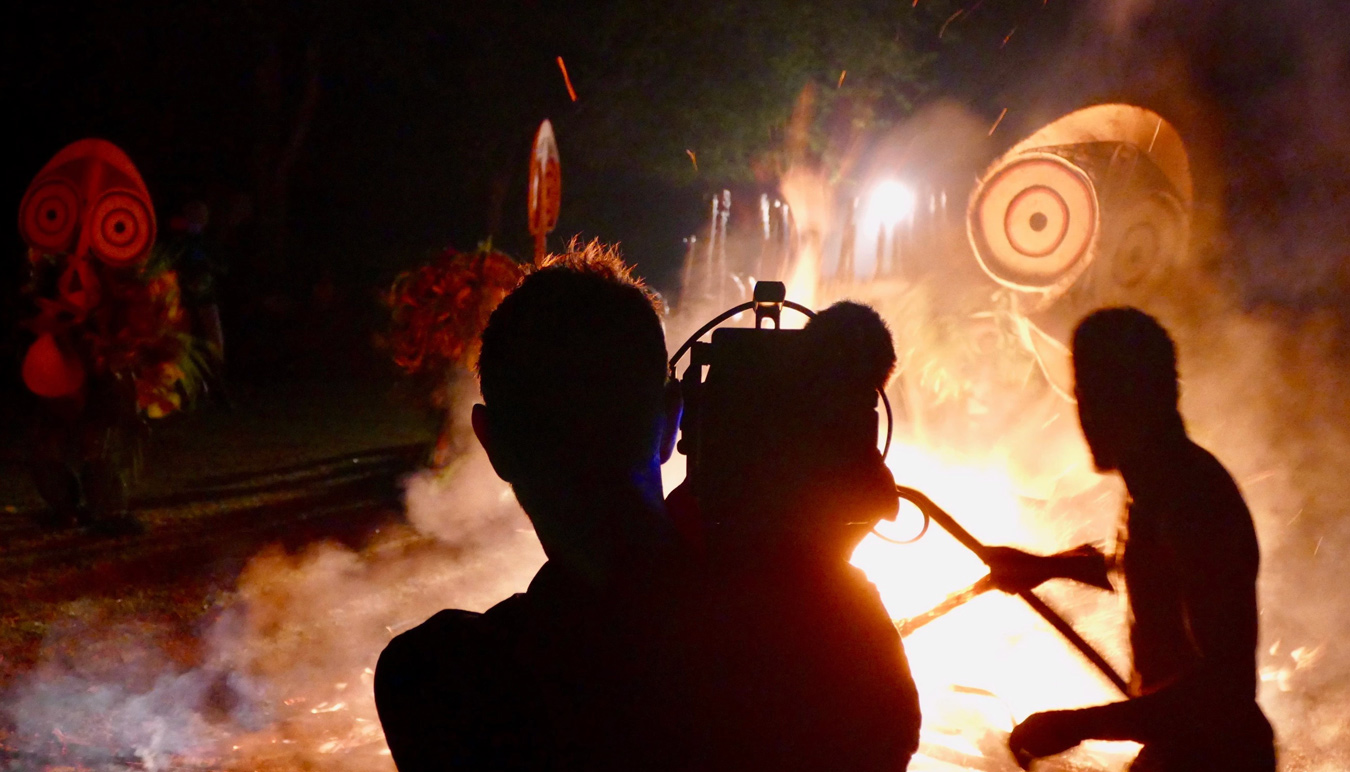 Andy Taylor has swum with leopard seals and four metre crocodiles ten metres below the surface. He's been arrested by the KGB, kidnapped by the IRA, and shot down in a plane. But he has never doubted his commitment to cinematography. 
Motion Imaging Specialist Neale Head caught up with him in advance of his inspirational talk at SUNSTUDIOS Sydney on 25 October. 
RSVP today to secure your place.
What made you first want to get into camera work and cinematography?
I remember seeing a film about a combat stills photographer when I was in year 11 or 12 in high school. And I pretty much went out and bought a camera straight away.  After school I studied film and television production at North Sydney TAFE and applied for jobs anywhere I could.  Eventually in 1986 I landed a traineeship at the ABC at Gore Hill.  They trained me in studio camera work, with an emphasis on picture composition more than any other aspect.
I then ended up as a news cameraman.  My first overseas trip was to the first Gulf War in 1991. It was super dangerous work but I loved it. Next I worked at the Moscow Bureau for the ABC for a year back when there were tanks firing at the parliament building. I moved to the London, still working in news, before returning to Australia and working for Four Corners. I shot about 100 Four Corners stories. Each yarn took about a month to shoot. I started learning about lighting and impressionistic styles for re-enactments. 
After 12 years there I started working at 60 Minutes which was a lot more about travel. I kept that for eight years before going freelance, which I remain.
You have a diverse portfolio. Is there a style or type of work or cinematography you enjoy most?
I enjoy doing a little bit of everything. I prefer to work by myself - I've never had an assistant. Gaffers and grip here and there, but I carry my own gear, lights and control sound. Mainly because most of my work has involved travelling and you have to be self sufficient with your kit, keeping it light, portable and adaptable so you can handle anything that's thrown at you.
Are there any projects looking back that are especially close to your heart?
Look I loved working at 60 Minutes.  Especially doing the adventure stories. We did a massive mixed bag of stories but I used to really enjoy the adventure stuff: Everest Base Camp, North Korea, Kilimanjaro, Antarctica, Kadoka Track. I still enjoy going to slightly dodgy and out of the way places. A 60 Minutes story takes a week to shoot normally. The variety and the turn over always kept it interesting.
I'm proudest of the hard adventure shoots, for example going to Antarctica we were on a small yacht sailing for three days in an absolutely out of control experience. There were eight of us on this little yacht, diving, filming, and looking for leopard seals, which are the apex predator there. The water temperature was minus one degree and we were in the middle of nowhere. If things had gone wrong we would have been in big trouble. But the pictures were unbelievable. And when you look back over the cut story you can feel like you own the whole yarn it's rewarding and fun.
What changes have you seen in the industry over the course of your career?
I think the biggest is affordability of technology. The equipment available today makes it possible for anyone really to pick up a Canon 5D and go out to create amazing pictures. You see what is pumped out by people who don't have a bucket of experience – some of it is pretty impressive.  So it can be hard to justify charging what I charge per day – it has an impact on budgets.
When I started the only outlet was broadcast TV unless you were shooting a film.
Now there is Facebook, Instagram and YouTube. So the demand for content is way higher. And budgets are much lower.
Do you think that craftsmanship has suffered from lack of education/training? 
When I started in cinecamera at the ABC, everyone was an assistant for years and you learnt from the ground up, earning your stripes. To be able to shoot something yourself was out of the question until you could prove you could do it and that you looked after the gear. I think that is gone now. Everyone is a bit more blasé about the gear they use and the craft of photography.
It is really easy now to call yourself a cinematographer or photographer and printing a business card, spending a few thousand dollars on gear. I don't think it is as easy to learn. Free education has now become private colleges and while online education is widely accessible there is also a lot of misinformation out there.
Anything uplifting about the future of cinematography?
The gear is amazing. The cameras are unbelievable now. The HD cameras that used to cost 80-100K a few years ago now you can pick up something better for under 10K. The sensors are better; the tech that assists you in operating is amazing.  Some people say it's expensive to invest in gear but I look back and to me its very affordable.
After all the risk and drama in your career, has there been a moment when you've considered a change?
I actually never ever thought of it. Because I can't think of a single thing I'd prefer doing or what I would want to learn how to do. It's too late for me to become a dentist! I still love what I do and every day is different. I don't have to wear a suit or work 9-5.  I can say yes or no to projects. This is the only thing I could ever do.
SUNSTUDIOS is proud to announce we are now an authorised reseller for ARRI Mechanical Pro Camera Accessories. To celebrate, we are hosting an Inspirational Evening with Andy Taylor ACS as he takes us through his illustrious career, sharing insights into his shooting techniques and workflow. RSVP today to secure your place.