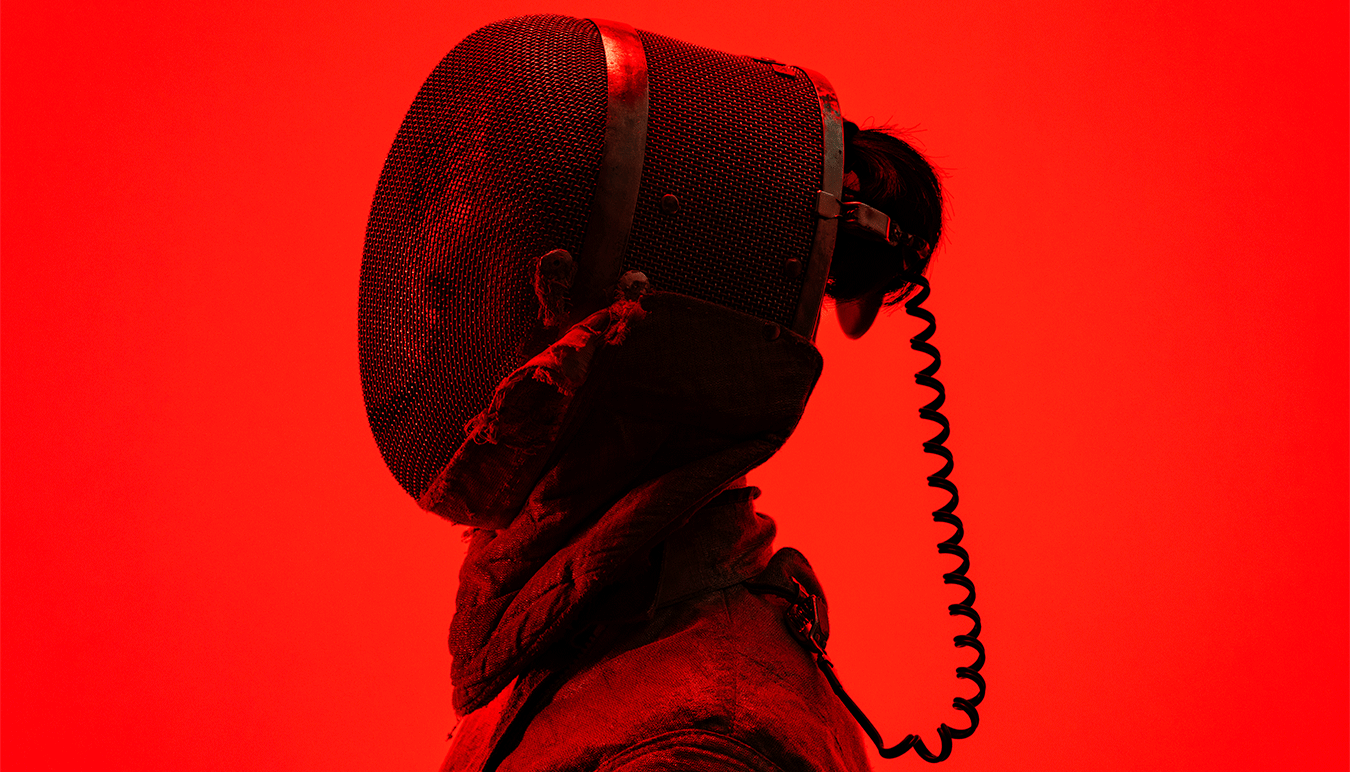 Made and curated by photographer Tim Jones and creative director Jason Little, The Battle introduces world-class athletes to some of Australia's most renowned artists and illustrators — bringing to a life a new representation of one sport each year. The inaugural exhibition launches at SUNSTUDIOS Sydney Atrium Gallery on February 13. Continues until February 29.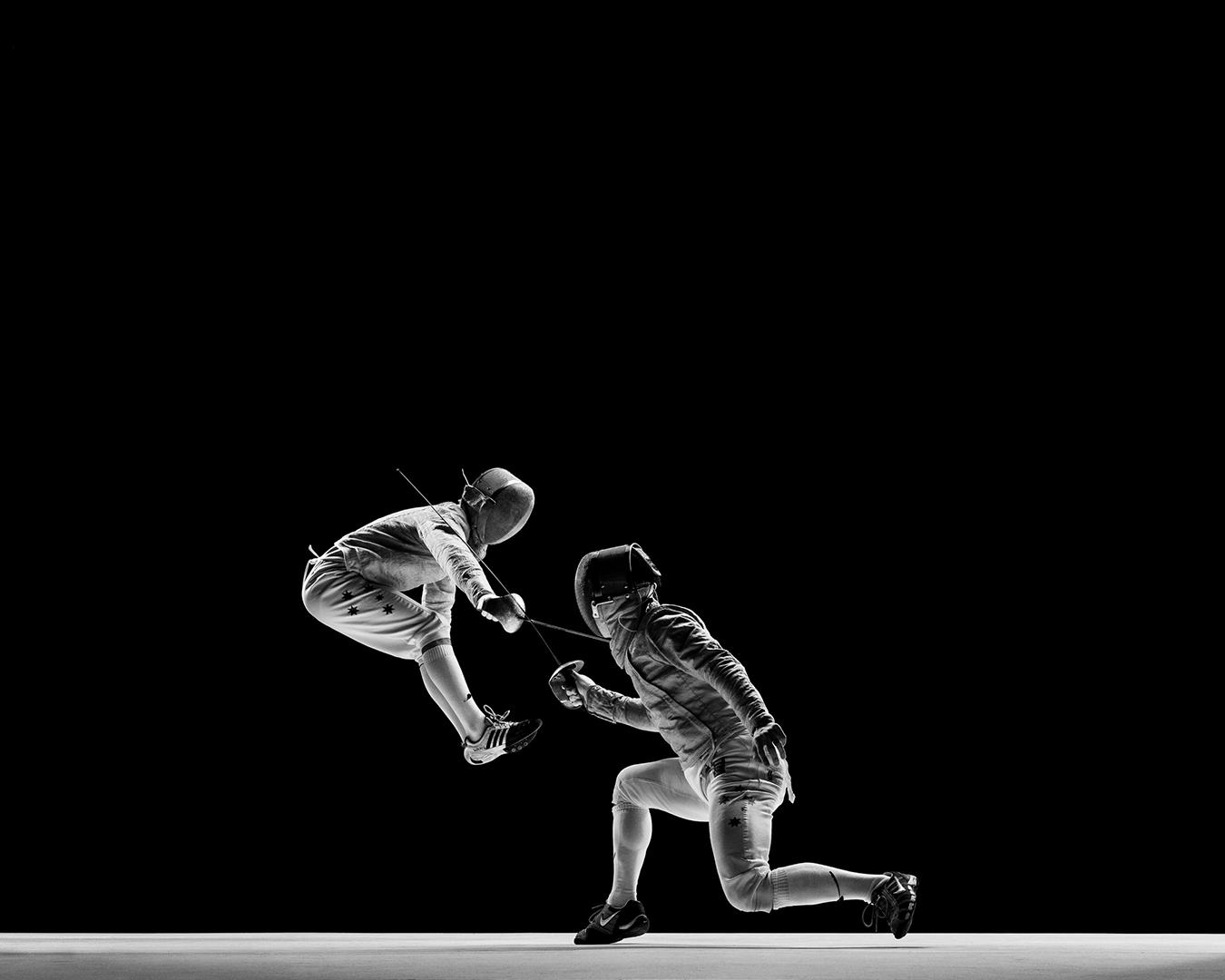 This exhibition is a huge effort and collaboration between photographers, other visual artists and designers. How did this journey begin and grow?
Tim: The journey began far away from this project, to be honest, my sense has always been to connect the body of personal work I do with causes that have meaning to me personally.
I was recently in close proximity to support my mother (and father) whilst she was dying, while this was a deeply emotional time, it was also a time of seeing first hand the wide spectrum of care people require in this stage of cancer, and the stages prior too. So teaming with an organisation such as Chris O'Brien Lifehouse was a natural fit.
As far as the actual content I've always had an interest in shooting sport in a studio environment and I ran a few tests with local fencing club Sydney Sabre.
I loved the stoicism of the characters and the aesthetic the studio offered. It felt like something from a Manga comic — I loved the people and I loved the action.
I partnered with a dear friend and undoubtedly the most talented and reputable creative I know: Jason Little. Jas is a fantastic designer, full of great ideas, and a complete optimist — he lead the way to invite artists to collaborate.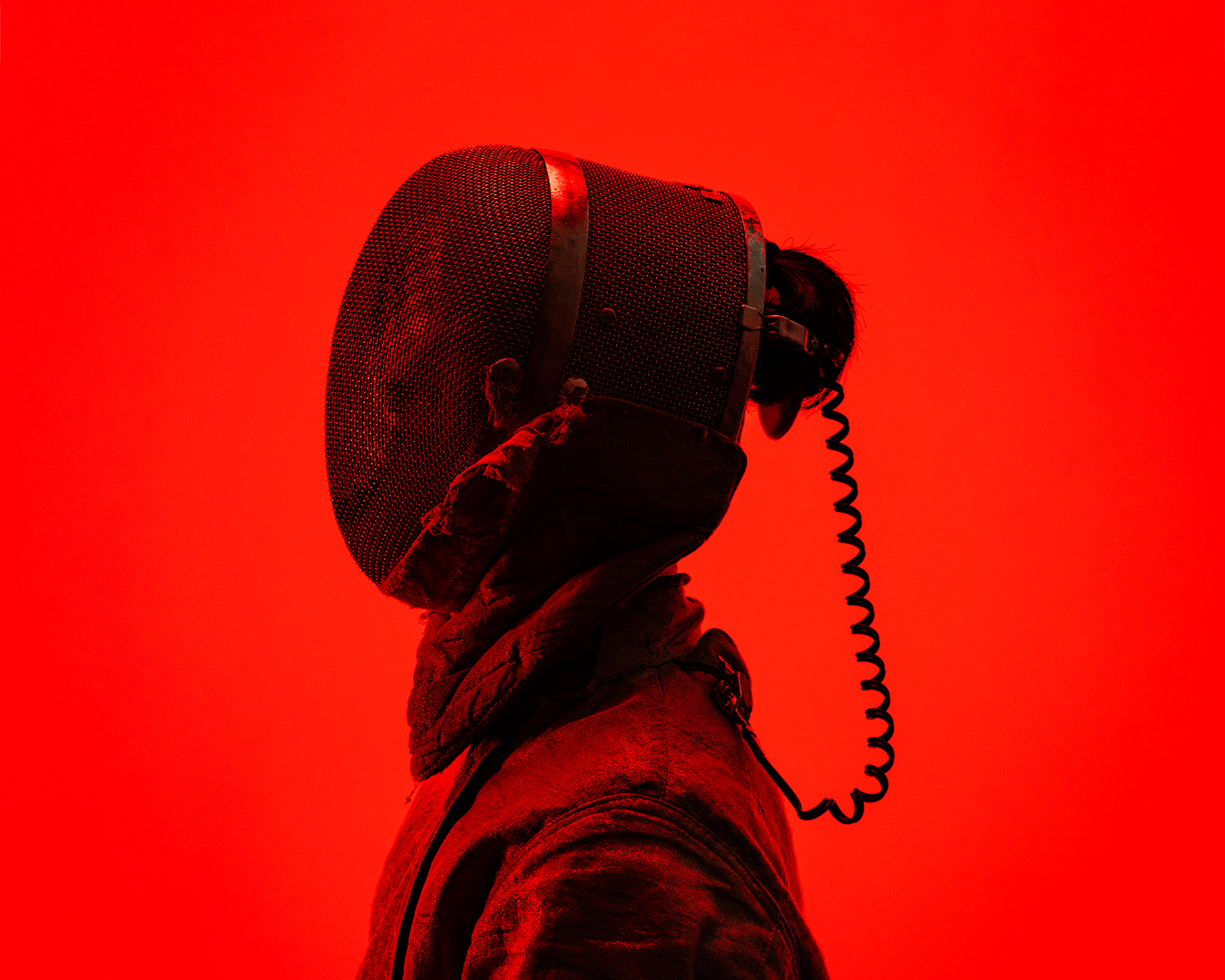 What drew you to choose fencing for your first incarnation of The Battle?
Tim: I loved the gracefulness, the paraphernalia, the quirkiness. It's definitely a niche sport and I totally loved that about it. I love going into something knowing very little — this makes the photography interesting, in fact, that's probably one of the coolest things about photography; a fabulous excuse to ask anyone to take pictures of something. The conversations and meeting new people is a real hoot!
Have you worked with the artists previously or is this your first collaboration?
Jason: I enlisted the team at For The People to help me draw up a list of artists we were super keen to work with. Some of them we knew as friends or had previously worked with, and others were just wishful thinking. Then it was a case of emailing them and going from there.
I'm always amazed at the generosity of people — everyone pretty much jumped in right away. It's very cool to be collaborating with people you're in awe of.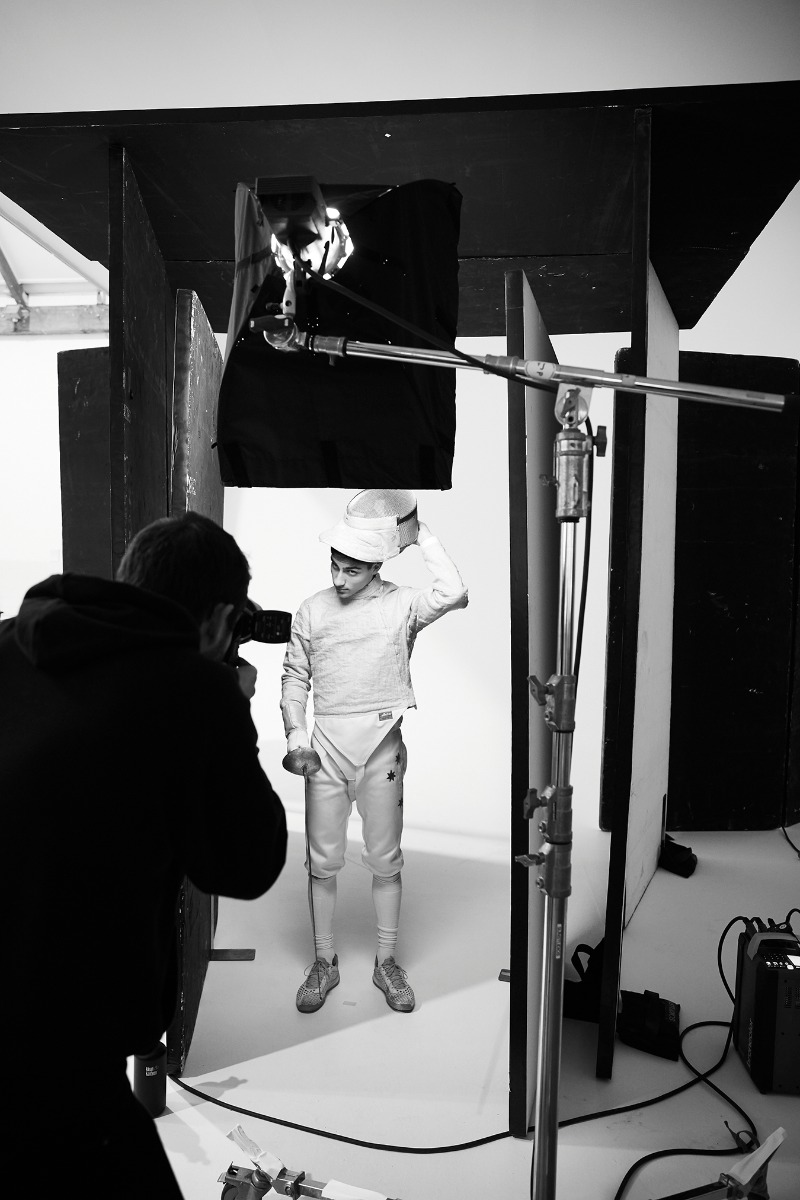 What have been the technical and logistical challenges of bringing this together?
Tim: Mate, I'm a professional — nothing about this was a curveball creatively! However raising the funds to get it happening is another kettle of fish altogether!
Jason: So tough! But we have had a lot of great companies offering their support. Some people are almost instant in their support, which is pretty rad. Neither of us are very sales-y, so getting the confidence to ask people for support was daunting at first. Well, it still is. But we got there.
Tim: I loved a scene in KILL BILL when Uma Thurman takes on 'The Crazy 88'. It's a wild battle scene that lasts for ages. At one point the fight is back-lit and silhouetted with solid blue panels. It looks incredibly cool, and I always felt like it would be awesome to try something like that in the studio.
I'm also a massive fan of Wes Anderson films and his quirky character development. I wanted to uncover some of the characters in fencing. We shot on a high-frame rate sports camera using high-speed, short flash duration lighting rigs. The gear was very much instrumental in freezing the action — fencing is over in seconds, and I didn't want there to be motion blurs in the movement. We utilised Broncolor flash equipment that froze the movement at 1/10,000th of a second.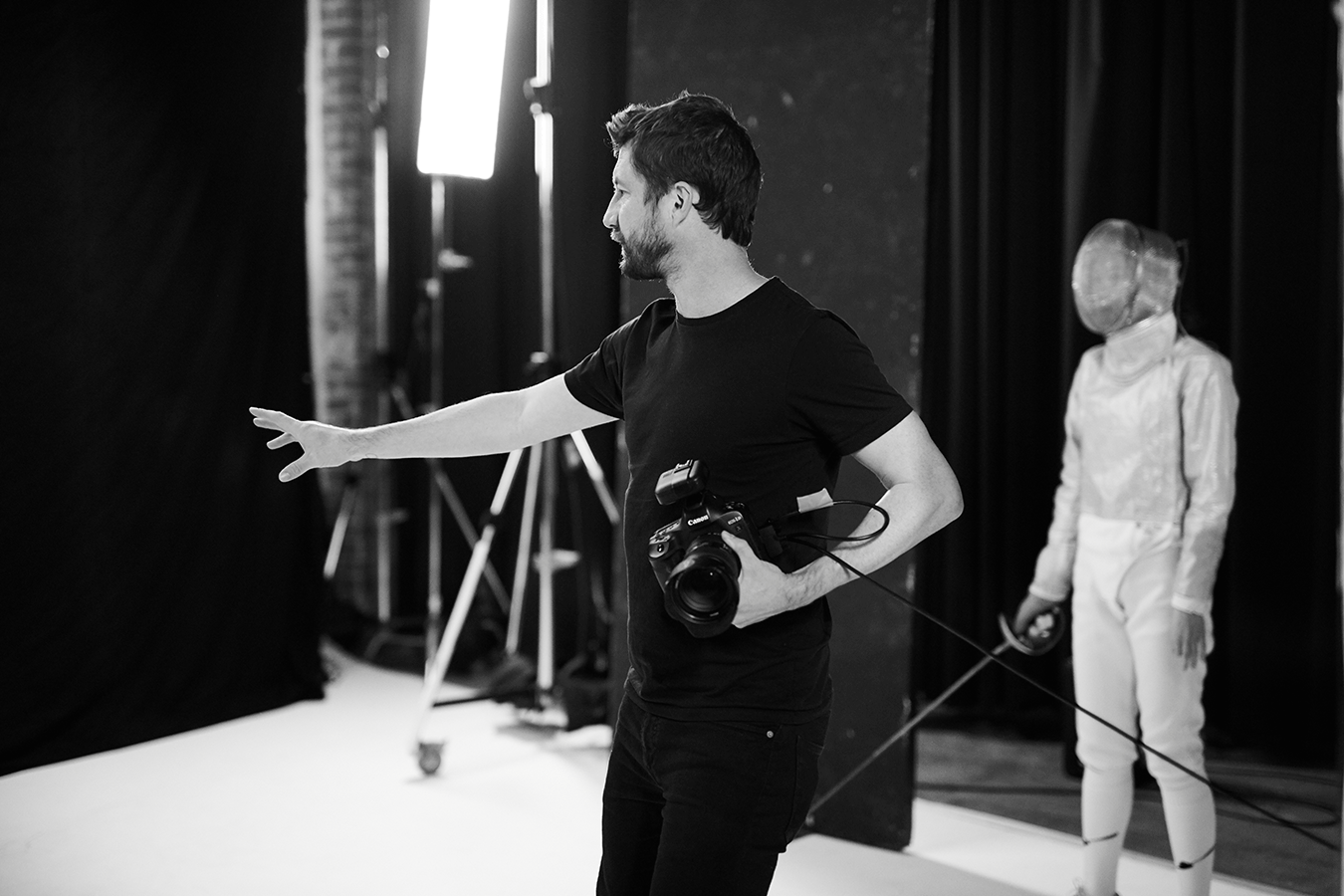 This is not your first creative project to raise funds for Chris O'Brien Lifehouse. What has been rewarding about using art to further the work of Not For Profits?
Tim: This is a deeply personal body of work for me, my Mum died of cancer this time last year and I was closely involved in that process. I know Jason went through a similar thing with his Dad a few years ago. When you're with someone you love at the end of their life, you understand the holistic needs of what dying with a disease is like — I feel the work of Chris O'Brien Lifehouse had personal significance, since they embrace a patient-focused approach to cancer care and research.
Art is a powerful tool, it's unlike traditional commerce projects that might have a specific outcome for buyer and supplier.
Art is whole, and subjective, and requires each of us to interact with it in a way that has meaning for us individually.
Being in a space where I can create something with my craft in a way which ultimately benefits a whole community of people working toward a common goal of betterment is deeply rewarding. It's purpose. And that's what I think brings most satisfaction; having purpose.

This particular exhibition also has the added sweetener of honouring the legacy of my mother.