FEATURE SHOOT and NEWS
FEATURE SHOOT: jake terrey for GQ with Ferrari and Armani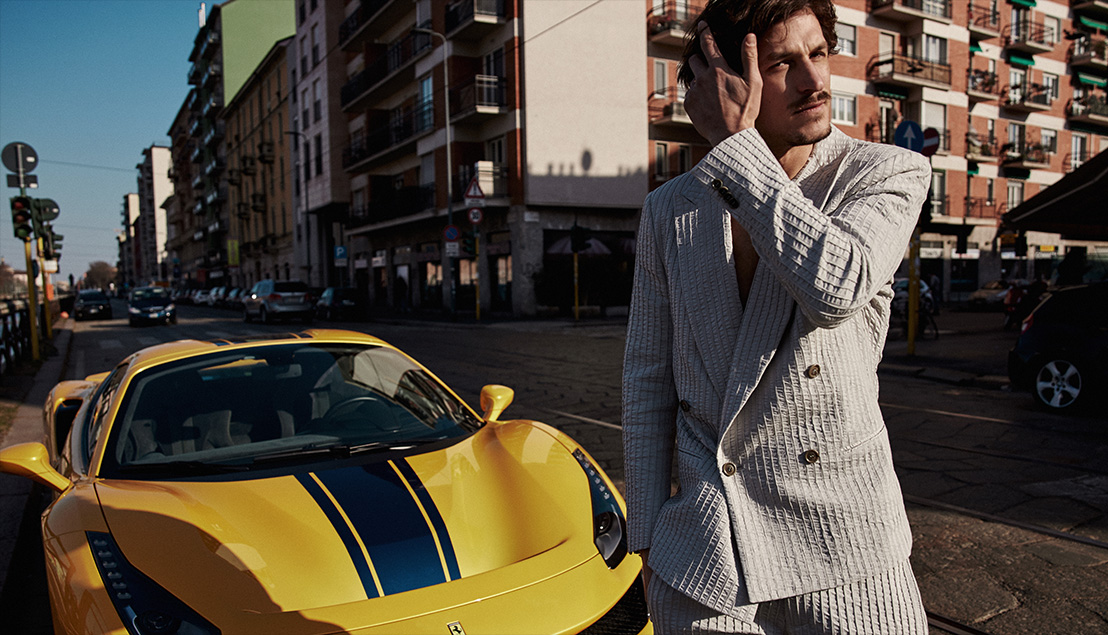 Take super model Jarrod Scott, one brand new Ferrari 488 Pista Spider, the Canon EOS R and photographer Jake Terrey. Put them in Italy. Cue paparazzi.
Photographer: Jake Terrey / Artist Group

Brief: Online editorial for GQ Australia and Japan with Ferrari and Armani
Background: What was your brief, basic shot list and your initial instincts on how to approach it?

Top male model and racing driver Jarrod Scott had been asked to sit front row at the Armani show during Milan Fashion week and as an aside to this, I was asked to join him in Northern Italy where we'd shoot an editorial with Armani fashion in the lead-up.
Jarrod had an existing relationship with Ferrari so it had been organised that we were to pick up the brand new Ferrari 488 Pista Spider from Ferrari HQ in Maranello and drive it back to Milan where we'd spend the next few days creating an editorial for GQ Japan and Australia. 
My initial approach to anything is to shoot slow and considered on film but that is almost never possible and especially for a job like this which is why having the EOS R was perfect.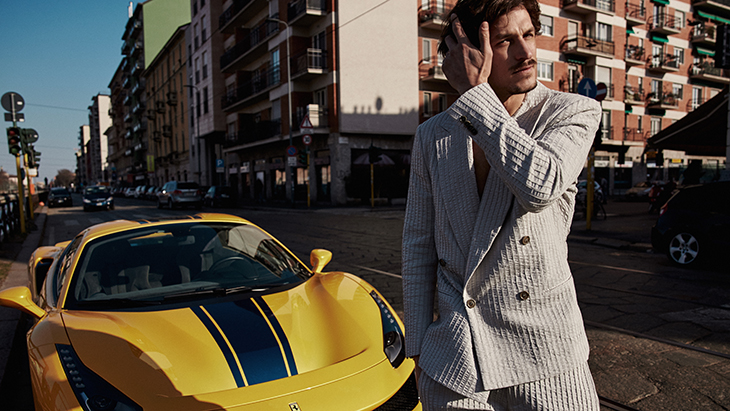 These brands are so iconic Italian! What was behind the decision to work with an Australian/international photographer in promoting them?
We can all thank Jarrod's brilliant publicist, Kirrilly Sams for connecting both Jarrod and myself to these brands. 
What features made the EOS R system appealing for this shoot?

I knew as I'd be working by myself that I needed something fast, dynamic and high quality to turn the shoot around quickly. It needed to go to the client just a day after the show. 
My kit was full of film and film cameras for another portion of the trip so I was looking for a system and lens that could do everything I needed in a compact space. I just took the 28-70mm RF and the camera body with me which were brilliant. I never felt I needed anything else.
What was in your kit for this shoot and why did you select your kit items?

The actual GQ job was only for the first week of the trip, after that, I had decided to hire a car and drive to the Riviera stopping wherever took my interest to collect images for a personal project (maybe at SUNSTUDIOS once I finish it later this year!). For that I had a bag full of my Leica and Pentax film gear leaving only little room for the digital portion of my trip.
It was funny carrying a kit representing the far ends of the spectrum of camera technology - the EOS R being the most contemporary version of what a camera could be in my eyes.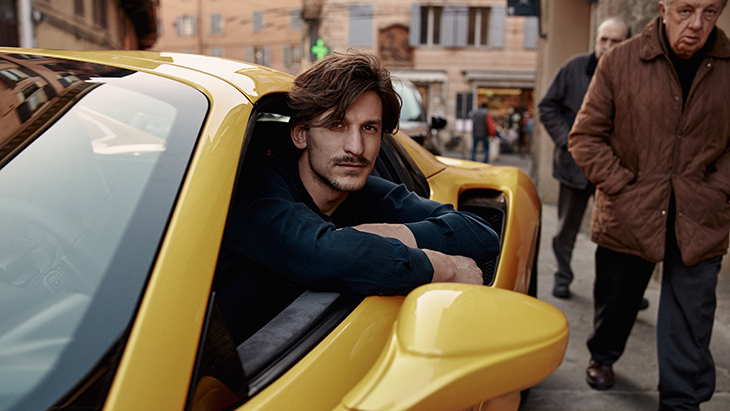 Describe the experience of the shoot.
Some anecdotes about driving around in the Ferrari 488 Pista Spider...
Ferrari HQ in Maranello was funny in an undeniably Italian way. 
We were initially shown a presentation on the car as we arrived. The car itself was described as an 'ultra car' - apparently above a super car.
This means about $800,000 dollars worth of Ferrari! For all the insane technology and science in this facility to design the best cars in the world the two engineers couldn't work out how to use their computer or the IT stuff in the board room so we sat for there about 20 minutes as they put cables in different ports and restarted things. 
Eventually, they gestured frustrations at the computer exclaiming it must have been made by Lamborghini. After this, we got a tour of the assembly line and other things by a man named Dario who jumped on a Ferrari branded push bike and led the way while we trailed in the car which does 0-100 in 1.75 seconds.
Driving around Milan was hilarious as there is this thing where fancy cars are hounded by paparazzi like celebrities are so every time we went anywhere a group of about 10-20 guys with cameras would show up or be there when we came back. Sometimes they'd wait hours to get a shot of us leaving in it. Half a dozen people asked to get photos of me with it thinking I was something important, so I tried to cake on the aussie accent to throw them off. No one expects a 20-something Australian man to get out of a Ferrari saying 'G'DAY MATES!' - very satisfying. 
We got trailed by the police in Lake Como who grilled Jarrod the driver for about half an hour thinking we'd stolen it. We also lost it in Milan for about an hour when we went to dinner and forgot where it was parked. Jarrod got it up to a bit over 310 on the highway … I genuinely saw my life flash before my eyes.
Have you shot in Italy before? How is it different to working in Australia?
I had actually shot a story for Vogue in this part of Italy the year prior. I love Italy there is never a lack of scenery or people to fill your shots with great things.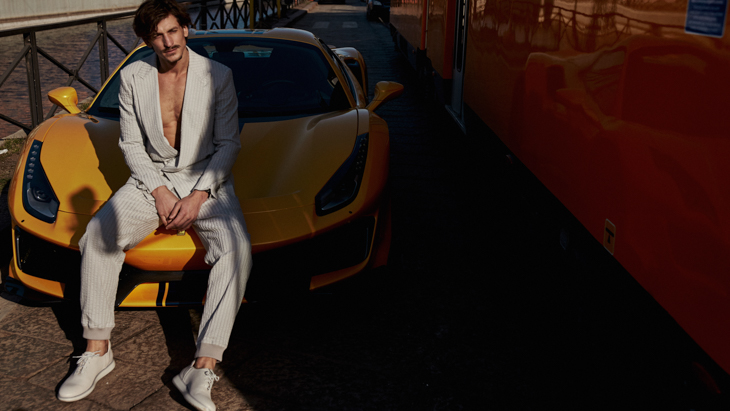 The actual experience of shooting: how did the camera perform?
I think the more that technology progresses and filters into cameras the more they begin to feel .. like they have less feeling? Like synthesisers instead of pianos.

This camera is quick and reliable, it's compact and practical and still has great image quality. It does everything you could imagine you'd need and very well but it also feels like one step closer to everyone just shooting on their phones. Sometimes practicality is boring but often if you're shooting professionally it's imperative. Everyone needs a practical camera sometimes.