Feature shoot: RUN GIRL with Daniel Bolt and Renny Wijeyamohan
RUN GIRL is a half hour documentary about identity, race and sport, following Ethiopian-Australian refugee, runner and mind-blowing talent, Bendere Oboya post-Tokyo Olympics as she switches from the 400m to the 800m.
Sunroom spoke to DOP Daniel Bolt and Director Renny Wijeyamohan in the lead up to the documentary premiere at 8:30pm Thursday 18 August on SBS Viceland, commissioned by SBS as part of its Curious Australia strand and shot on the Canon EOS C500 Mark II proudly supported by SUNSTUDIOS. 
---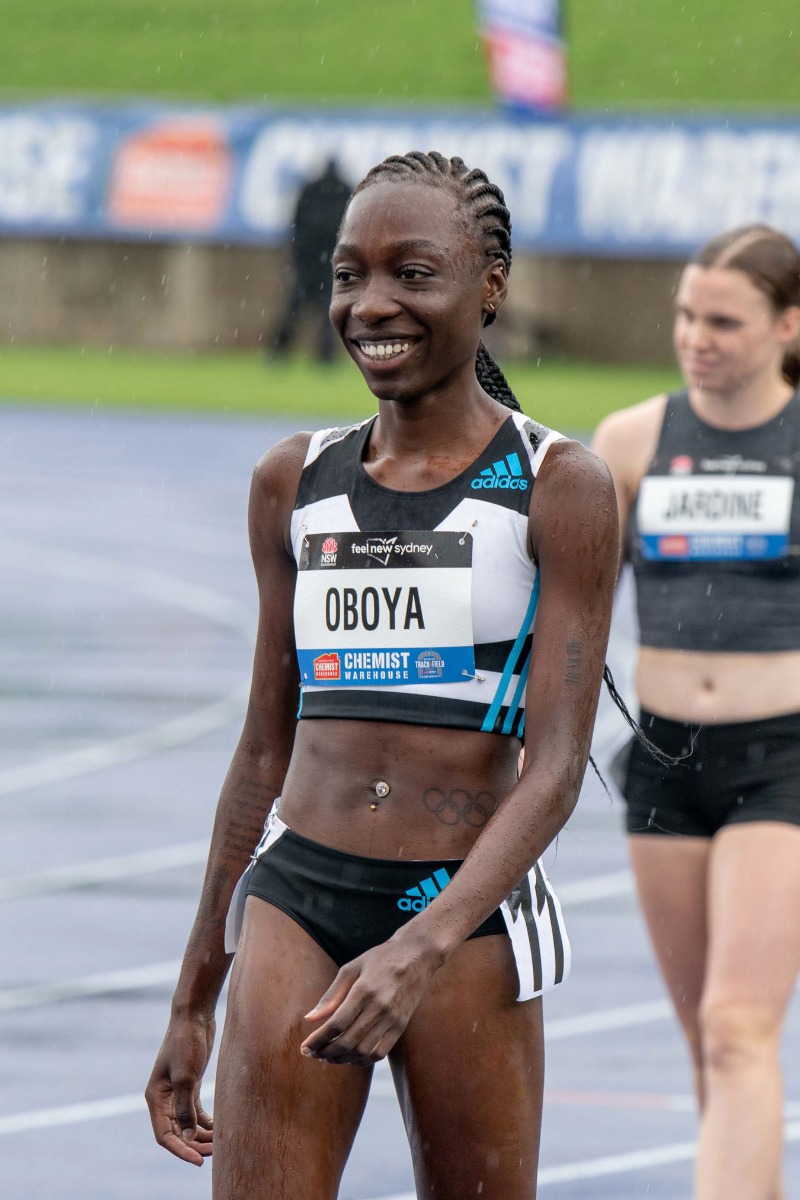 BTS still by Adam Scarf
What was it about Bendere's story that caught your interest as film makers, visually and as a narrative?
Renny: As the top 400m runner in Australia, we pick up Bendere's story after a heartbreaking defeat at the Olympics, as she decides to take a tilt at the 800m, with the hopes of becoming a medal contender at the Paris Olympics in 2024 and find out where she belongs along the way.

There are so many incredible parts of this story – Bendere's family's refugee journey from Ethiopia to Australia, Bendere's deep determination and grit in her pursuit of becoming a world number one athlete, and the strength and resilience of her and her family in making a new life here.

She's an absolute badass (but also super introverted and enigmatic) and I wanted to create a film that captured not only the dualities of her character, but also (being a first generation Sri Lankan Tamil Australian myself) the complexities of the refugee story – and what it means to be Australian.

This isn't just a running film, it's a story about identity wrapped up in the shell of a sports story.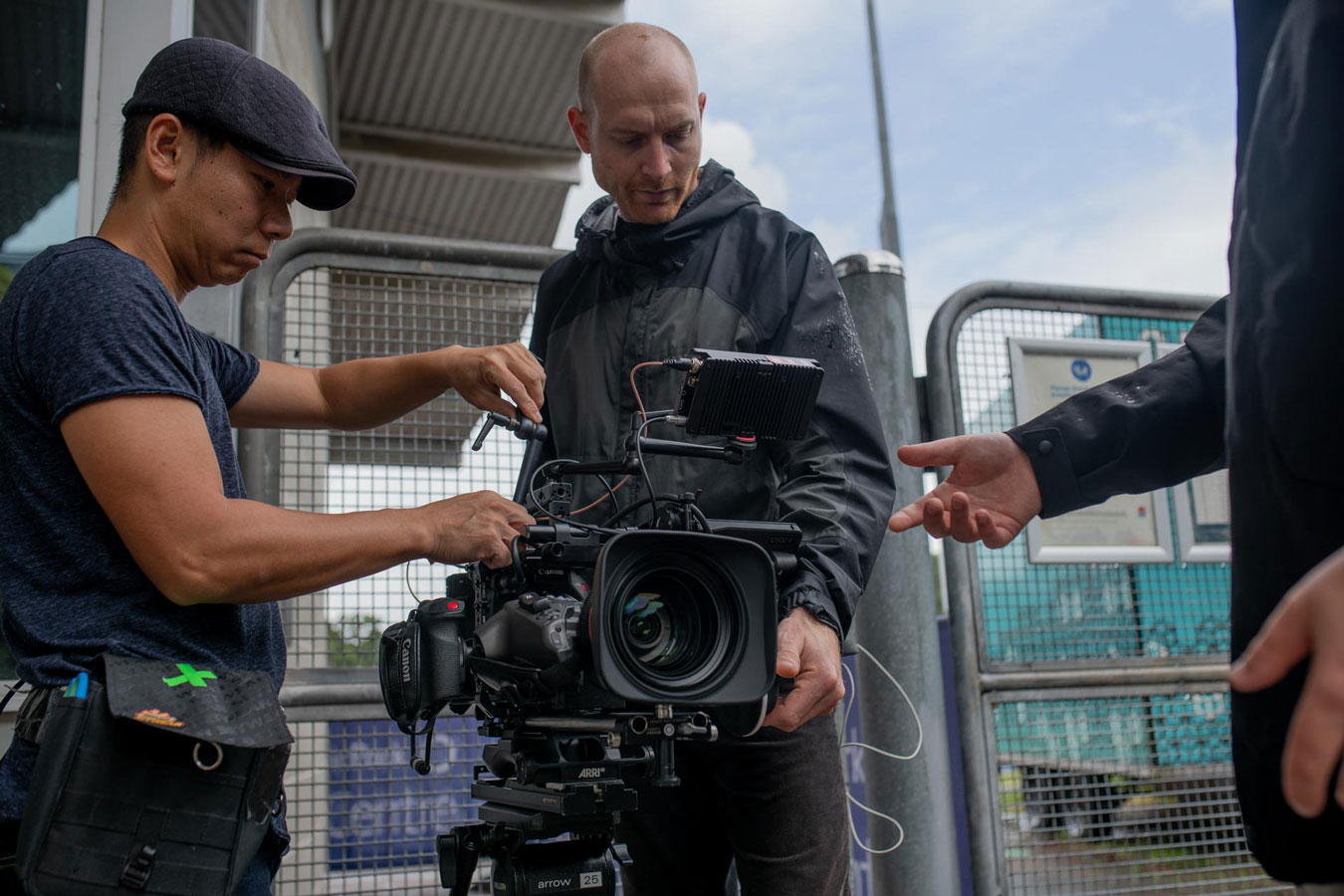 DoP Dan Bolt on set during the making of RUN GIRL. Photo by Adam Scarf.

What did you set out to achieve with RUN GIRL?

Renny: Dan and I spoke a lot about creating a documentary film that was outside the box. We didn't want to make the kind of slow-paced, slow-burn doco that you so often see on TV.
Instead we wanted to make something dynamic, energetic and youthful and that authentically represented the world of grit, sweat and determination of a 21 year-old professional athlete.
Camera work was really crucial in building this world and Dan and I spoke about shooting longer, cinema verité style takes, as well as getting really up close with the action as it plays out to make the viewer feel the highs and lows with Bendere – and also recognise just how physically demanding the life of a track athlete can be.
I was really conscious that the pacing of the edit and soundtrack were also going to be key in making sure the sense of energy, dynamism and constant movement carried through to the audience. We had a really fantastic editor on the project, Fiona Strain ASE, who so successfully brought this vision to life as well as an incredible soundtrack composed by Freya Berkhout which underscores the emotional arc of the film.
A Ugandan-Australian rapper, Kween G, also contributed a track to the film, Love For Your Sisters, which became a bit of an unofficial anthem. Kween's heavy and driving hip hop beats sit under a couple of key moments in the film and are so important in building a sense of authenticity to the struggles of a young, black female athlete.
What pre-production goes into planning for a documentary? What can and can't be pre-planned in a largely candid shoot?

Dan: Often stories in doco genre are still developing and are determined by events that haven't yet happened.

So inherently, you need to be comfortable with planning as much as you can but also accepting that everything and anything can change and go out in the window in an instant.

We had a very small crew on the RUN GIRL shoot due to the shoestring budget, so we tended to have the bare minimum in terms of lighting and camera, often times just running with a 2ft tube, an Aputure 300D, a couple of Flexi LED panels and some reflectors/bounce. This was our lighting kit and it needed to be flexible enough to serve us sufficiently in as many varied situations as possible. A big part of low-budget, small crew doco work like this is acknowledging you can control very, very little.

Shit will definitely hit the fan at some point and you need to be ready to go with it and release the need to control things. Once you can do this, it becomes very liberating.

I've shot a lot of doco work in the past, so I've become more at home with the run-and-gun style of being dropped into a location blind and making the best of it on the go, finding frames without extensive or sometimes any pre-planning.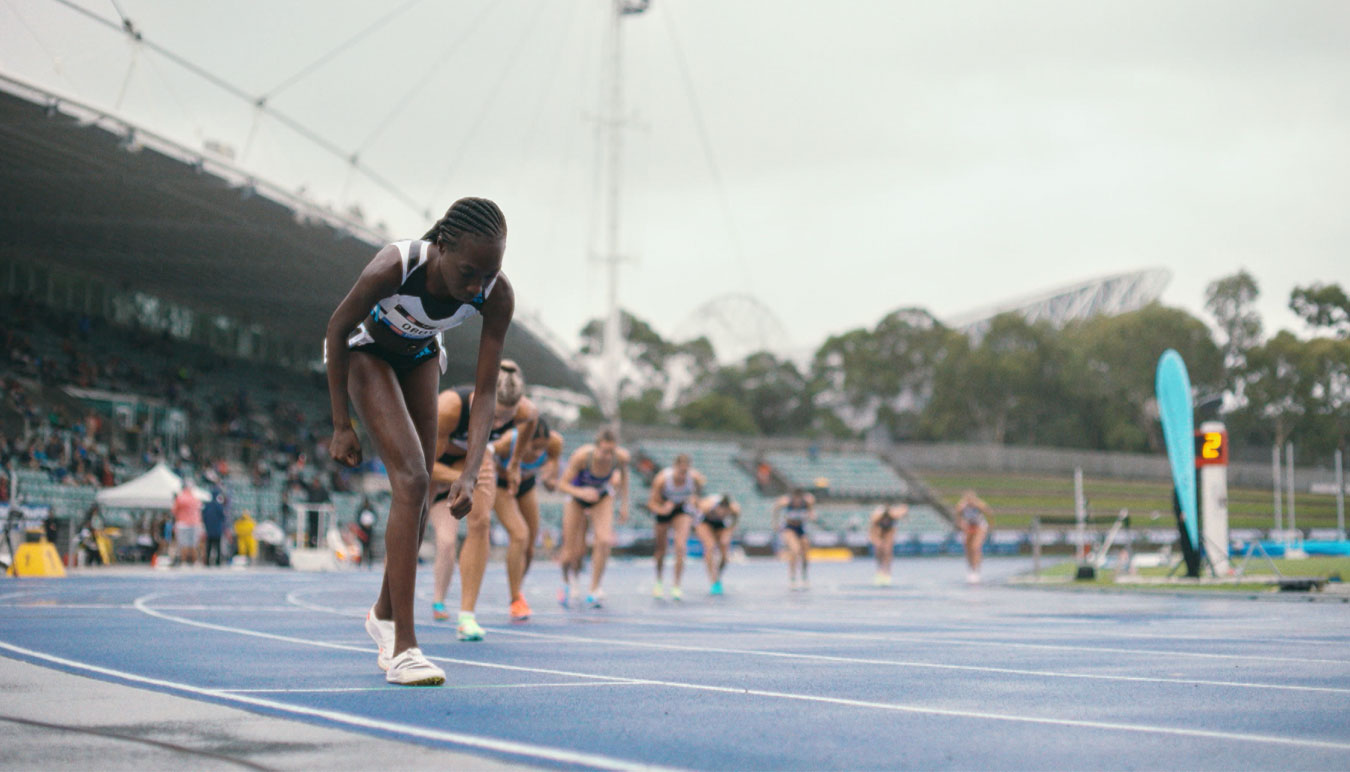 Renny: I think also – beyond the visuals – as a Director you have to strike a balance between shaping/curating the themes present in the film without projecting too much of your own preconceived notions of how the story should play out.

In documentary, you're building relationships with real people, with real lives, and they put a lot of trust in you to represent them on-screen, so it's important to strive to do that with authenticity.

We had an emerging, talented, female Ethiopian-Australian writer, Zufan Emerson, involved early on the project who contributed so much to shaping the integrity of the narrative.

What were the key technical challenges and considerations on this project and building it visually?
Dan: Key technical challenges were definitely Bendere's schedule (limited to blocks of four hours and structured around her training as an Olympian) as well as our tight budget and small crew approach.
COVID also came into play at times and I was forced to isolate right before a two-day shoot at the Adelaide nationals, and so Renny and I had to scramble to find a replacement DOP at the 11th hour. The nature of the shoot being spread out over multiple months and days of filming along with the unpredictability of Bendere's race schedule meant sometimes I would be unavailable to act as DOP, so parts of RUN GIRL in the end became a collaboration between myself and a number of DOPs I trust.

We did our best to schedule outdoor shoots for early and late in the day to utilise best possible light, but often we were at the mercy of real-world events and Bendere's availability. We shot RAW for almost 100 percent of the shoot in order to retain as much detail as possible in the image, specifically in the highlights during midday shoots on the running tracks and training days.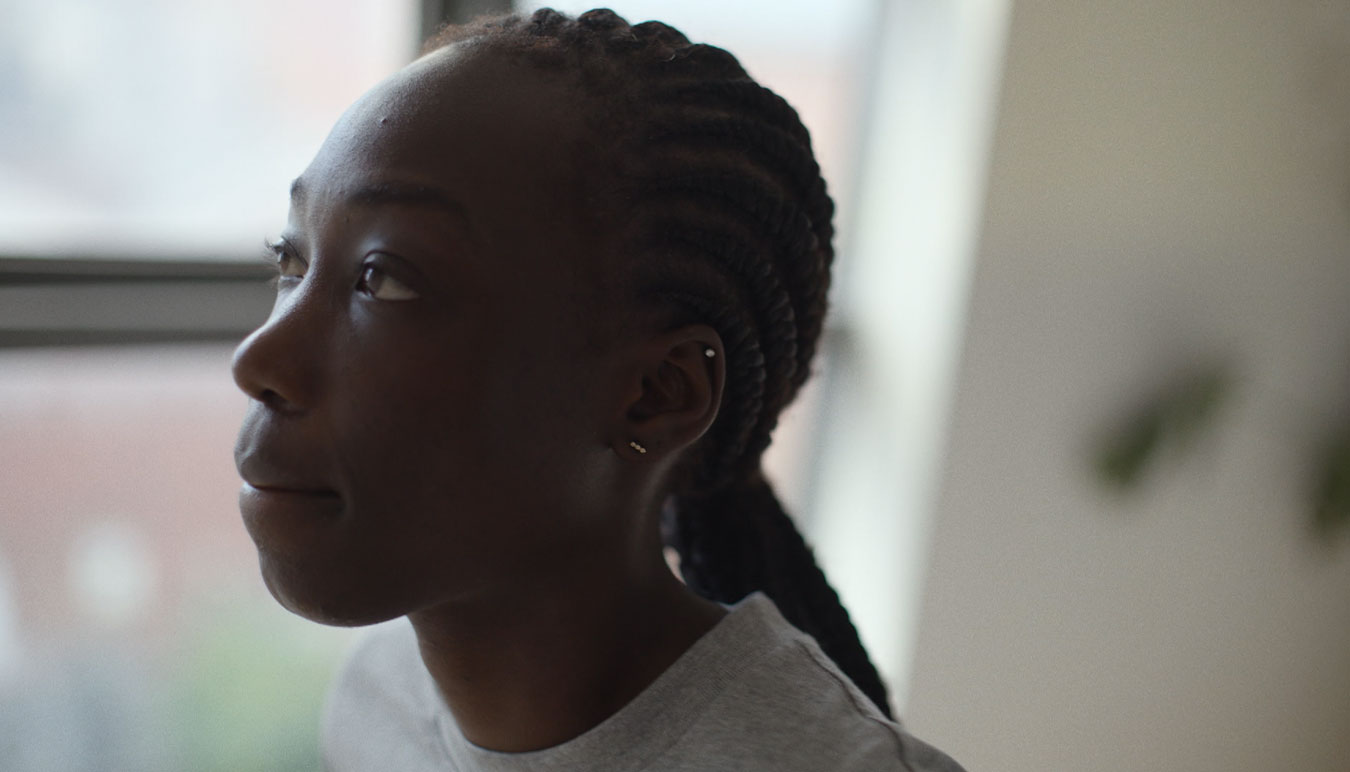 Renny and I discussed various visual ideas and references for RUN GIRL, and in the end we landed on a couple of strong refs that guided us through the project. The most significant being Blue Bayou, specifically the fluid, handheld, seemingly reactive camera movement, wider lensing and vibrant colour palette of cooler blue and green tones.

We also discussed striving for less conventional framing when possible. When opportunity presented itself, we endeavoured to use negative space frequently in the framing, and covered scenes often with only one angle, opting to not move in closer for additional takes and instead letting scenes play out for longer in these single set ups.

What gear did you choose for your kit and what role did each part play in bringing the story to life?

Dan: Renny and I knew from the get-go we would shoot on the Canon EOS C500 Mark II with all of the versatility it offers a small, fast-moving doco crew. I own my own EOS C500 and SUNSTUDIOS graciously offered to support our production with their own EOS C500 Mark II.

Early on, Renny and I discussed shooting mixed mediums – digital anamorphic and 16mm film on the Aaton XTR. We considered anamorphic for the unique visual properties and inherent cinematic look, which often isn't utilised in the documentary format, and we threw around the idea of using my Aaton XTR to shoot past scenes from Bendere's childhood on 16mm but decided against both anamorphic and film in the end, partly because budget was tight, and partly because we felt the look of spherical would give us a more authentic look.

In the end, we decided to use a set of Canon FD lenses paired with the EOS C500 Mark II as the fast T-Stops would be invaluable in run-and-gun situations, the FDs had a softer visual look compared to modern lenses and we could utilise the look of full frame.

We also opted for the full frame look for majority of the shoot as I really liked the potential for getting closer and wider on Bendere to amplify the emotion and intimacy of various scenes.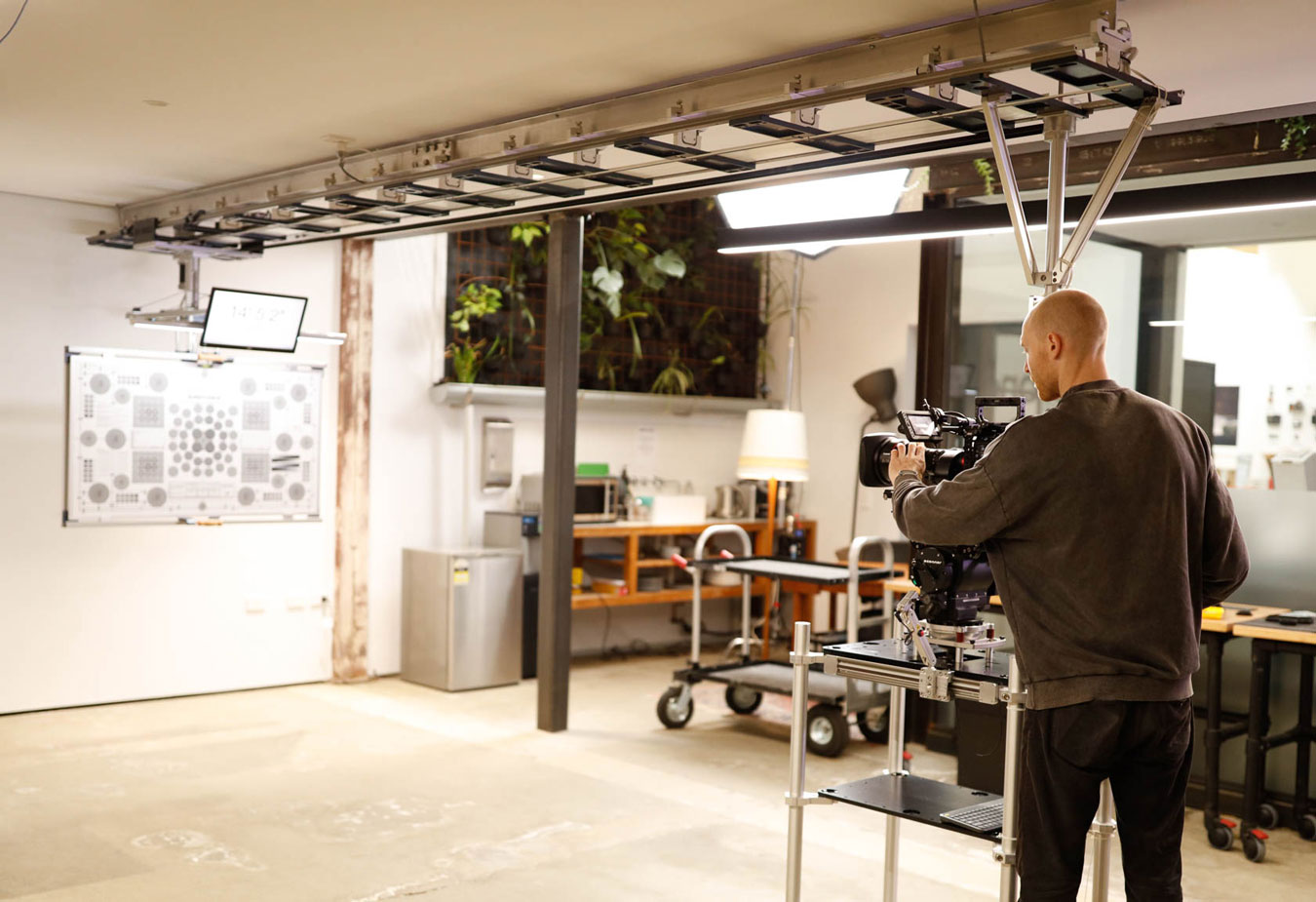 DoP Dan Bolt uses the SUNSTUDIOS camera testing bay prior to heading out on location shooting RUN GIRL. Image by Jordan Allison.
SUNSTUDIOS was incredibly helpful with the gear side of things, letting us use their EOS C500 Mark II, on set monitors and Canon zoom lenses at various stages throughout production – specifically for Bendere's race days where there was a need for multi-cam setups and long range shooting of competitors on the track. We were also able to calibrate and test the camera and lenses before shooting, in the brand-new testing bay at SUN Sydney.
Any reflections on the final result?
Renny: I'm pretty thrilled about how the film turned out. It ended up being everything we'd hoped and more. Dan shot the film so beautifully and Abe Wynen from Crayon in Melbourne did an amazing job on the grade which gave it a really rich filmic look.
I'm so excited about the film airing on 18 August on SBS Viceland to see how audiences engage with it – especially as it makes its way around the world on the festival circuit later this year. It's such a powerful and uplifting story and one that needs to be told. As for Bendere, she'll be seeing the film when it airs on the 18th, so looking forward to speaking with her once she's had a watch.
Dan: Shooting RUN GIRL has been wildly enjoyable. Being able to work with a tight knit crew for the most part for such a protracted period doesn't come around often, so it's felt like a real journey. I feel super grateful to have been given the chance to collaborate with Renny (who is now a very close mate) to tell the story of Bendere and her family in Australia, as it's a story that many Australians can relate to and one that is timeless in its themes of struggle and determination.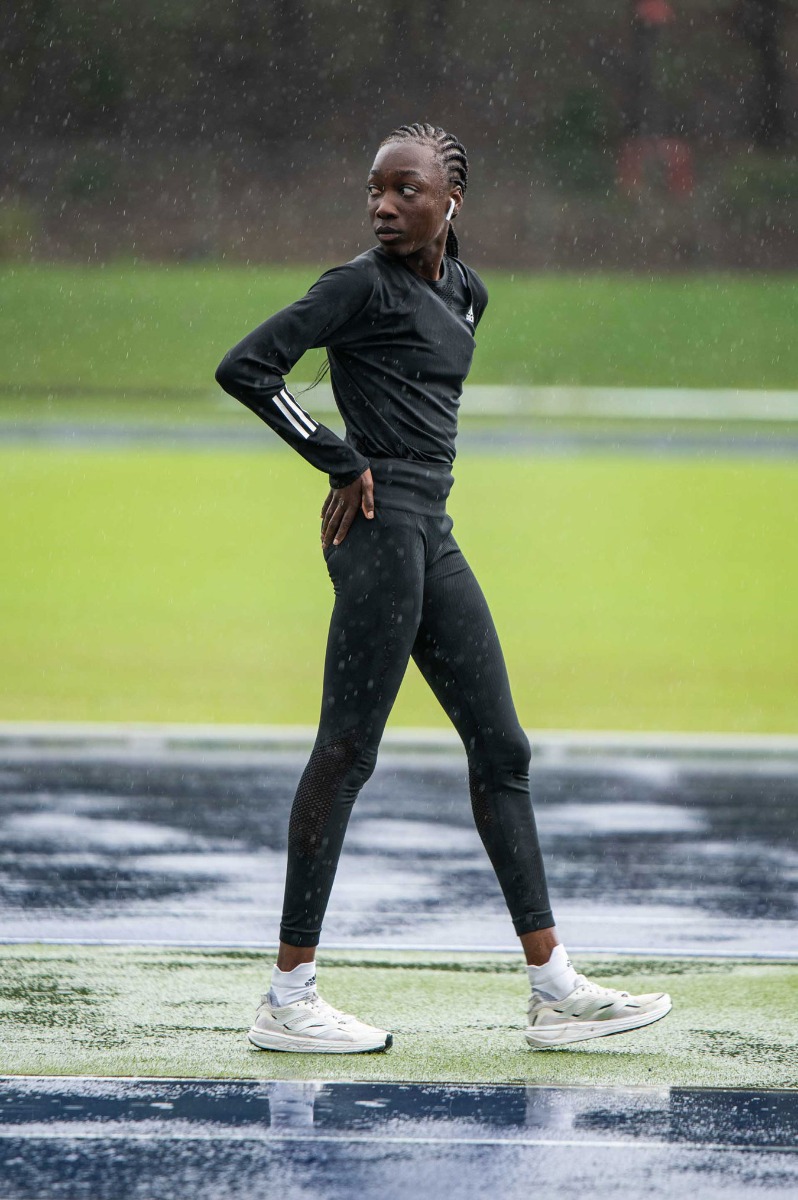 BTS by Adam Scarf
Credits List
Director: Renny Wijeyamohan
Producer: Renny Wijeyamohan
Writers: Zufan Emerson, Renny Wijeyamohan
Executive Producers: Nicholas Searle, Madeleine Hetherton-Miau
Director of Photography: Daniel Bolt
Editor: Fiona Strain ASE
Composer: Freya Berkhout
Camera Operators: Joshua Flavell, Nathan Guy, Jesse Gohier-Fleet, Ben Blyth
Camera Assistants: Anthony Taranto, Darren Mak, Daniel Mudrinic, Sky Dominic
Location Sound: Andrew Collie Richards, Martin Demian, Travis Williamson, Luke Fuller
Production Coordinator: Jodie Boehme
Assistant Editor: Timothy Hadwen
Colourist: Abe Wynen
Sound Post: Laki Fotopolous
Cultural Consultant: Lydia Tesema
Soundtrack Theme: "Love For Your Sisters" written by Kween G, performed by Kween G & Lady Lash
SBS Production Manager: Roberta Queiroz
SBS Production Supervisor: Sarah Rose
SBS Commissioning Editor: Bernadine Lim