Ingvar Kenne on personal work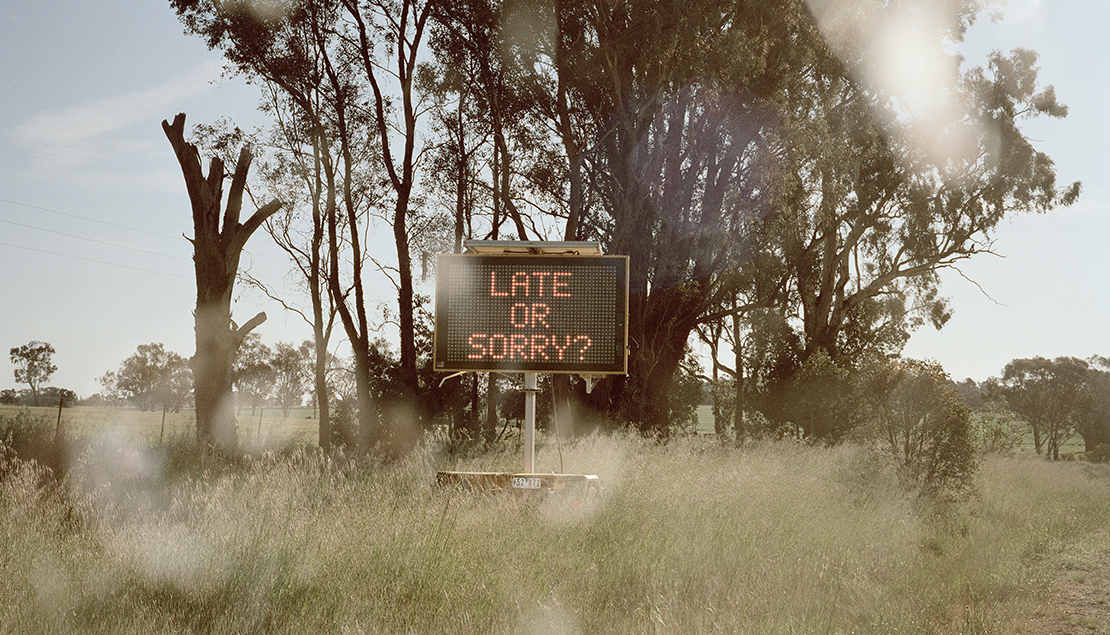 "I wouldn't be a photographer in any capacity if I didn't have a curiosity to inquire and the camera to distract me. That is how I relate to the world."
This Time It's Personal exhibitor Ingvar Kenne is one of Australia's most respected photographers, known for his ability to perform in both art and commercial photography. He shares thoughts on his approach below.
Tell me about your series Signs of the People from which your This Time It's Personal image is drawn. 
Signs of the People has been ongoing for the last 12-13 years. It started on a journey north on summer holiday with family in the car and we came into traffic that moved at a crawl. The LED signs displayed a longer message over several frames announcing the upcoming road work. I suddenly realised the message had different meanings depending where in the sequence of words you started reading. It also changed if you isolated singular words. The word I photographed was 'WORK' – the word itself announced conveniently what could follow if I continued the project.
The Signs Of The People project source came from that one image, something that happens with most of my projects. A photograph that becomes a starting point for conversation, communicates strongly and encourages me to build from there.
What was involved in bringing together this series from conception to bringing it to print in this show?
Time. Patience. Like all projects of mine, I am not interested in fast. Time adds value to everything. It slows the mind and makes you focus. And for me it also gives the break away from a project when I need one - a necessary component.
You see and feel differently about imagery (or anything) when time has passed. The projects are ready when they tell me they are, and once I have exhausted all conversations with the photographs, they might even be ready to be seen by others. Or be binned.
I am fine with either outcome. Ultimately, I photograph for myself only. The audience might follow, but I never consider them while working on something. It is too early for me to invite dialog.
Do you believe it is important for working professional photographers to have a personal photography practice? If so, why?
We are all different, however I wouldn't be a photographer in any capacity if I didn't have a curiosity to inquire and the camera to distract me. That is how I relate to the world - communicating with the photographs I happen to take.

The experiences I have had in life are because the camera being my constant companion. It opens my connection to people and places, to life really. It gives me access and leaves me accessible. If I didn't have that reason, I would go and fish. What's the point if you don't follow what stares you in the face? 
I think my commercial work has benefited massively from me working alone at times. And I do like commercial collaboration. It is a totally different beast that teaches me new methods and I met amazingly talented people in other fields that I get to collaborate with. And again, gives me time away from my own projects.
You've been involved in the annual exhibition for a few years now. What do you get out of participating? 
I think this is the third or fourth year for me, can't really remember. I love Selena and the team at SUN and what they do for the photographic community. This is a great fundraiser and brings all the lone wolf photographers and industry people together for a night of celebrations. 
This Time It's Personal opens at SUNSTUDIOS Sydney 29 November-13 December, 2018. All works are for sale and proceeds benefit the Chris O'Brien Lifehouse in support of cancer research and treatment.  
See also: http://www.ingvarkenne.com/signs-of-the-people/
Ingvar on Instagram and Facebook.