Nic Walker, Megan Hales and the 4 Horses of the Apocalypse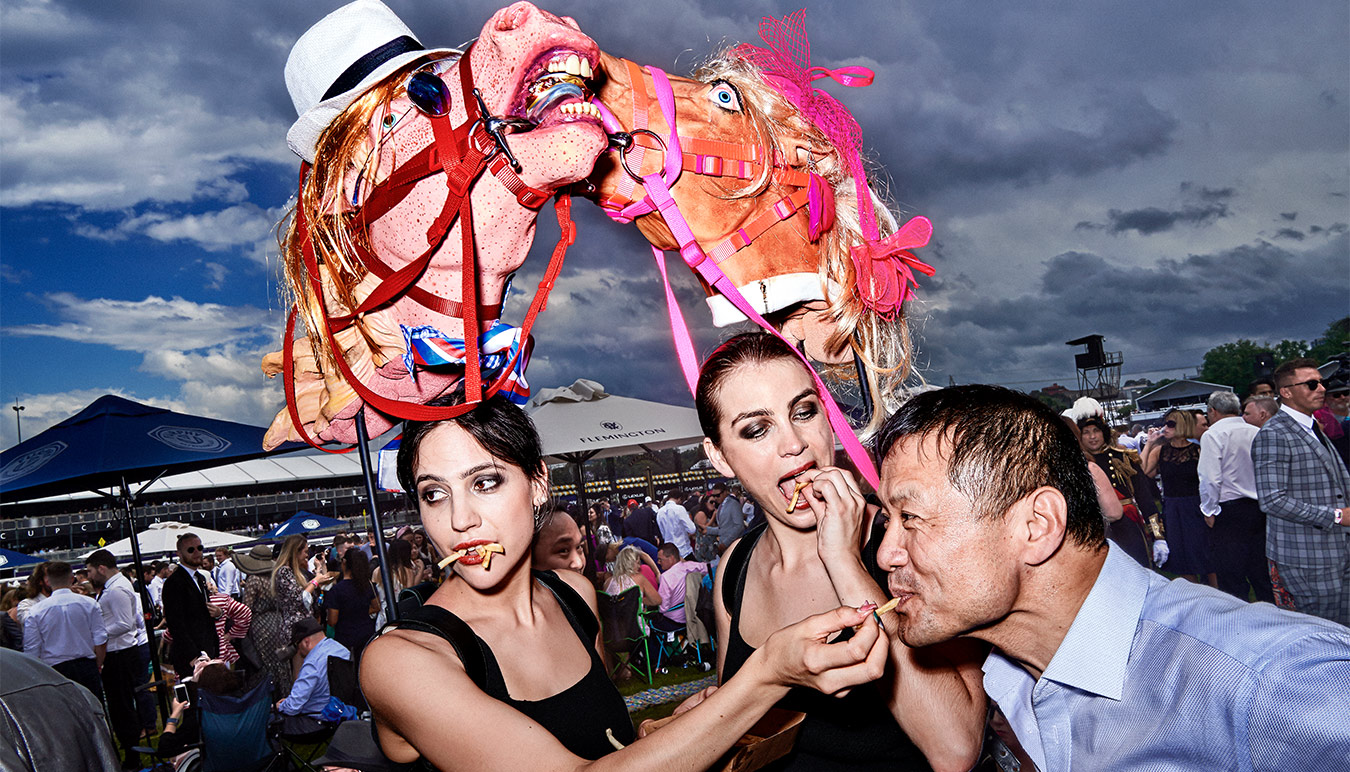 When visual artist Megan Hales created four wearable horse heads she was faced with the question of how to document them.
The fascinators are bright and imposing, designed to sit above and dwarf a human head, secured with a harness to the chest.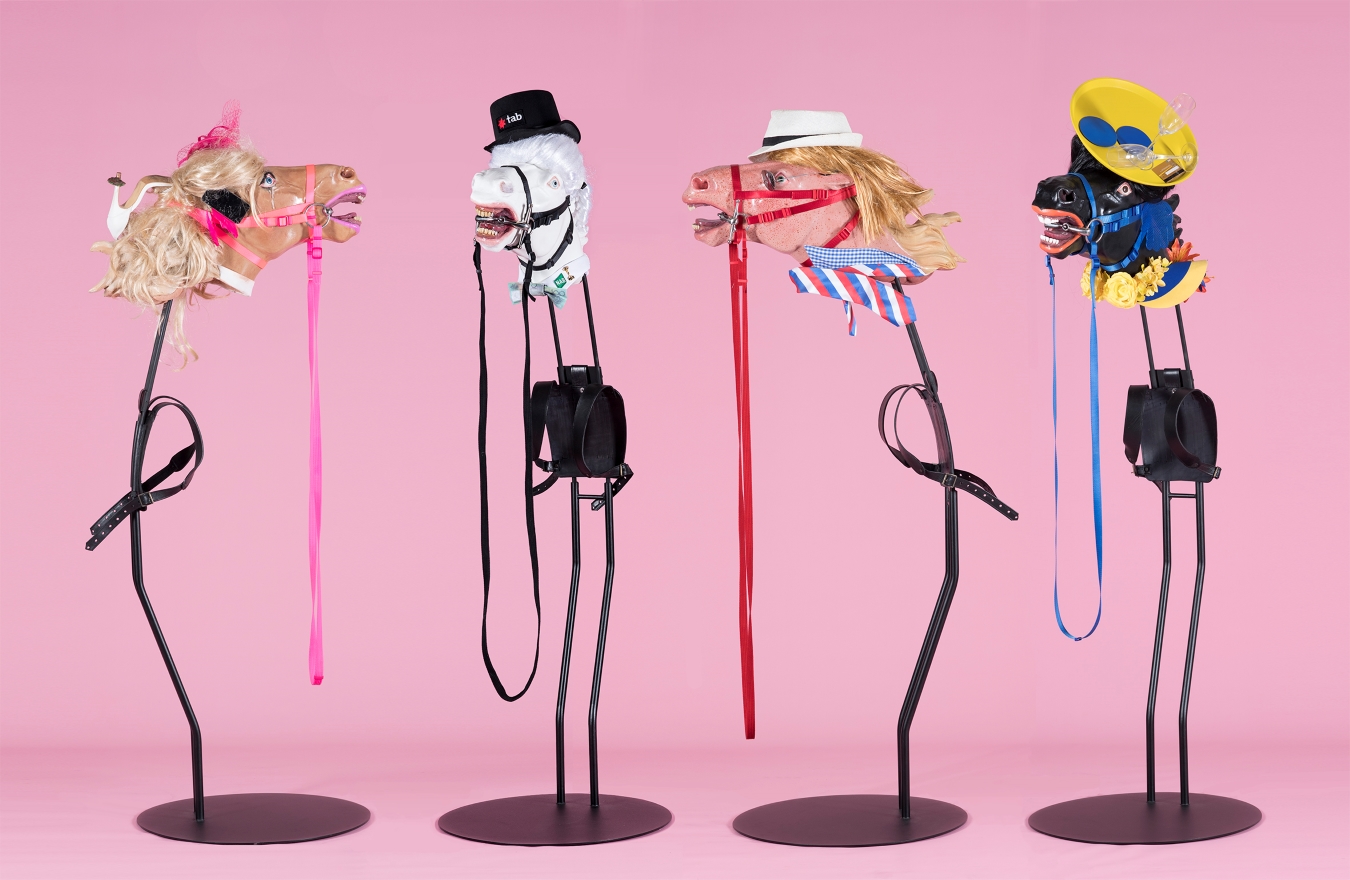 Frozen mid-gallop with neck straining and eyes pushed wide, each character is teetering on the edge of escape or destruction in a colorful way. The work first elicits a smile, closely followed by looming panic. 
Hales shared the work with friend and photographer Nic Walker and her intention to take them to the 2018 Melbourne Cup.
"I'd never been to the races but I am interested in spectacles. And the Melbourne Cup is obviously a big one," explains Hales. 
"I took one around to Nic's place and said I want to take these to the cup, what do you think? And he said, 'They have to be worn.'"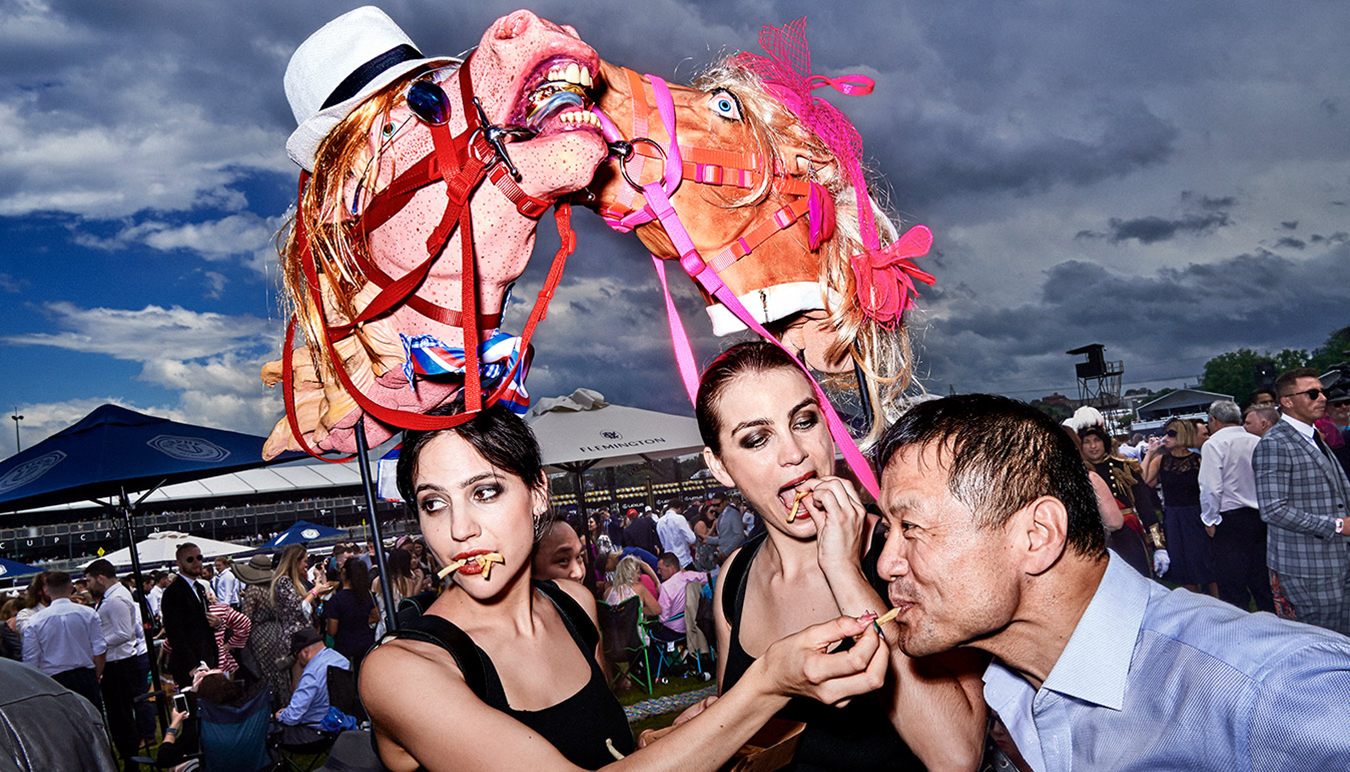 Four human show ponies were cast and let loose on Flemington Racecourse. Walker had an open brief to shoot the fascinators in race context as the day unfolded.
"We didn't choreograph what they did," said Hales.
"We were in general admission like everyone else and we wanted it to be social. And they really went to town."
The resulting images are as bright and apocalyptic as the fascinators themselves, now animated by human bodies amidst the unwieldly glamour of Australia's most celebrated race.
"It's glossy but at the same time it is bordering on dirty, I think," said Walker. 
"The Melbourne Cup is such a glossy event when you look at it in the media and when you look at all the ads we see around. And when you see the actual reality on the day of most races it changes as the day goes on."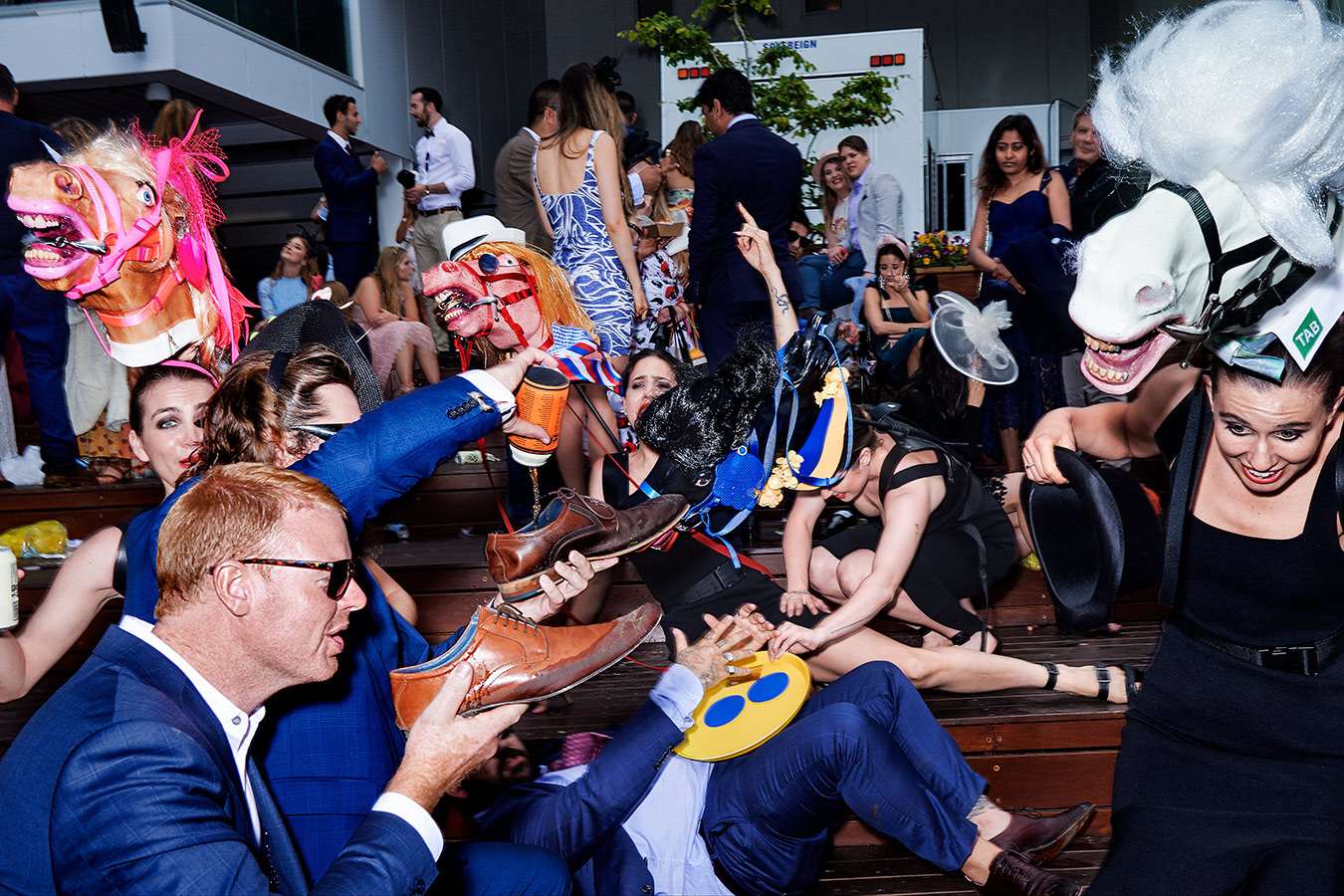 His intent was to create images that complimented Hale's work and aesthetic, using strong flash and a candid documentary approach to capture the fascinators in action.
Part of the appeal of working at Fairfax for over a decade for Walker was seeing images in print. The duo began work on an exhibition to mark the anniversary of the collaboration, including video work and performance.
"I see so much stuff out there that's is on digi and that's nothing like holding it in your hands and actually looking at it. It stops you."
He approached Selena Simpson at SUNPRINT Sydney with the concept, having previously worked with her on images exhibited in This Time It's Personal and the Sydney Morning Herald's 1440 show at The State Library of New South Wales.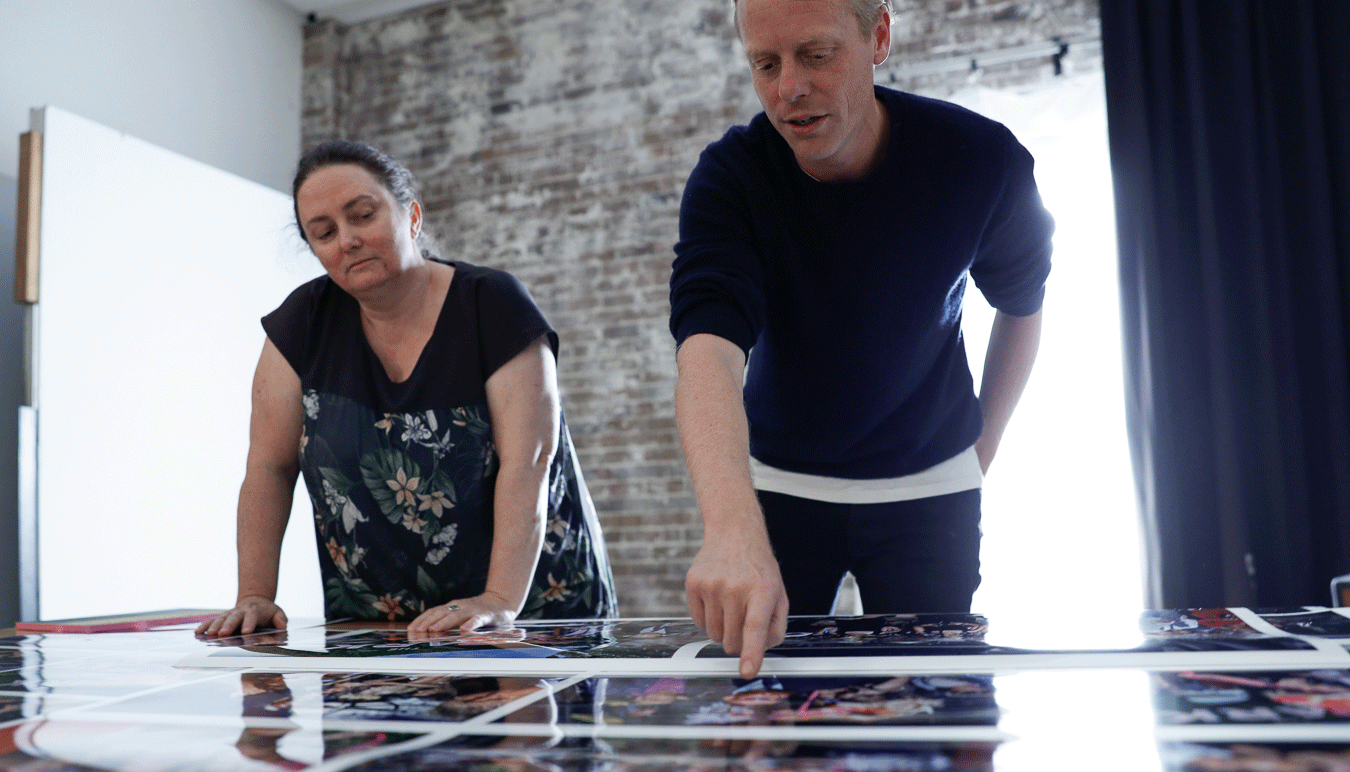 "When finding a printer it's really important that I get on well with them and that they can see the vision that I have," said Walker.  "I found Selena does that every time I work with her." 
In consultation they decided on an semi-metallic gloss paper that was unconventional to both Walker's documentary choices and Simpson's fine art printing preferences but true to the subject. 
"It's a little bit Vegas for a lot of work - but absolutely perfect for the project we are working on together," said Simpson.
"I like it when someone comes and asks me to print something I've never printed before on a media I've never printed on before before. And we sit together and work out the best way to do it and then we execute it. Looking at the finished job that both of us have sat there thinking hrm I'm not sure how we are going to pull this off, and seeing an amazing job at the end of it. I find that very satisfying."
The gamble paid off. At scale the prints jump off the walls with a 3D quality - the punch and impact needed in a work about spectacle.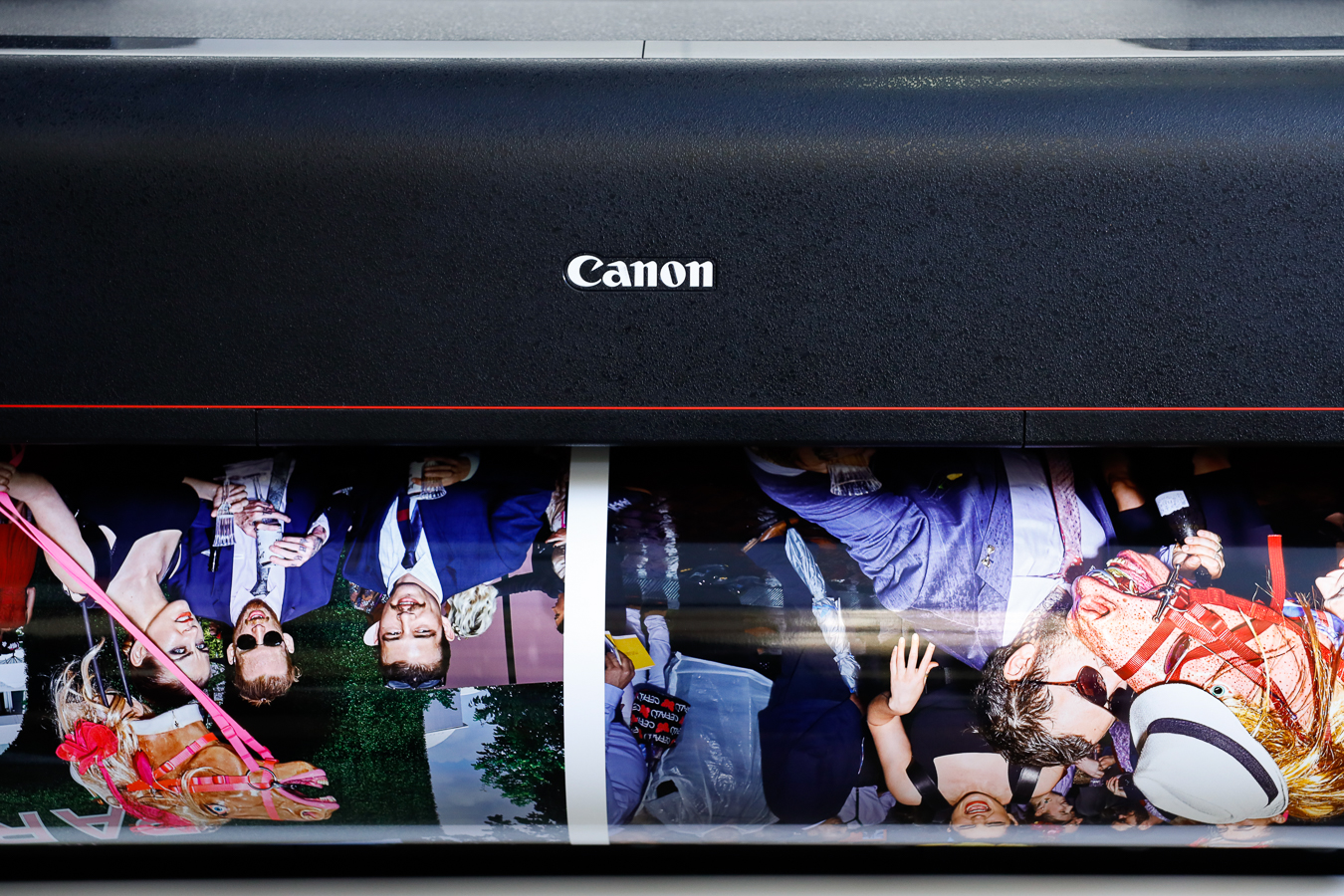 "What I loved what I love about the final work is that it tells a story and he does it in a fun way," said Hales.
"Reactions (to the fascinators on the shoot day) were quite varied. Some people took them seriously as an animal rights protest. Other people thought they were a TAB ad. We were talking about a lot of different things at once in the project so in that sense it feels successful."
4 Horses by Nic Walker and Megan Hales is printed by SUNPRINT Sydney.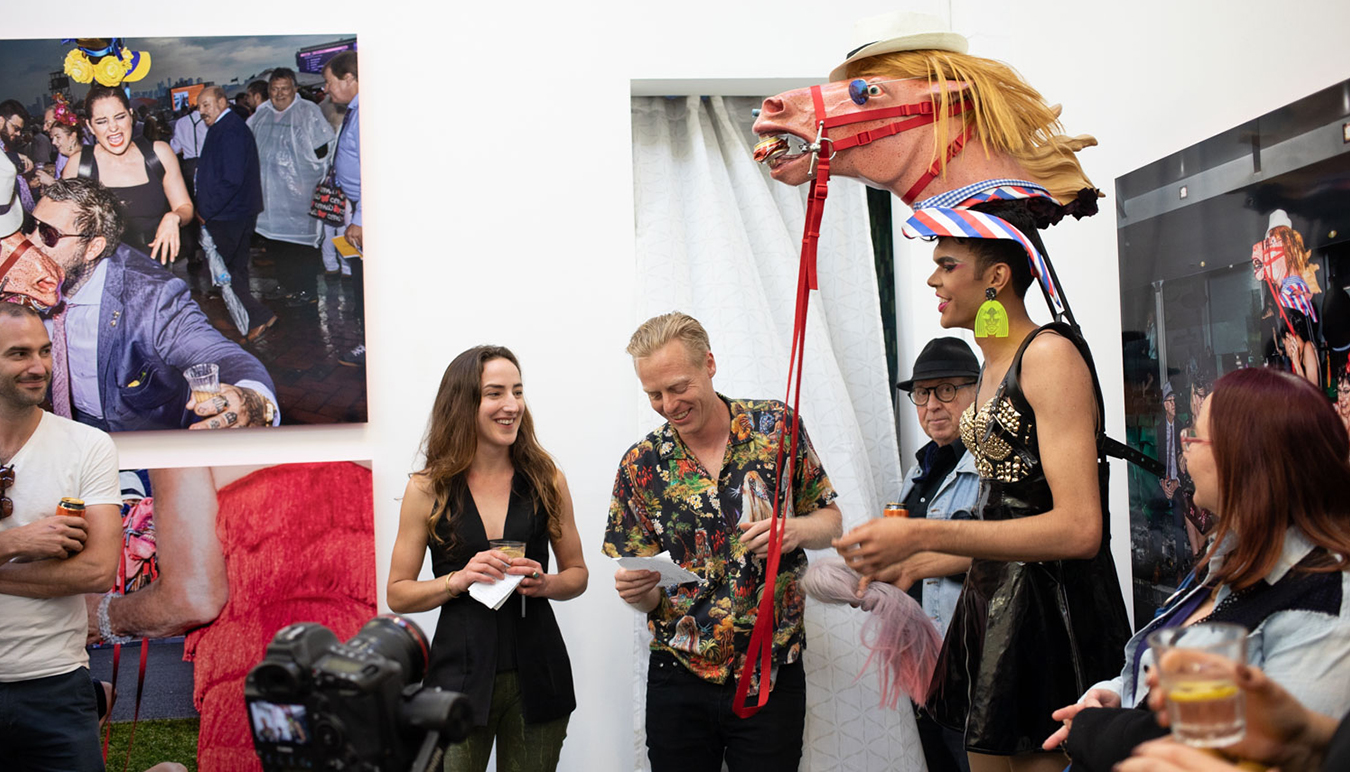 "Nic Walker, Megan Hales and the 4 Horses of the Apocalypse" produced by SUNSTUDIOS Australia.
4 Horses exhibition credits: 
Megan Hales (artist) 
Produced and Photographed by Nic Walker
Editing and sound design by Michael Tornabene
Videography by Jake Lloyd Jones and Tim Spicer
Four horsewomen: Jessica Clarke, Madeleine Tudor, Edith Kenny-Smith, Brooke Yallop