Photographing Sir Donald Bradman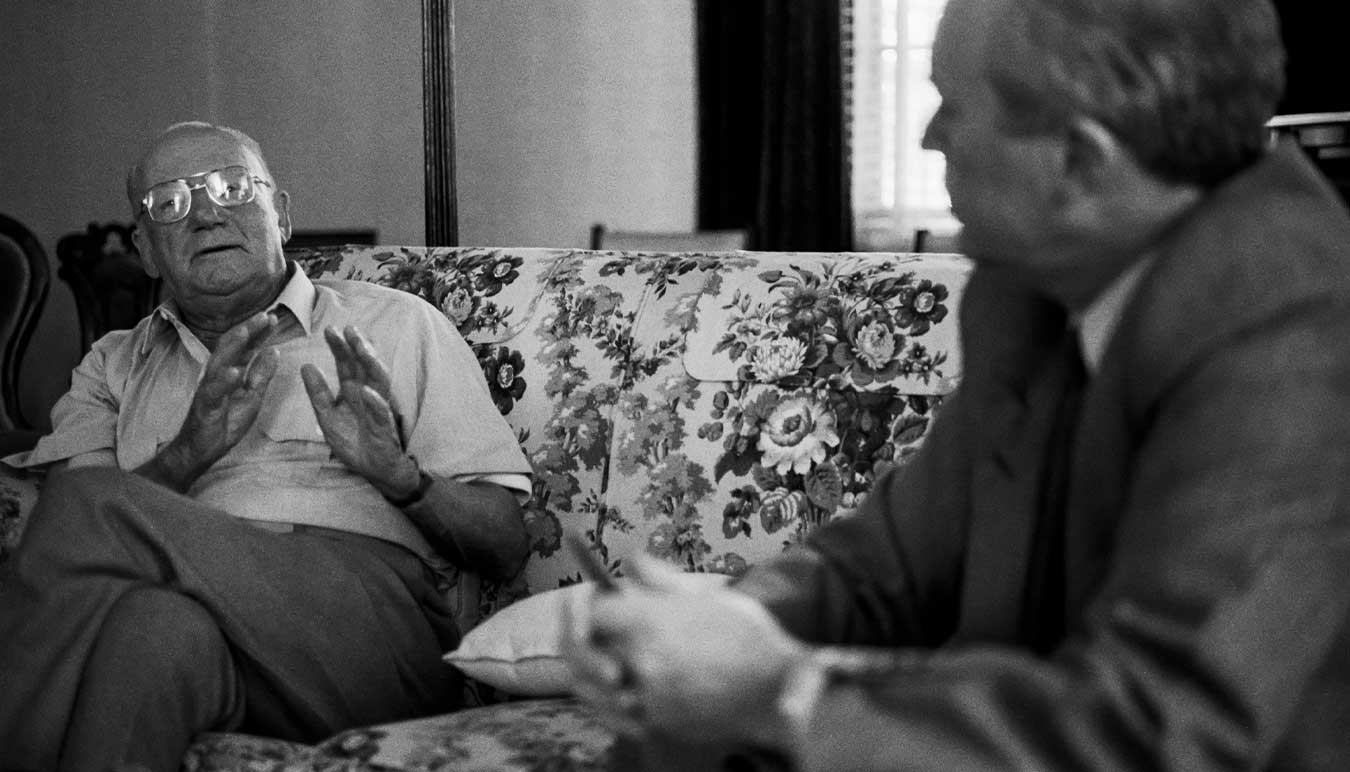 Dean Golja shares his memories of a day in 1995 when he was granted unusually long access to photograph sporting legend Donald Bradman.
His images, most of them never before shown, will be showcased at SUNSTUDIOS Melbourne to celebrate the launch of Tea and Scotch with Bradman by Roland Perry on November 21. Exhibition continues until November 29 at Skylight Gallery. 
He was a notoriously private man, retired from public duties by 1995. How difficult was it to gain access to Sir Donald Bradman?
Not as difficult as it seemed. The author, Roland Perry, was working on a book about Bradman called The Don. He arranged with the publishers to donate a part of the book profits to the Bradman Museum in Bowral, which, at that time, was in need of capital and support.
Fortunately, Bradman was also familiar with - and had read and appreciated - Roland's previous book on espionage called The Fifth Man.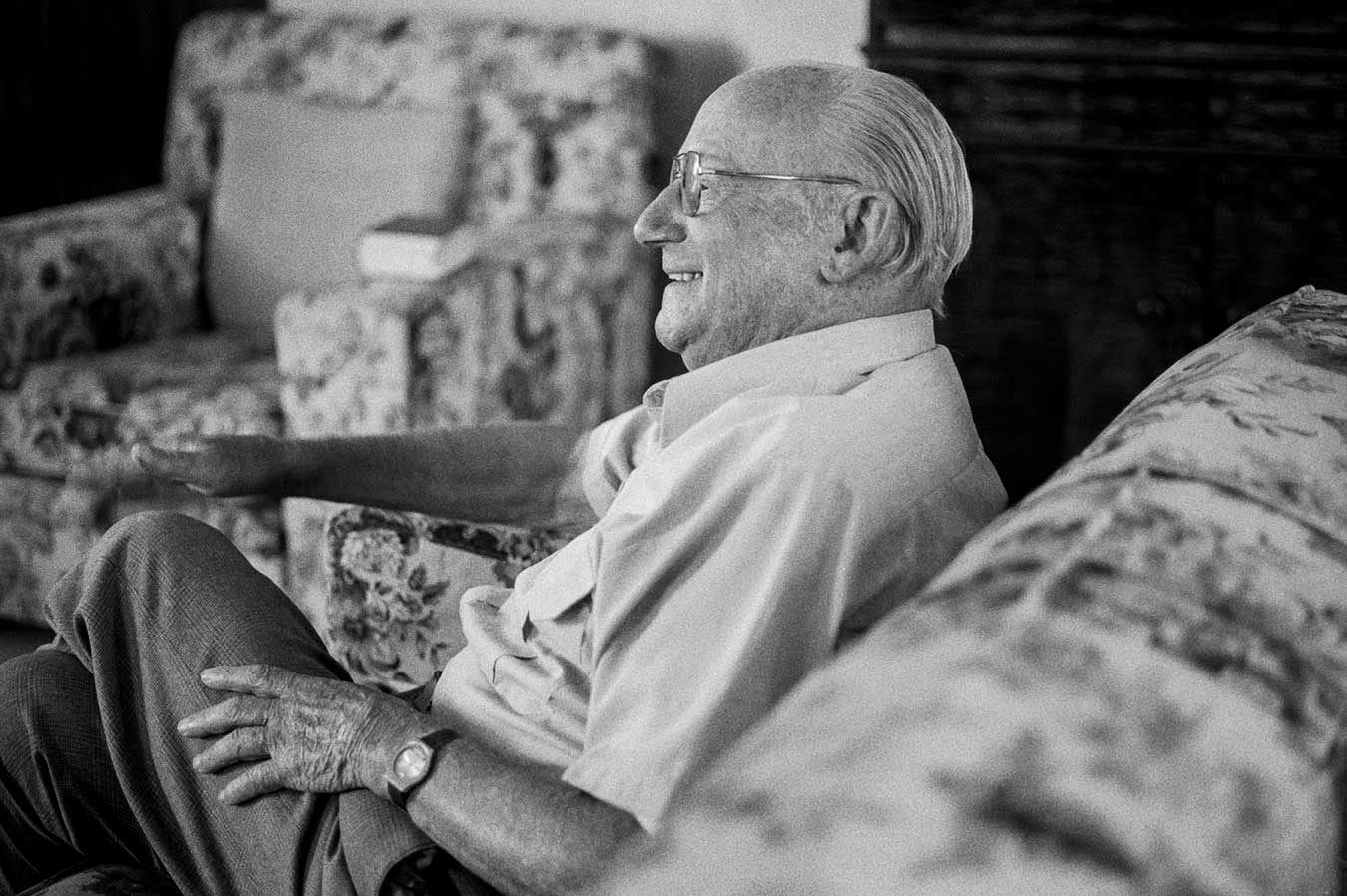 Bradman was known for disliking constant adulation. Do you know why he decided to grant access to a biographer and photographer at that time?
Understandably he disliked the attention because it was unrelenting and to the detriment of his private and family life.
More than anything, it was a matter of good timing. He was 86 and probably thought about a legacy and contributing truth from his perspective to information that was out there. He was a great researcher and would have found reason for not rejecting an interview with Roland. Though in reading Tea and Scotch with Bradman you'll realise the incredible list of more stately or famous people that he politely declined to talk let alone spend time with.
Much more of a risk was my role. Roland did mention he would bring a photographer, but we were prepared for a possible few minutes at the end of the day.
Instead, I was welcomed and valued just as much as Roland and spent the whole day photographing and listening with a lovely tea break with Lady Bradman in the middle of the day.
Remarkably, at the end of more than six hours of interviews and candid pictures, Bradman turned to me and asked if I wanted to "set up" any shots. I proceeded to do that mostly concentrating on images of he and his wife.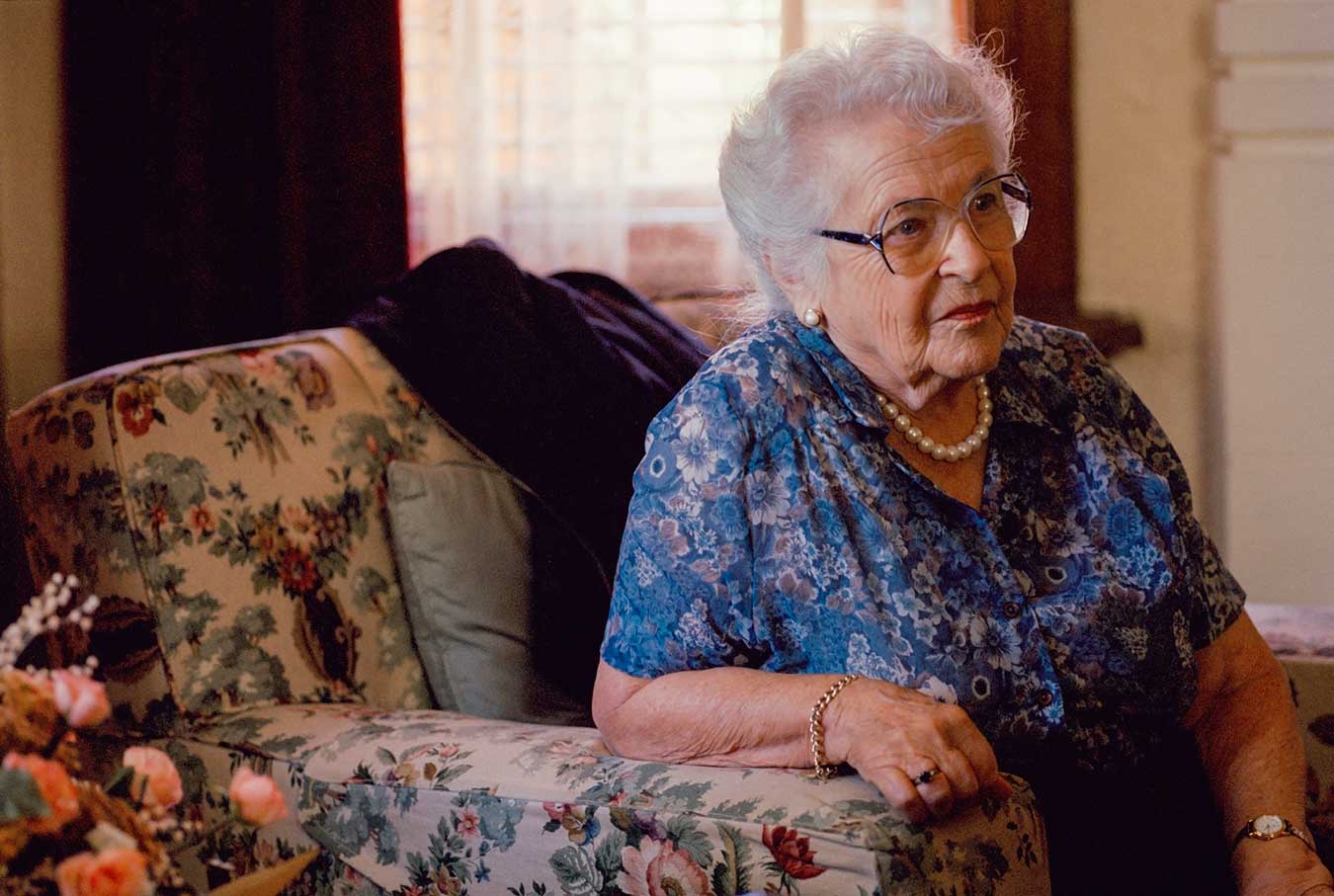 How did you prepare for the shoot?
After much thought, I decided to keep it simple. At that time, portraiture (with a documentary approach) was my main interest, trying to capture images that were not posed or images that were "true" in some way. Actually, I'm still trying ...
I had a great relationship with Leica through Mark Cummins, the national manager at the time and he kindly loaned me a DSLR R4 (I think) with a 100mm macro lens. I also had my own rangefinder M6 and a 35mm lens. I took six rolls of film: three black and white and three colour. No tripod, no lights.
The entire interview was conducted in the sitting room with very little natural light. As I didn't want to affect the atmosphere, I worked within these limitations.
What were your impressions of the man as an observer on the day?
That's a great question as mine were always going to be impressions. You can't expect to know someone in a few hours from mostly being in the background, listening.
I had very little interest in cricket as a sport. I knew of Bradman growing up, but only as you know a figure said to be a legend. I didn't know why. Now I do and Roland's books do an impressive job of giving us facts as to why he's considered, probably, the best sportsman ever - and a unique figure in Australian history.
In that short amount of time, I learned a lot. His responses to questions were acutely focused, demonstrating extraordinary intelligence and humility.
Even with my limited knowledge of the game, I could see and understood this. I came to appreciate his character and the nature of the game and what it took to achieve what he did both on a mental and physical level.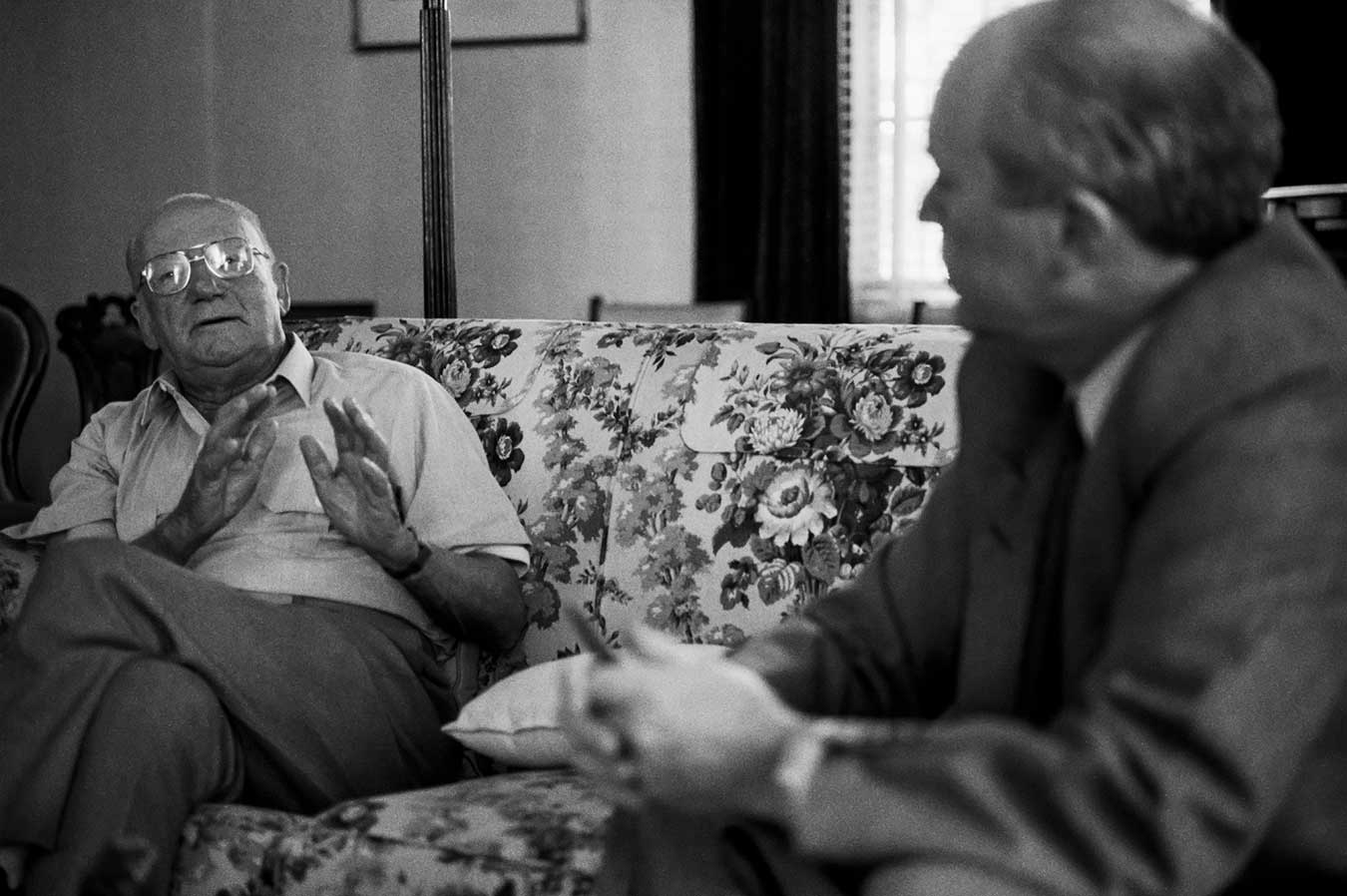 Your most striking moment you'll remember?
It really was a thrilling moment just to get in the door, after which there was a series of many hits ...
The funniest moment came at the end of the interview when Bradman asked me to proceed with some more photographs. I had my camera gear near the couch where he was getting up and he jammed his foot on the bag and started to lose his balance and fall backwards. I was close enough to put my hands behind his back and stop his fall.
For a split second, I cradled the man in both my hands until, from the other side of the room, Roland exclaimed "Well caught, Dean ..." and this lightened the mood.
Any reflections on the images today as time has passed?
I think there is a sense of intimacy with these portraits that still comes through - a sense he is at ease in his home and not being intruded upon.
Also, they are rare. Most of the 25 or so pictures have never been published or shown. I felt wrong about pushing them into the marketplace.
On the occasion of this book launch, almost 25 years on, it seems fitting to have a more complete visual portrayal of Bradman to accompany the book; to commemorate this remarkable day that Roland and I shared with Donald and Jesse Bradman.
WHERE: SUNSTUDIOS Melbourne 95 Buckhurst St. South Melbourne VIC 3205
WHEN: 6.00pm - 9.00pm 21 November 2019. Exhibition continues until November 29.