Recreating a masterpiece: Guy Bourdin, AP8 and SUNPrint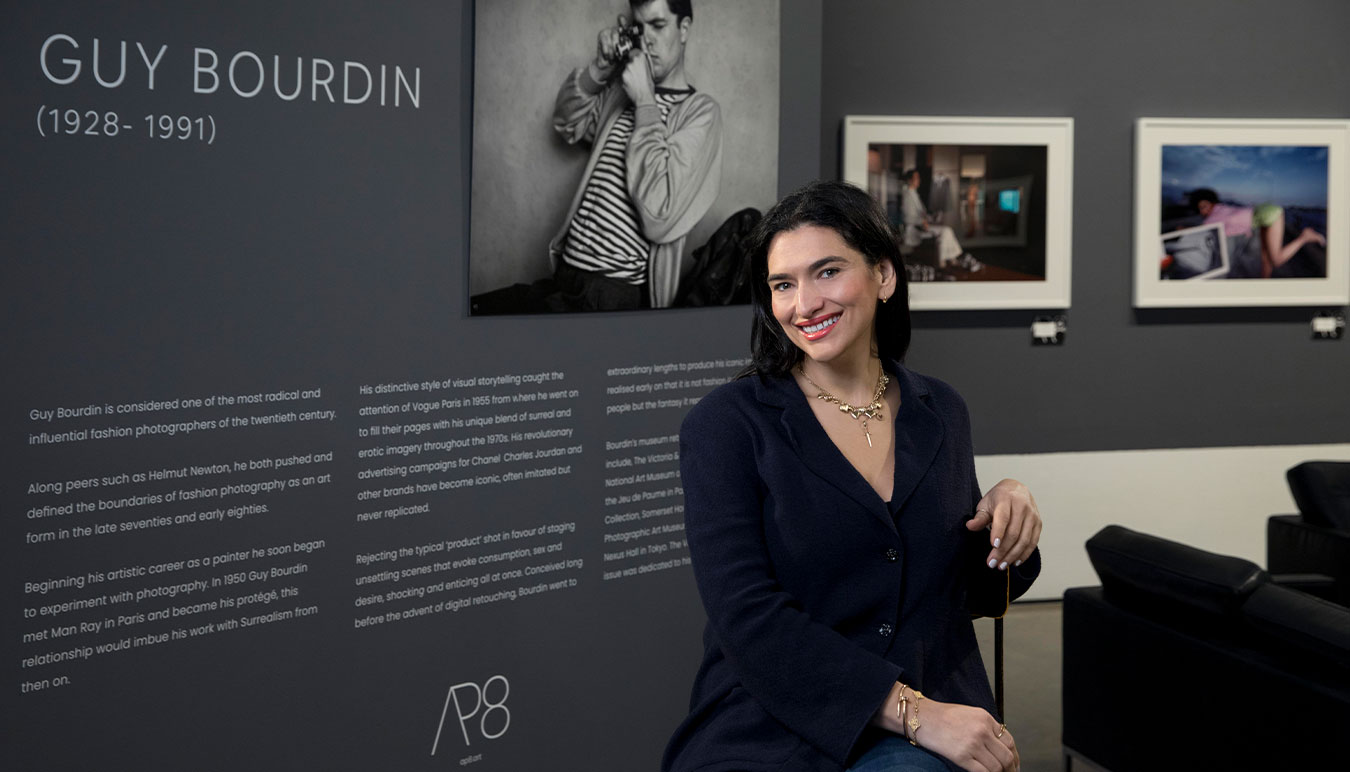 When looking to bring legendary artist Guy Bourdin's work to an Australian audience, online art collection platform AP8 searched worldwide for a print partner — and found exactly what they were looking for locally at SUNSTUDIOS. 
---
After securing the rights to release work from one of the most well-known and influential figures in photography, the next challenge for AP8's Viola Raikhel and Joel Pront was to bring his prints to life at the highest standard expected by the Guy Bourdin Estate. Looking for not only a premium quality fine art printer, but a service that could perfectly match the original C-Type prints with inkjet printing  technology, and also manage production and shipping logistics.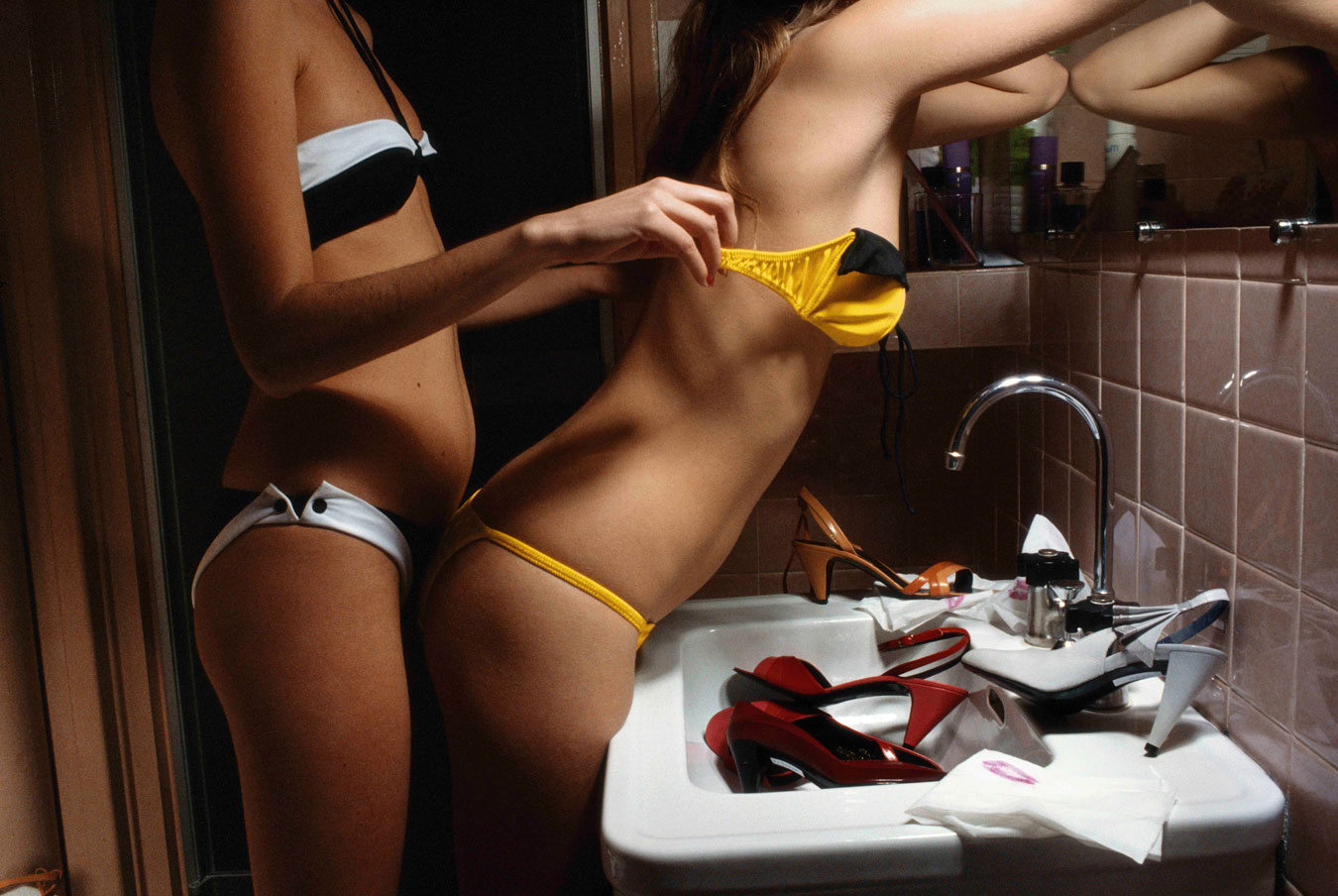 'Ad Campaign - Summer 1983' by Guy Bourdin. © The Guy Bourdin Estate 2022.
Finding the right printer for the job 
"When looking for someone to produce the Guy Bourdin Collection for AP8, we had to consider a few things," said Viola Raikhel, Curator and Co-founder of AP8. 
"Firstly, who in the world had the expertise of craft but also the professional sensibility to treat Guy Bourdin's 50-year-old images with the respect they deserved. Secondly, how could we navigate global supply chains to deliver our program in a matter of weeks, and not months. 
"Usually, I'd look to art suppliers in the UK or Italy to bring to life a production of this calibre, however, in doing our homework for the best Fine Art Printing Services across the global industry, we found Selena right here at SUN Print Sydney and I'm so proud of what we have achieved."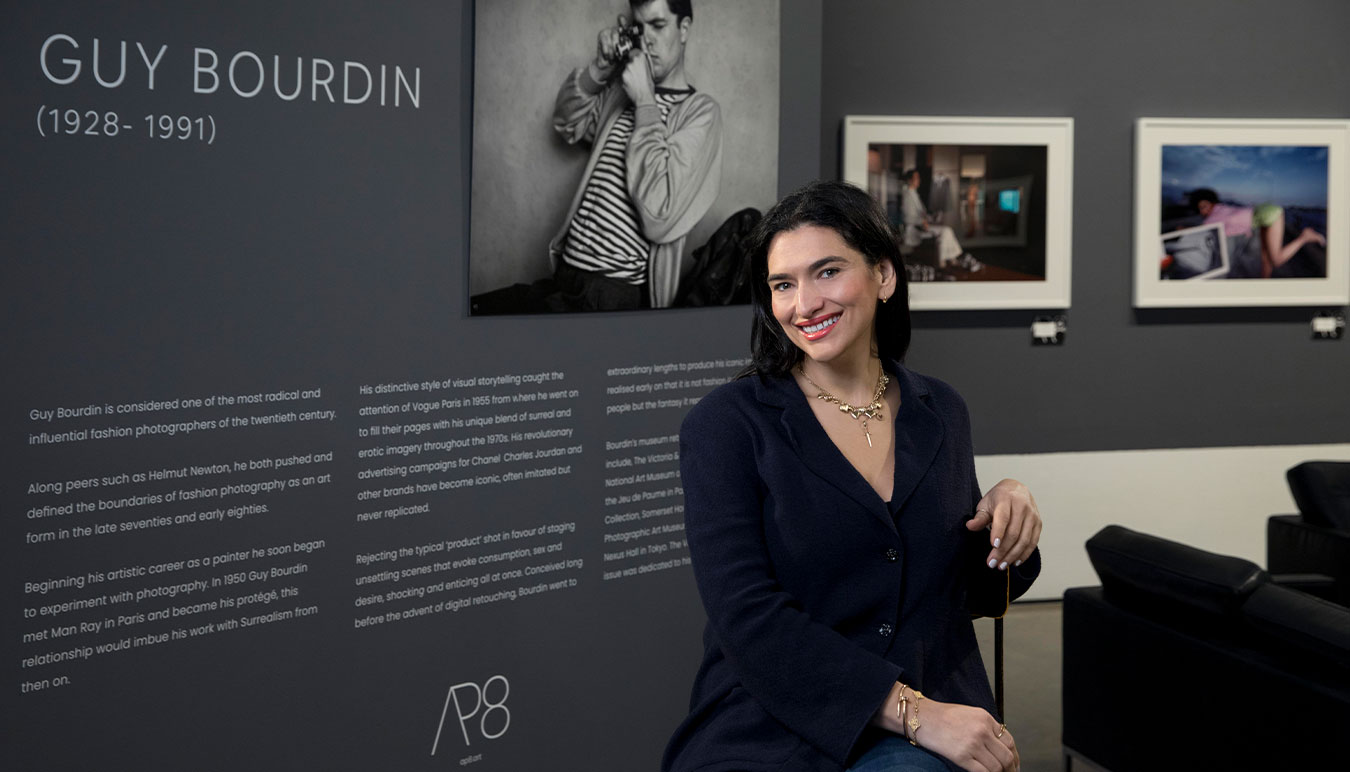 Viola Raikhel, Curator and Co-founder of AP8 at Atrium Gallery Sydney. Image by Lyndal Irons.
The project was ambitious and two-pronged. Commencing with production of an exclusive release of imagery world-wide via NET-A-PORTER shipped to hubs throughout Europe and the US, Hong Kong, and Asia, AP8 then hosted their own release of limited-edition fine art prints coinciding with a multi-state launch exhibition at SUNSTUDIOS' Sydney and Melbourne galleries. 
Comprising of 20 images from his collection, the exhibition at SUNSTUDIOS is the largest Guy Bourdin exhibition hosted in Australia in 20 years. 
"We liked that SUNSTUDIOS is a gallery, a working video and photography studio, and a premier destination for fine art printing all in one. While Guy was the father of fashion photography, he was foremost a working photographer and would have been completely at home in studio spaces like those at SUNSTUDIOS."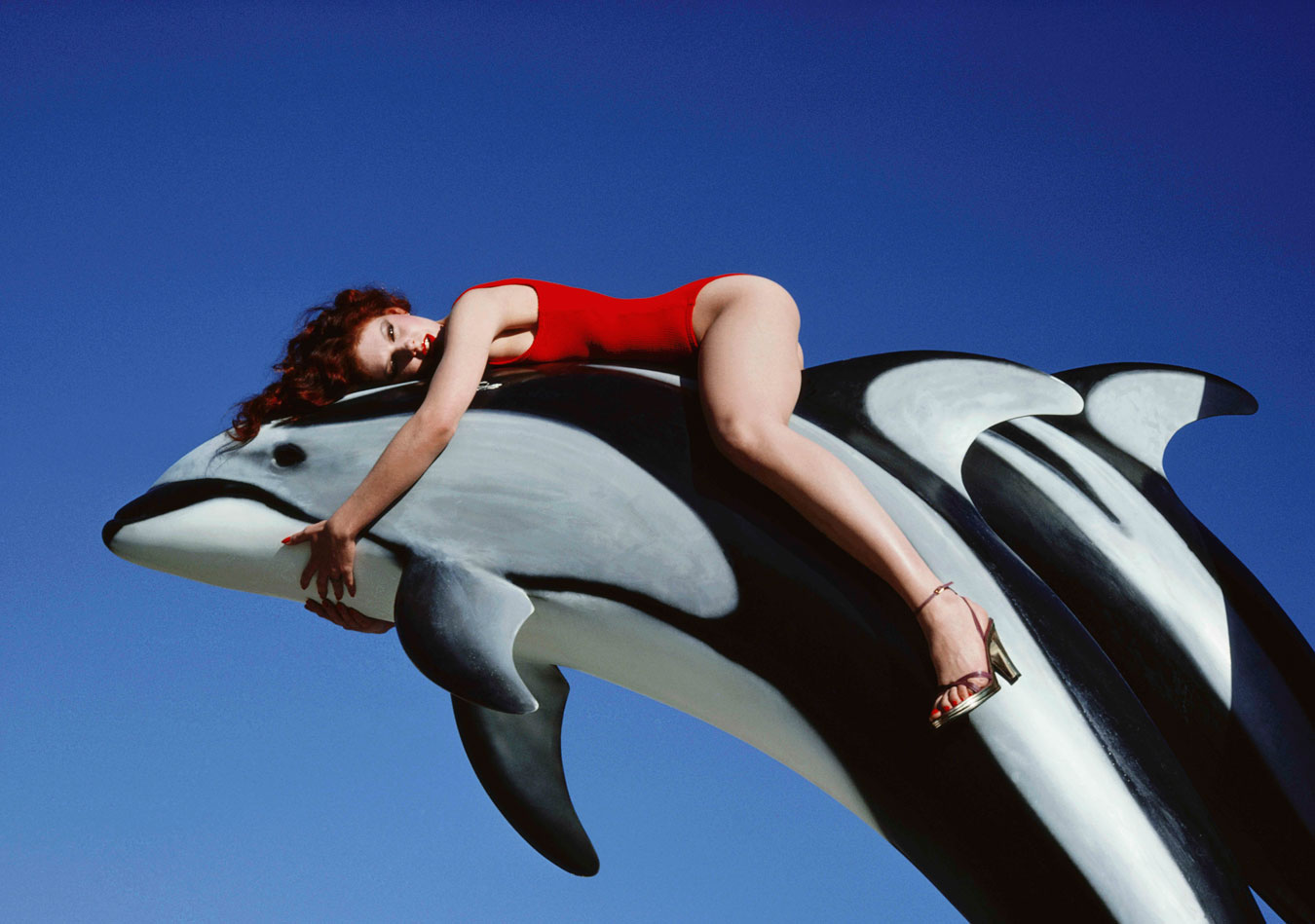 'Ad Campaign – Summer 1978' by Guy Bourdin. © The Guy Bourdin Estate 2022.
Getting down to detail 
When approached, SUNSTUDIOS perfectly understood the gravitas of AP8's project. 
Bourdin's previous exhibitions name check some of the most prestigious international museums and collections including The Victoria & Albert Museum, Tate Modern, MoMA in New York, and The Getty Museum in Los Angeles. Now in 2022, his work was installing at Sydney's Atrium and Melbourne's Skylight galleries – with many more prints shipping around the globe.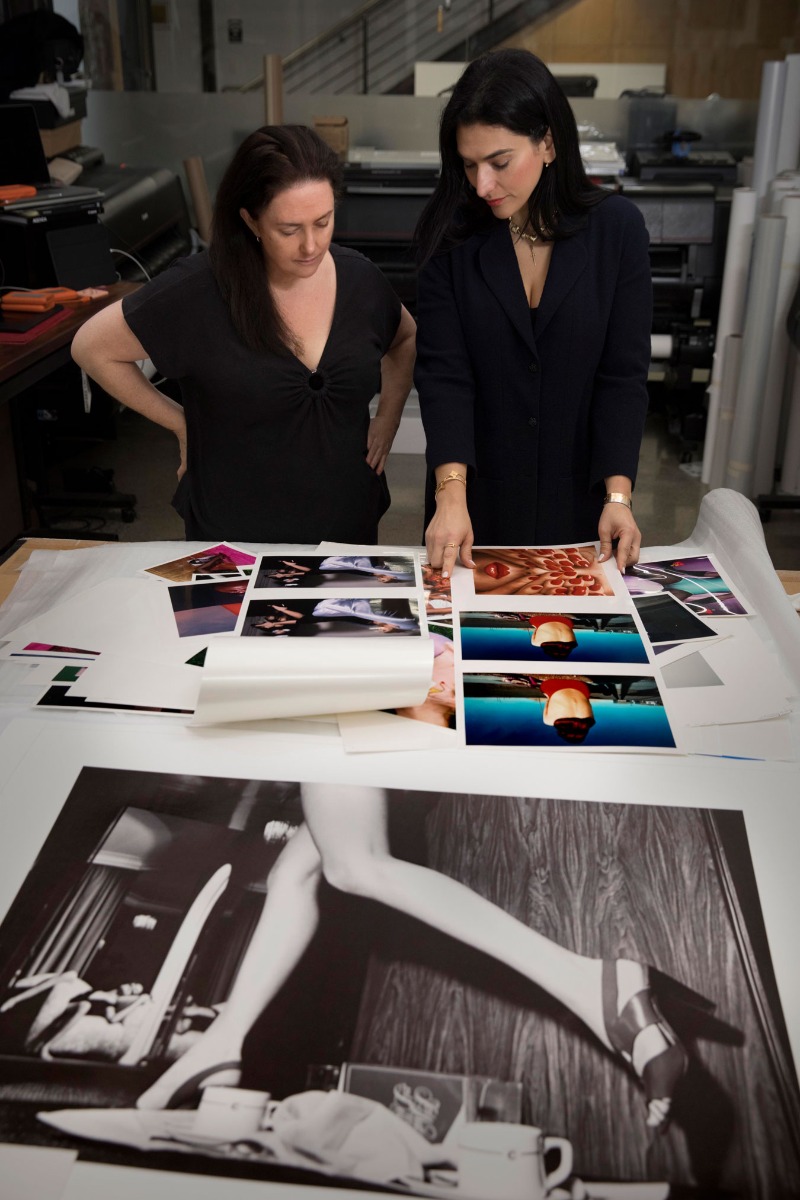 Viola Raikhel consults with Selena Simpson of SUN Print. Image by Lyndal Irons. 
"This project was so interesting and unique because of the scale, history, the strength of the images and the reputation of the photographer," said Selena Simpson, fine art printer at SUN Print. 
"We tested a whole range of different papers from rag-based coated baryta glossy and semi-gloss papers, metallic and high-gloss papers to match the supplied proofs." 
While colours could be matched and a good result achieved on all those medias, the high-gloss shine of the metallic media best rendered the feeling and reflective quality of the C-Type originals in the pigment prints produced. Simpson had custom  icc profiles made for each of her two Canon imagePROGRAF 12 colour large format 44" and 60" printers, equalising the output results across the two printers. Each scanned image was then tested and adjusted to match the C-Type original intent in tone, colour, saturation and contrast.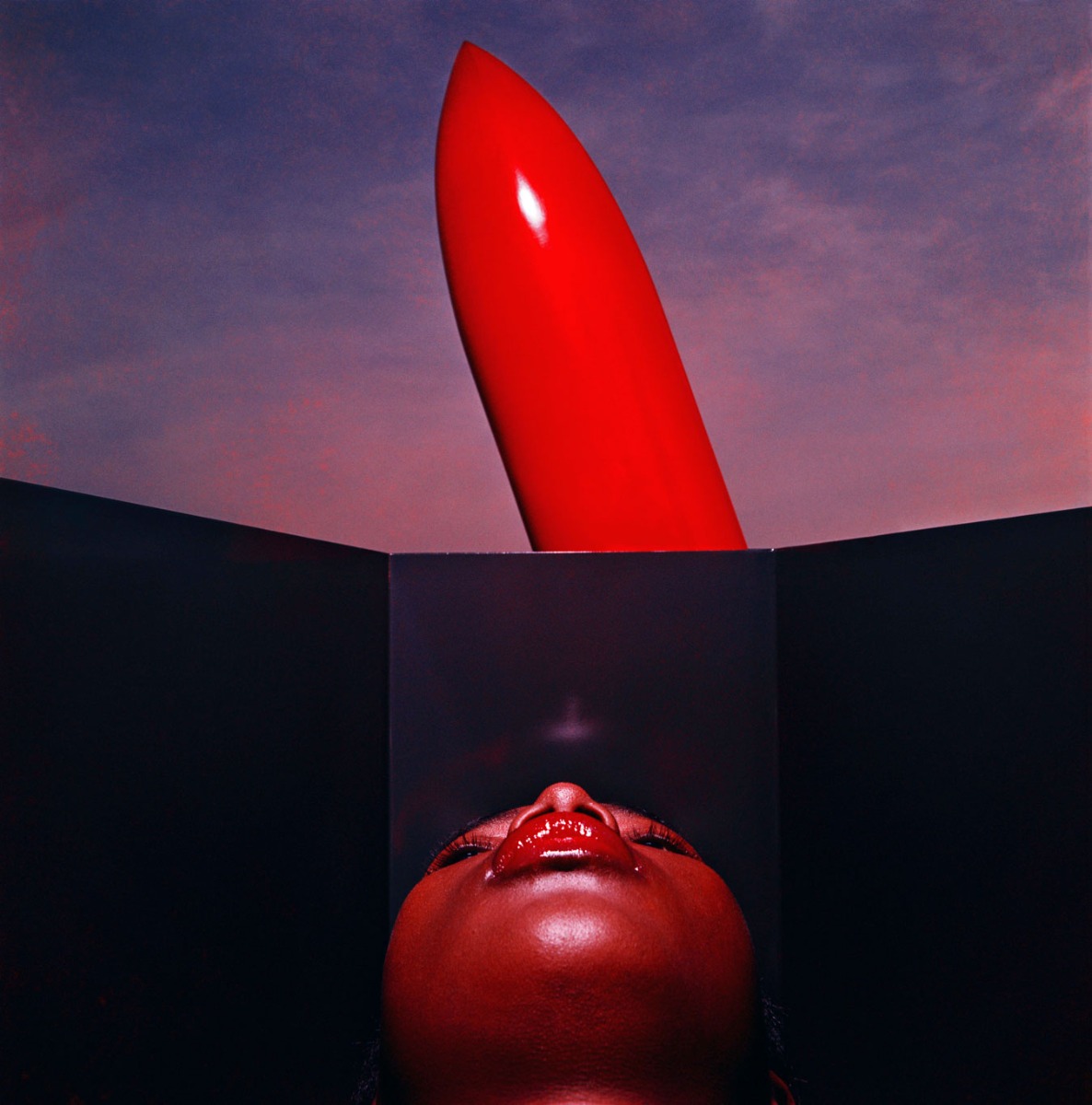 'Vogue Paris – March 1972' by Guy Bourdin. © The Guy Bourdin Estate 2022.
"Often in printing there's some interpretation from the printer in collaboration with the artist that may come to change or improve things in in the printed result, but with this job it was about making beautiful prints but also matching the proofs that I'd been given – and we got extremely close to an exact match." 
As C-Type prints are developed as opposed to being printed as a series of dots in ink, every file required attention to match the soft tonal transition in the proofs. Canon's LUCIA PRO pigment based inks easily accommodated the wide colour gamut required to match the C-Type proofs and Guy's trademark saturated colour palette. 
"Viola and Joel from AP8 approved decisions at all stages of production," said Simpson. 
"I presented them with the options and together we worked toward a decision on which was right for them. It's been a great collaboration – they've been very engaged in the whole process and actively involved."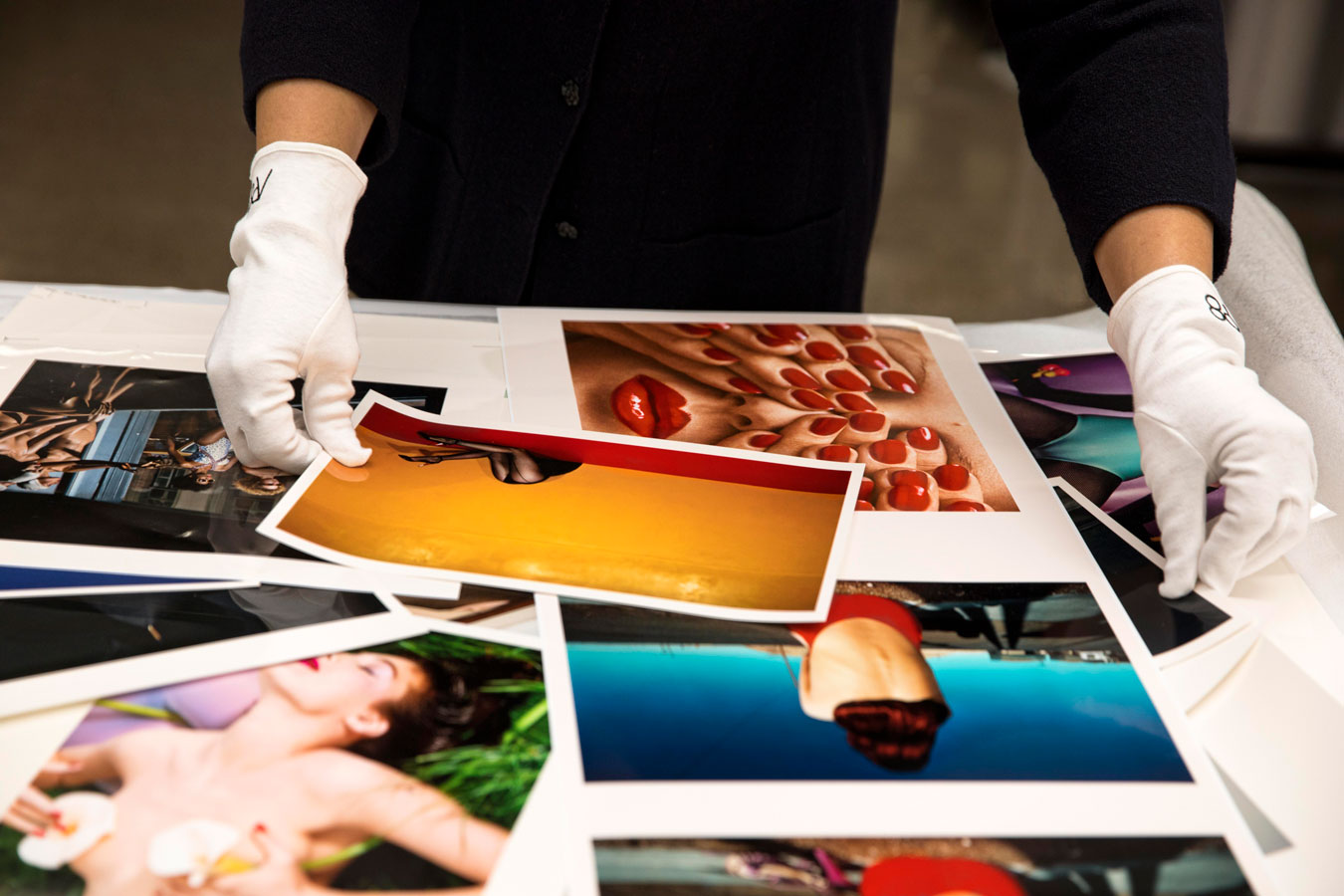 Image by Lyndal Irons.
The results 
Bourdin was a notorious perfectionist. So, it's fitting his work be printed by another.  
"We have an extraordinary relationship with Selena - her skill is second to none," said Raikhel. "What makes her a master is her attention to detail. She is a perfectionist. Perfection with an extremely accommodating personality. She is a dream to work with. She worked to the extract standards of the Guy Bourdin Estate."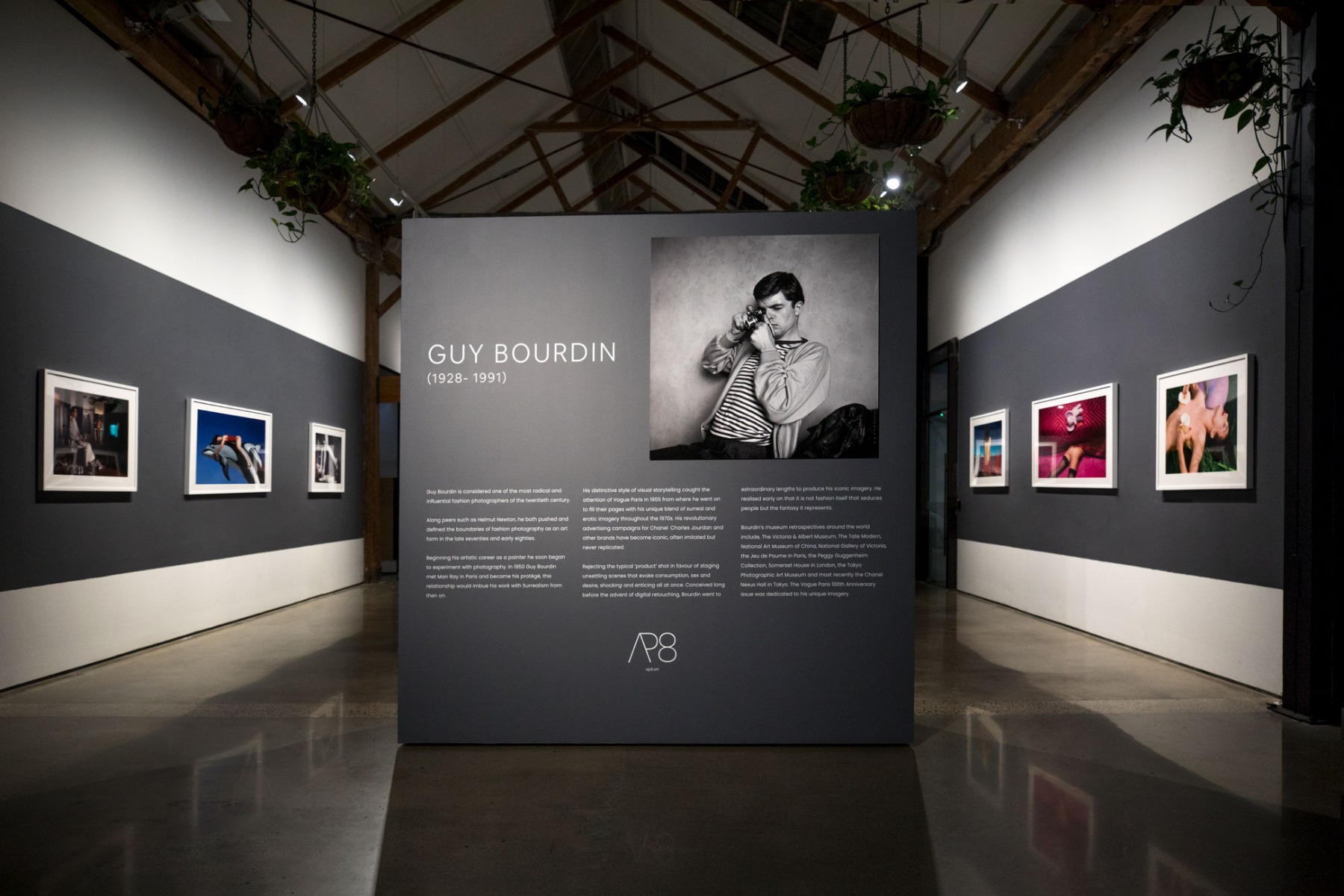 Guy Bourdin 1928-1991 exhibition installed at Sydney's Atrium Gallery. Image by Selena Simpson.
"One of the silver linings from the last two years of lockdown is that Australians have had an opportunity to look for inspiration and talent locally, and they've found it. Many people are no longer willing to wait 18 weeks for something to be made and shipped from Europe when the same quality is available here. 
"As soon as Master Art is printed, it becomes part of an art collection, and now this collection is available to be viewed, and even consumed at home thanks to the Estate, AP8, and SUNSTUDIOS."  
Guy Bourdin 1928-1991 is exhibiting at Sydney's Atrium Gallery until July 29, and Melbourne's Skylight Gallery until October 31, 2022.