Ocean and ink: Ryan Pernofski on building a successful print sales business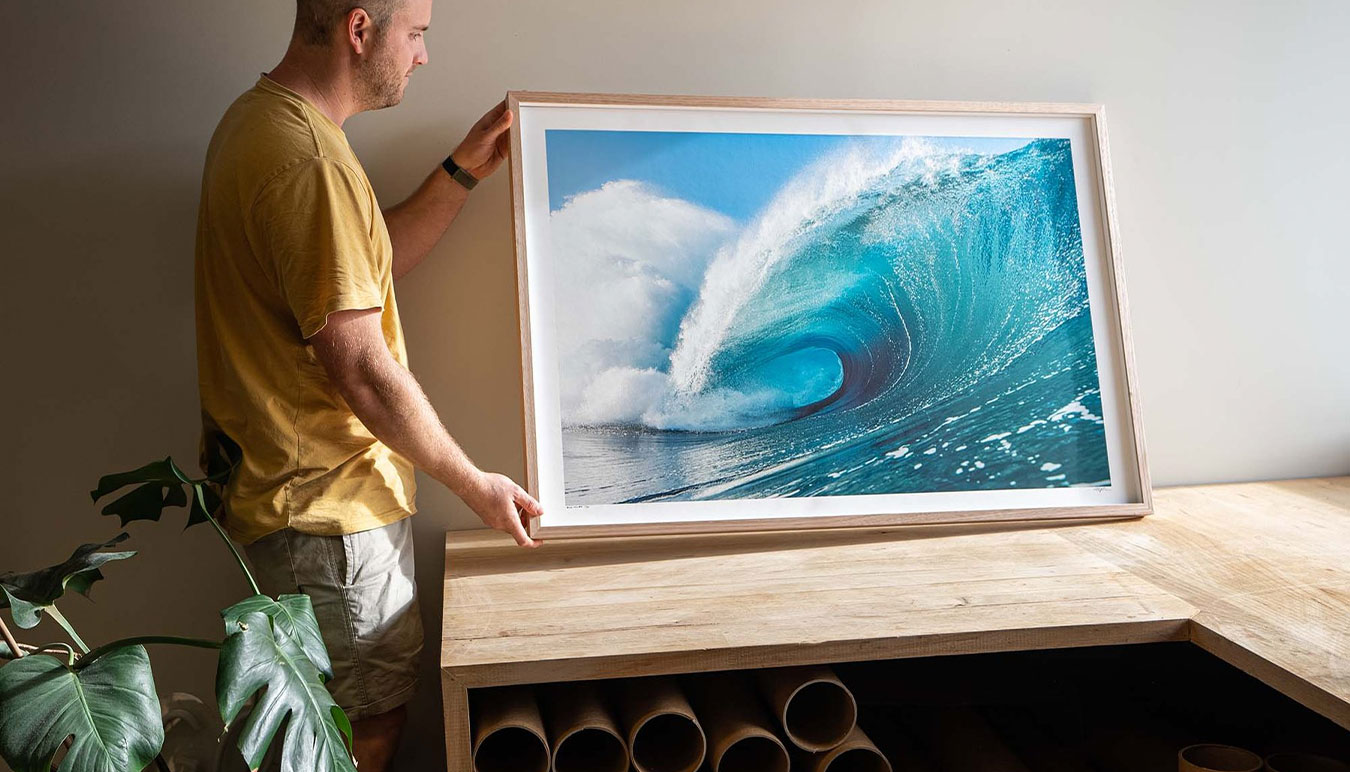 It's the sea change photographer's dream: get away from the city and make a living selling prints you've made in the ocean. It is possible, but it takes a lot of work, says Ryan Pernofski who has successfully built his business from a mix of Instagram, investment, inspiration and an appetite for doing absolutely everything.

He shares his tips and insight into how to build a successful business out of photography print sales.
---

Paint me a picture of the point your business started from.

I had heaps of different jobs but my first creative job was graphic design. And then as a side hobby I was taking photos. I launched an online store through Instagram and it started getting traction from there. Quite quickly, my print sales easily matched my graphic design income and once that happened I thought I'd better put some more energy into it! I transitioned from graphic design to selling prints, all through Instagram.

I scrambled to find a good way to provide them, and I slowly transitioned from getting them outsourced to doing them in-house. Now I make all my own frames and prints, so I do ... everything.
What are the key practical considerations or decisions around setting up a print sales business as a photographer? What do you need to get right?

There's so much. So many variables. I guess as a creative person you can be overwhelmed by too many options: papers, sizes, how to present your product. But the beauty of it, the reason I wanted to do it myself was so I could have complete control. Because I have that direct relationship with my images and then, because it is also me printing, I can make decisions quickly around what paper works best, and other considerations.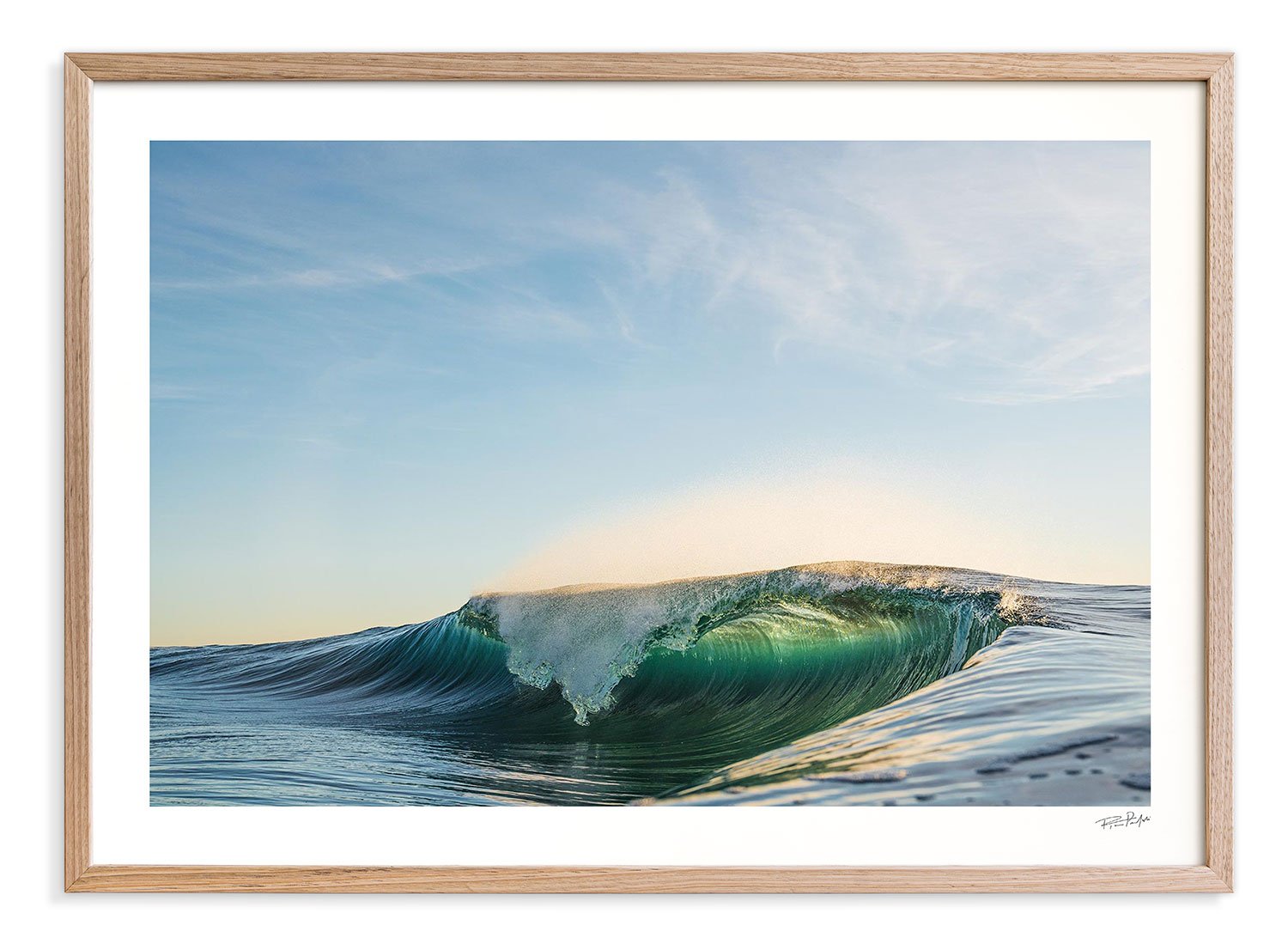 I didn't want to waste paper or crop my images so I add a border to my image size to make them easier to standardise. I don't know anyone else with the same sizes as me - it's something I've learned as I've gone along in trial and error. I am always asking Selena Simpson at SUN Print for her advice. It's super important to have mentors, people who are doing what you do (well) and who are willing and generous in sharing knowledge. It's been completely invaluable to have that.

I'm a hands-on person so I jump in and see what happens. When I was about to start framing I asked one particular framer, I'm thinking about making my own frames and his advice was, "Don't do it."

I've been doing it for a year now and I totally agree with him. There is so much that can go wrong. But I love it, I don't regret it and I'll continue to do it. My encouragement would be to only step into it if you are willing to learn every day.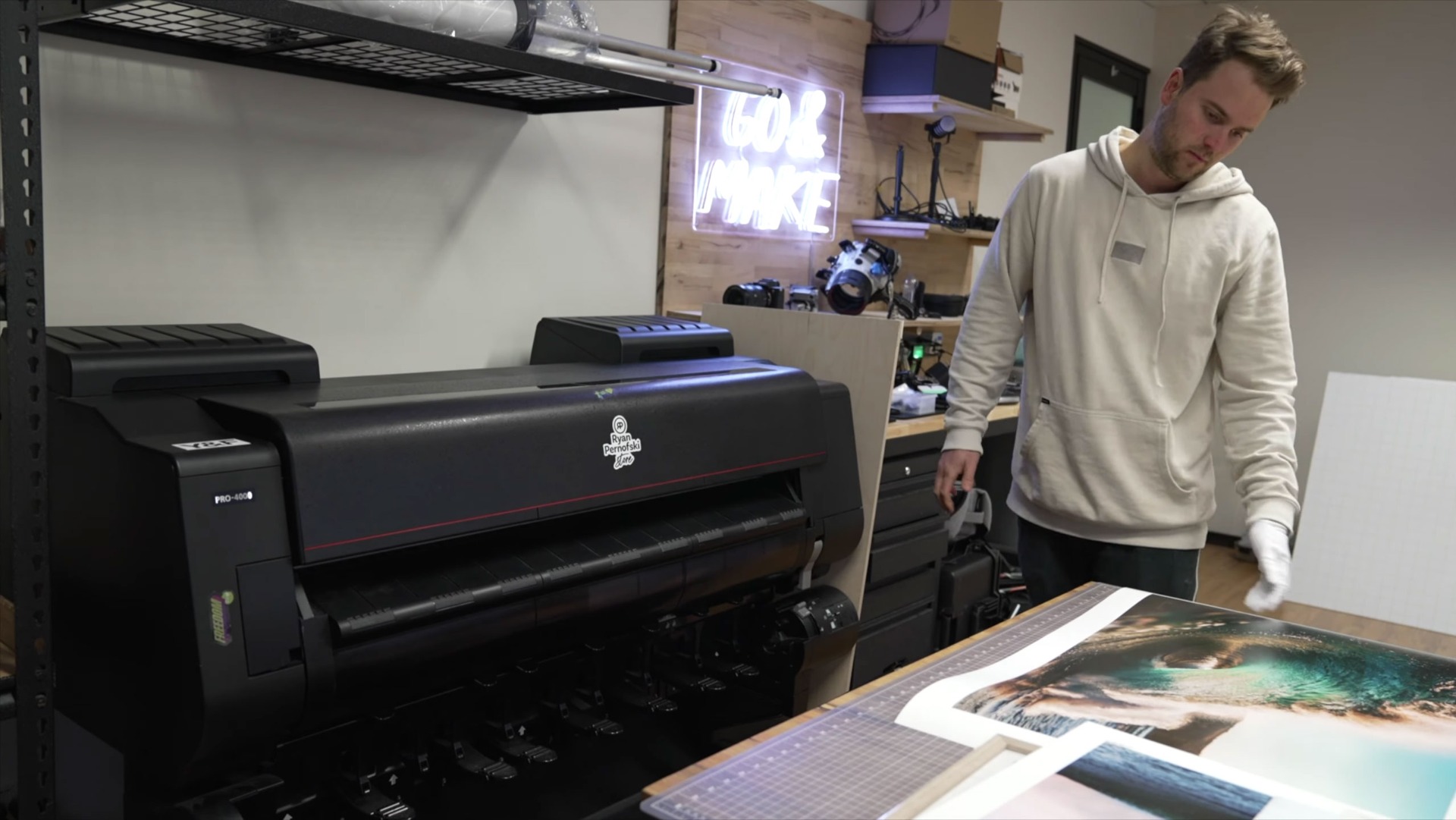 Why did you decide to print in-house rather than use an external printing service partner, and how did you go about choosing which printer to use?

I went to SUNSTUDIOS one day, I had time to kill before getting on a flight. And so I popped in there because I'd heard about it. I was checking out cameras and started chatting to Selena and she showed me the Canon Prograf Pro 1000 A2 printer and offered me a test print. And I knew I had to get one of those printers! It was probably another year before I did and it was shipped down to me on the south coast. Once I started selling those sizes I started also getting more demand for larger prints.

To upgrade to the 40 inch printer range I ran a sale, a new release of a certain group of images called 'Glimmers of Light'.
I did a drop over a long weekend and made it available for a limited time only. They were all large format prints and I sold enough to purchase the printer, paper and everything else that went with it. And I had to choose between getting them outsourced or investing all the money back into my business. I had a long-term goal to print in house so it made sense to break even – and have a printer!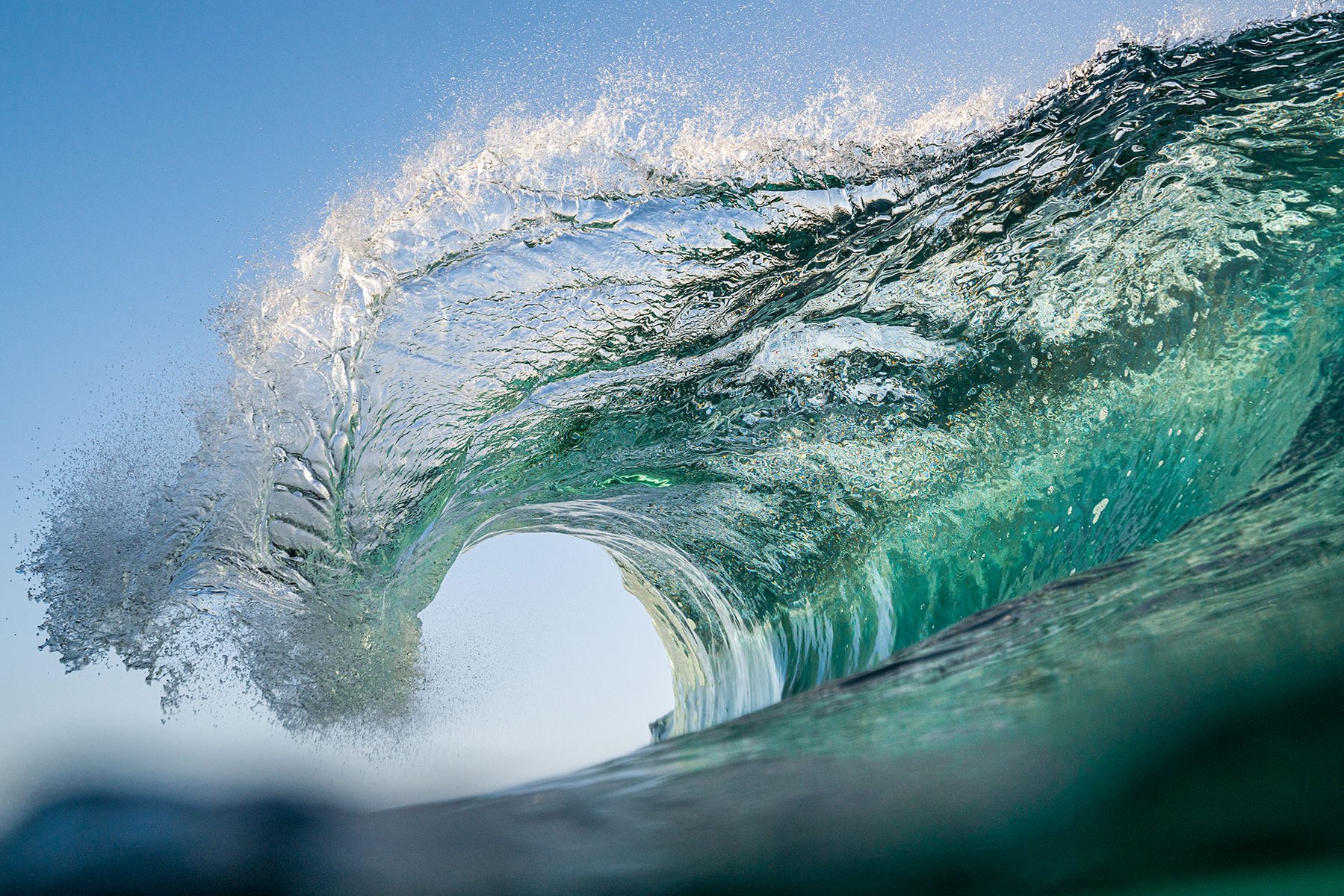 Was that a different beast to learn?

I did all my learning on the small printer. And that is the best way to learn. Starting with something user friendly and upgrading as you go.
When I upgraded to the new printer it felt like a dream. It wasn't too difficult.

What are examples of things that have surprised you, challenged you and rewarded you along this journey?

I just really enjoy it. I love doing it. A big reason I went to printing my own stuff was because I am a very hands-on person, I love getting my hands dirty and being involved. I worked at a bakery for eight years, and all my friends are tradies. Lot of artists I know couldn't imagine anything worse than doing their own framing or printing. For me, it felt like when I was outsourcing I was just the middle man and administrator of my business.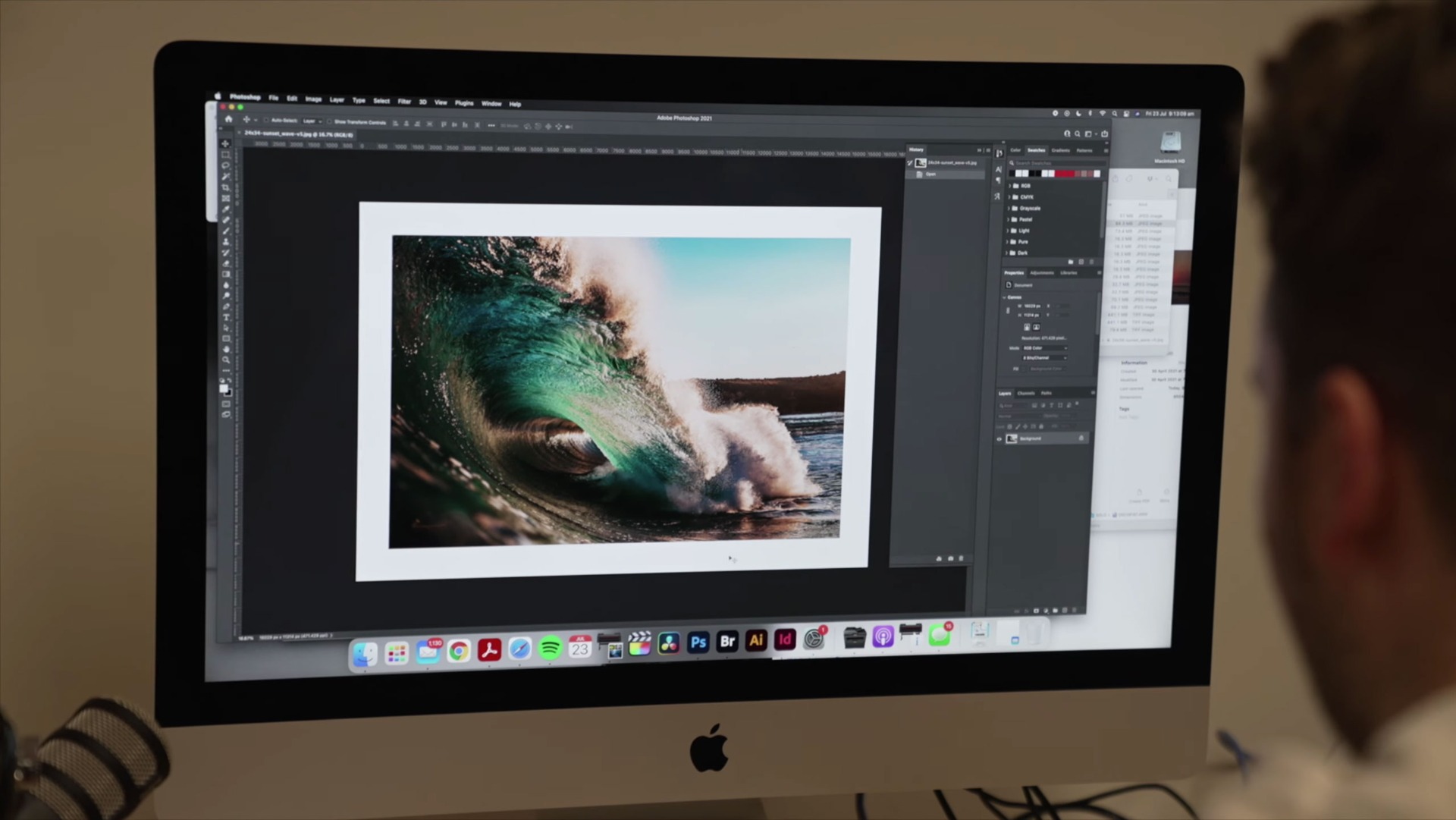 I want to spend the least amount of time on the computer as possible. I tend to just shoot for an hour in the morning or at sunset because those are my favourite times. So I have the rest of the day to do something. I have the rest of the hours in the day to print, frame and ship prints.

I think the customer appreciates that too, the fact that it is all done by the artist.

What is the scale of your business today?

My first goal was, can I just make a little extra money while I was doing graphic design as a job? My second goal was: can I replace my income with prints? That was my dream.

I remember packing up some orders and thinking if I could do this everyday, I would just love that.

Now my print store has been my main income for 2-3 years, my goal is to have a couple of full time staff members.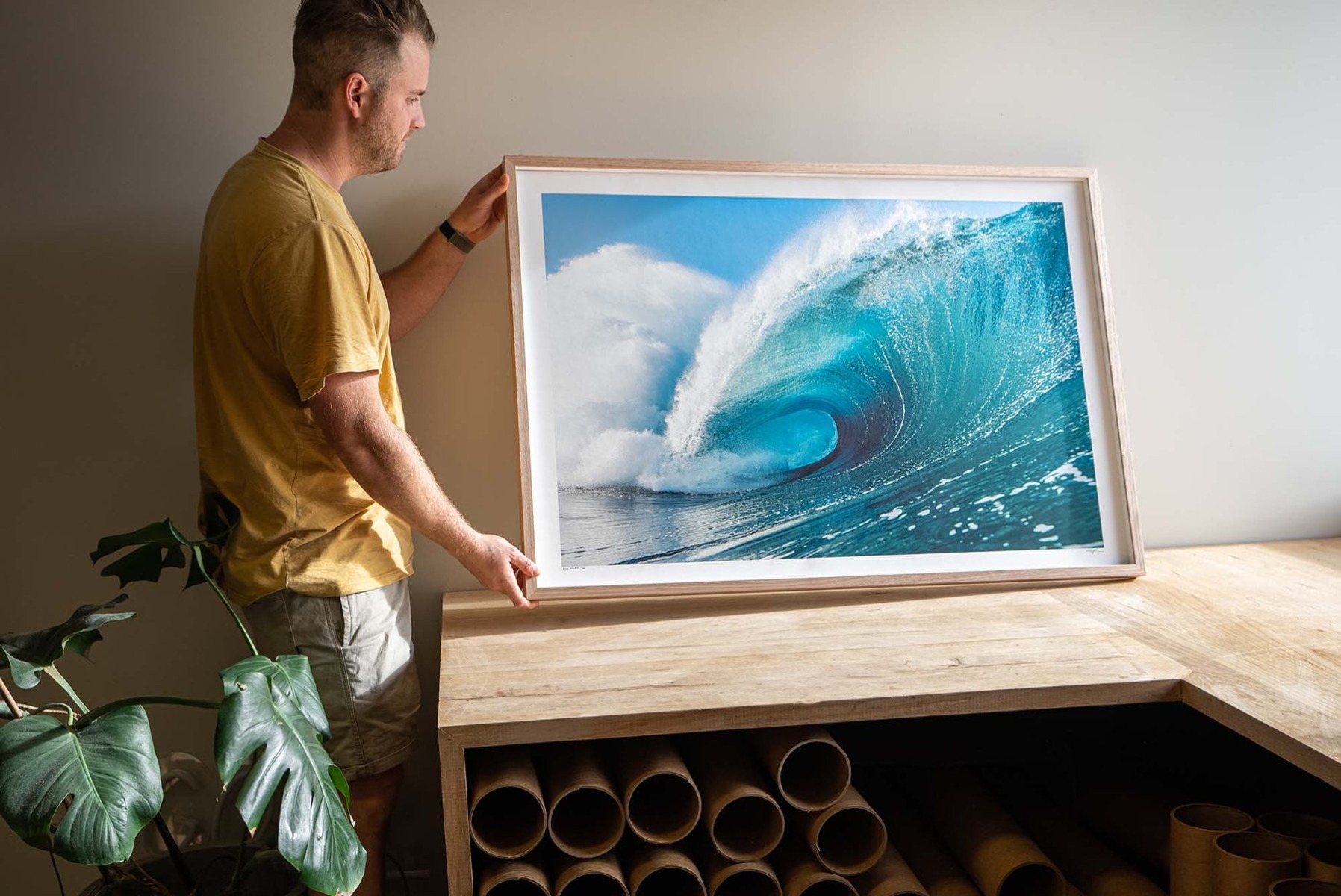 My sales come direct through Instagram - people clicking the link in bio and making a purchase.
My Australian market is growing but typically 90 per cent of sales have come from overseas: America and then equal parts Canada, UK, Germany, Switzerland, different parts of Europe.
In 2022 I'm opening up a pop up gallery locally over summer on Ulladulla - a new gallery space overlooking the Harbour, hopefully opening January. I am testing the waters there.
It can be stressful but it's what I want to do – it's the chaos I have created, so I'm glad.

Tips for setting up your own print business:
Give the people what they want: I am always just listening to what people are asking for - because that is who I am selling to. If there is a common thread, a question a size people want, I am trying to get as much information from my audience as possible. This is backed up by consumer behaviour and what they end up purchasing. That has always guided my decision making.
Consider a border: But I've added a border in the print size which is good because I never have to crop my images. They stay in the native ratio you photograph in.
Question yourself: I am always trying to one up myself by asking, "How can I make the brand better, the customer experience better, the packaging better, the product better? How can I get better at photography?" Because if you are going to expect people to spend money on it you're going to have to put money and thought into your product. 
Test your market: Once I made the wrong-sized frame – and rather than discard it I put it up on an online community noticeboard to let people know the image was available locally. I got like 50 messages in an hour and many after, people asking do you have anything else? It sounds a little too simple but it's the best way to do it. Just ask the people you want to sell to would you want to buy this? And then if you can, run a pre order initiative so you don't need to spend money upfront. The worst case scenario is that people say no and you've lost nothing. You just need to test the waters and then jump.