Underwater Photography with SEPA 2018 Runner-Up Mark Morgan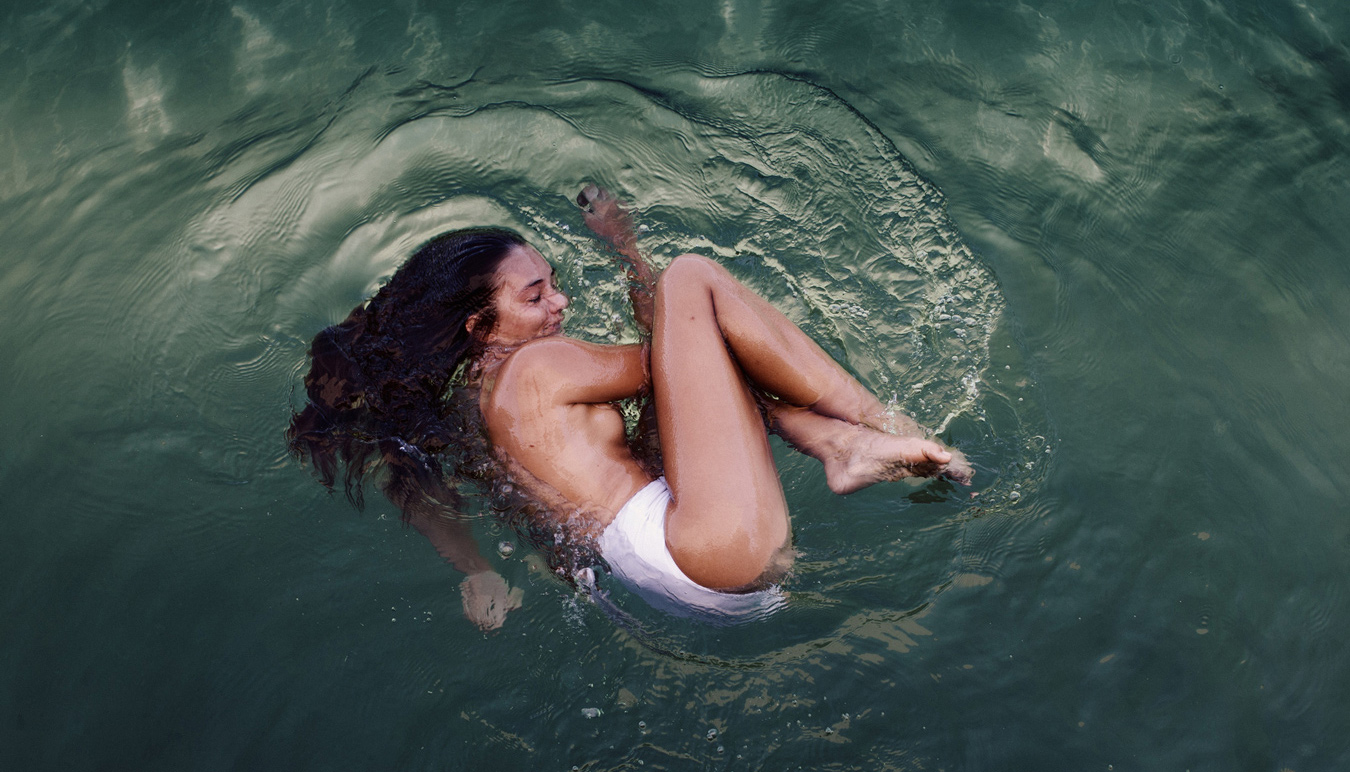 Tips for dipping your lens below the water-line with SUNSTUDIOS Emerging Photography Award 2018 Runner Up Mark Morgan. See Mark's work in our SEPA 2018 exhibition, opening in Melbourne 2 November. 
Background on yourself, education, work history: 
I'm self-taught as a photographer and surf photography was my driving force. I bought myself a camera and underwater housing envisioning I would be able to make awesome pictures of surfers and sell them to them … but I quickly learned most surfers don't have much money! And if they do they spend it on surfboards – not photos of themselves.
I kept at it because regardless of money, I found I loved doing it and was getting a good response to my images. I've always enjoyed the underwater world ­- I can snorkel for hours. I started really taking note of how amazing things look underwater with rays of light coming in and bubbles and how magical humans floating around can look in the ocean. I wanted to try to show this through my lens so I started working on my underwater photography techniques for capturing this world and showing it to the viewer. 
Apart from underwater photography, I also shoot surfing swimwear and portraiture. I am most interested in having people in my images. I find it most rewarding to shoot people in the ocean , its' so easy to capture real emotion, be it joy, wonder, fear or love. I've seen it all in the water. 
Which parts of the ocean do you shoot in?
I'm based in Manly so my regular place to shoot is around Shelly Beach. Generally speaking, divers and underwater photographers will look for the clearest water and the whitest sand in a location (the sand being a large reflector). But I actually like places with much darker tones through the water. I think it brings out a better look that is typical of my photography now. And Shelly beach is perfect for this. 
Did you shoot your finalist series on one day or over a longer period?
It's from a couple of different shoots, but along the same theme - women underwater. The ones where there are four girls were shot with models (from IMG models) and I worked on this concept with Emma Kalfus (from Side-note magazine) on this series.  For others I have shot surfing/yogi friends who are comfortable in the open ocean.
Shooting in the ocean is really challenging. Water conditions and weather play a big part on how your shoot will go. Sometimes you find a person's facial expressions don't work underwater – they scrunch up their face in a I'm-gong-to-drown kind of way. Even people who say they are comfortable in the water can find it hard to not have an "underwater face". There is definitely a certain skill to be able to hold a relaxed calm expiation whilst underwater.  All of the women I shot in these images were complete naturals underwater and I am really thankful to have found them and been able to work with. 
Congratulations on winning Runner Up this year! Any ideas how you will spend your prize of  $2000 "SUN dollars"?
Probably the thing I'd be most excited about is being able to use the studio space at SUNSTUDIOS. Although I have had some experience shooting in studios - its usually been small scale and as part of a workshop. So I've never really had an awesome shoot space to utilise in any way I dream up and I'd definitely love to do that and to add to skills and my portfolio. I know you guys have awesome creative spaces there and it will be a real opportunity to get access that.
What have you found to be the biggest challenges in establishing a career in photography?
The biggest challenge for me is being able to find paying clients. There are so many other amazing photographers out there, and it takes a huge amount of patience, practice and perseverance (and good photos of course) to get your own work to filter through to the people who can become your paying clients. Platforms like this competition are one of the really great ways to do this. 
SUNSTUDIOS 2018 Emerging Photographer Award exhibition opens in Melbourne 2 November 2018. RSVP Here.


SUNSTUDIOS Melbourne
95 Buckhurst St. South Melbourne, 3205
6pm - 9pm


Website: www.markmorgan.com.au
FB: Mark Morgan Photographer
Instagram: mxmbelow / mxmsurfphoto
Images by Mark Morgan. Stylist Emma Kalfus.