Simon Harsent on personal work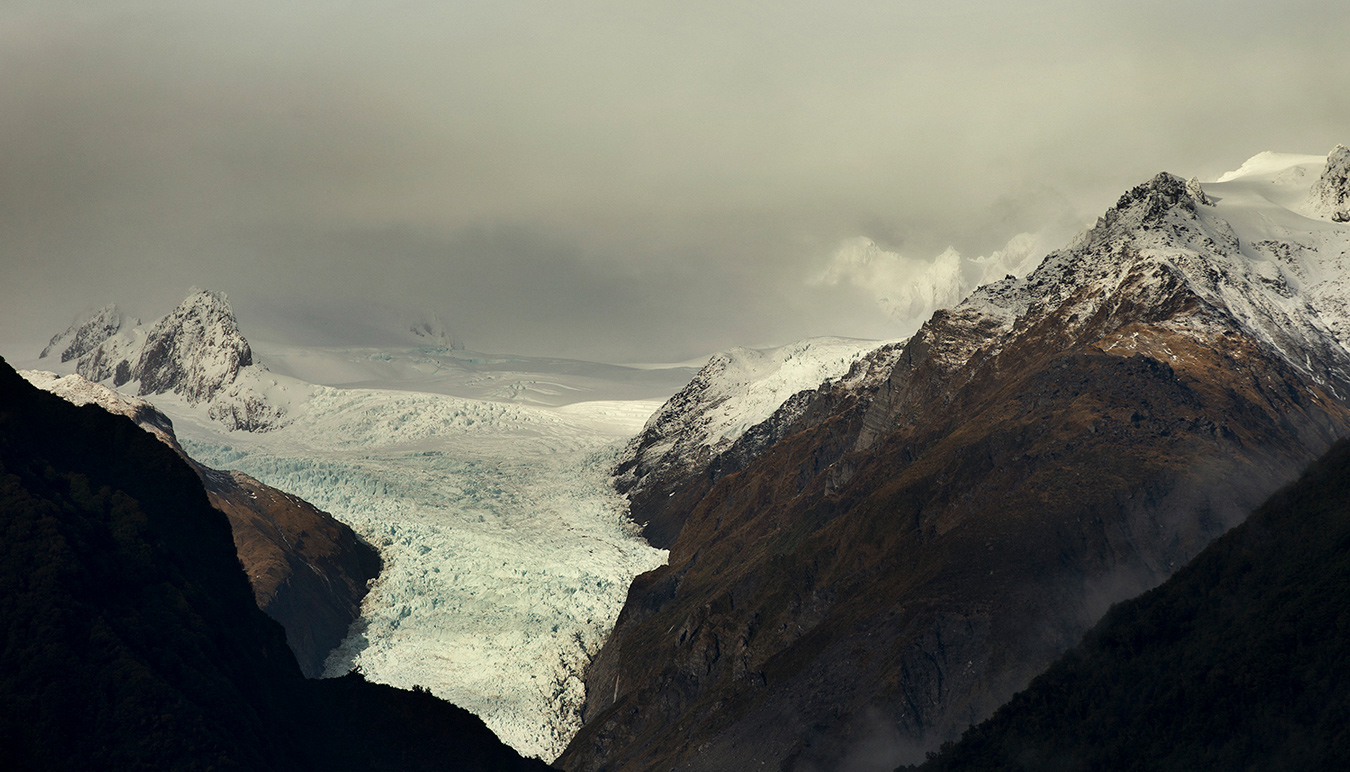 "Personal work is essential to me - it's the reason I do commissioned work. The money I earn from commissioned work finances my personal projects." Pool Collective member Simon Harsent on his exhibited image in TTIP 2018. 
 Tell me about your image submitted to This Time It's Personal.
The image in the exhibition, Tears of Hine Hukatere, is from a larger body of work of the same title.  It was shot over a period of four days on the South Island of New Zealand.
There is a Maori legend used to explain the beautiful geological anomaly of Ka Roimata o Hine Hukatere ('The tears of Hine Hukatere'). We know this place as Franz Josef Glacier on the West Coast of New Zealand's South Island. The story is that of a young woman, Hine Hukatere who had a passion for climbing mountains, and like most people with a passion, wanted to share it with her lover, Wawe. An inexperienced climber, Wawe was caught in an avalanche, and fell from the peak to his death, leaving Hine Hukatere alone, her streams of tears eventually forming the glacier.
What was involved in bringing together this image from conception to bringing it to print in this show? 
Like most of my personal work one project tends to feed another. This project came about from my fascination with glaciers which I developed when I worked on my project Melt Portrait of an Iceberg. I had been invited to got to NZ to give a keynote speech at Image Nation and I decided to take the opportunity to travel to the Fox and Franz Joseph glaciers, in doing my research on the area I stumbled on the story of Hine Hukatere. Fascinated by it I decided I wanted to approach shooting the glaciers from a different perspective. I settled on the idea of photographing the glacier from a helicopter. The only issue was it rained in for four days straight when I got there and had to hold up at the motel until the weather cleared, on the fifth day there was a break in the weather and I managed to get up in the helicopter for a couple of hours.
Do you believe it is important for working professional photographers to have a personal photography practice? If so, why?
Personal work is essential to me it's the reason I do commissioned work - the money I earn from commissioned work finances my personal projects. The personal work enhances the creativity I bring to my commissioned work, they work hand in hand and I love both for different reasons. Commissioned work and the discipline it brings means you are quite often approaching a shoot as a problem solver working within boundaries. Applying the same sort of boundaries with personal work can help you remained focused on the project and self imposed restrictions can also aid the process. But in the same way the flexibility to be responsive to a moment is essential in both practices. 
What do you get out of participating in the annual exhibition? 
it's just great to be part of the show for the obvious reason which is that it generates money for a good cause, but also I think it's a wonderful event for the photographic community seeing so many well known and up and coming photographers shown in one place is great for the industry. It feels like a celebration of the wonderful talent we have here. 
Only one edition of Simon's work remains for purchase through This Time It's Personal 2018. Buy now online or in-gallery at SUNSTUDIOS Sydney. Only available until Dec 16.