FEATURE SHOOT: SKIN DEEP by WADED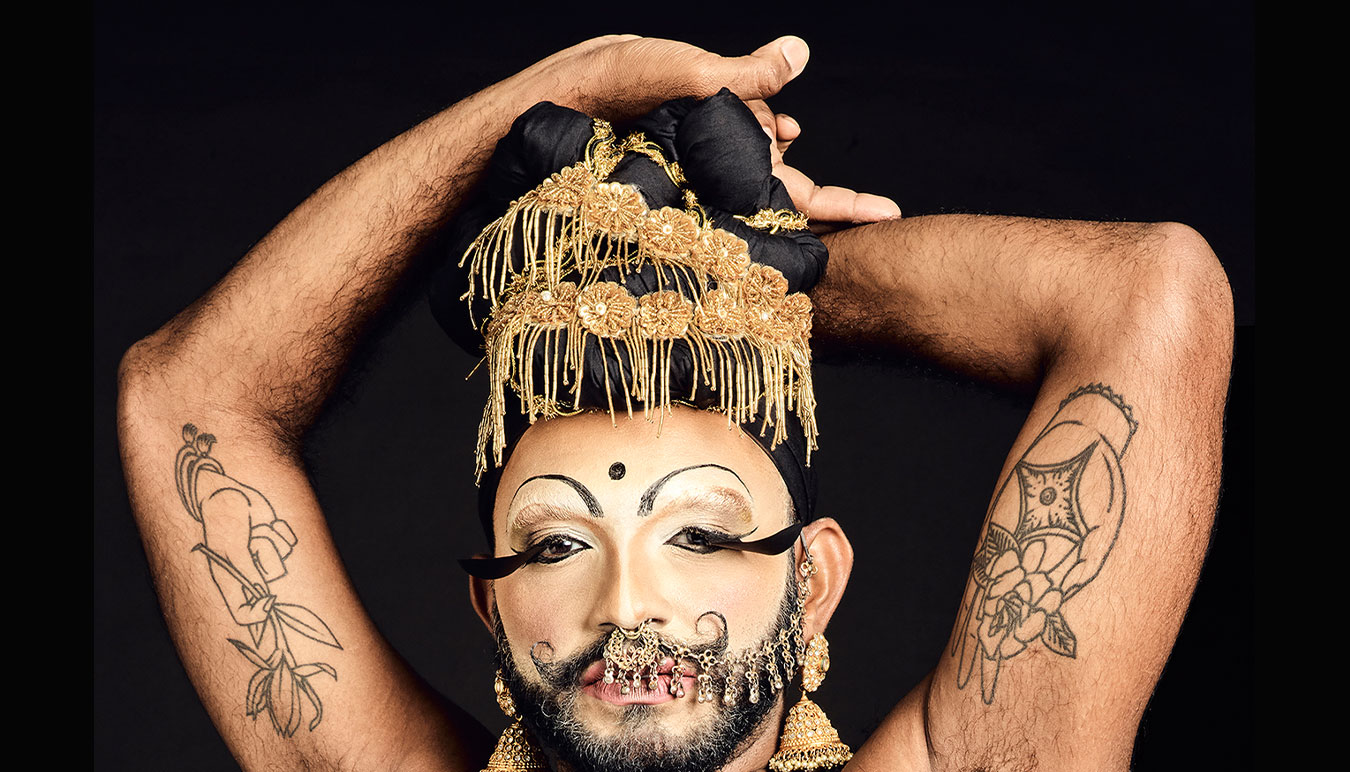 Timed with the 2021 Mardi Gras festival and part of the National Art School's Queer Contemporary, SKIN DEEP is a multi-discipline art exhibition examining tattoos as a celebration of LGBTQI+ identity through photography and live performance.
Twenty-two images by fashion photographer WADED line the walls and hang larger than life from the ceiling of the Cell Block Theatre in Darlinghurst. Her portrait subjects include Akashi and Basjia (members of ballroom collective House of Silky) and Geoff Ostling who is nearly entirely covered in  artwork predominantly by artist artist eX de Medici.
SKIN DEEP continues this weekend with ticketed performances on February 26-28.
---

Without giving too much away for people who haven't seen it yet, how do you describe SKIN DEEP and the components of this interactive exhibition?
SKIN DEEP is an interactive exhibition that presents intimate and personal stories of LGBTQI+ people through their tattooed bodies, celebrating diversity, defiance and body art. SKIN DEEP is made up of several components including a photographic exhibition by me, live performance by Meryl Tankard, and interactive events.
How did you become involved and what did you find interesting or challenging about the project when it was proposed?
I was contacted by Terese Casu, the curator of SKIN DEEP and Dino Dimitriadis, the creative producer. They asked me photograph a series of portraits of people from the LGBTQI+ community who are tattooed. They were keen to show as much diversity as possible.
 

As a gay woman I was keen to be involved. I was excited to meet and to highlight all the incredible people within the queer community. 

What was your vision when you began shooting and what did you understand your contribution should be as one aspect of a multi-discipline production?  
To bring our incredible community together and document them in the hottest way!
What lighting approach did you choose to bring this to life? Did working with less clothing force you to work any differently than you do in fashion photography?
Fewer clothes didn't make any difference. It was more about each individual and getting to know them and where their tattoos were. The focus of the portrait were the tattoos, so it was always about how to reveal the tattoo and also capture the subject and their personality.
For this I used a Broncolor set up including two Scoro A4 packs, two Broncolor Pulso G heads with a Broncolor 150cm octa light shaper overhead and two large strip lights with Siros 800s heads in each. The fill light at the front was an Elinchrom light shaper adapted for Brocolor Pulso G.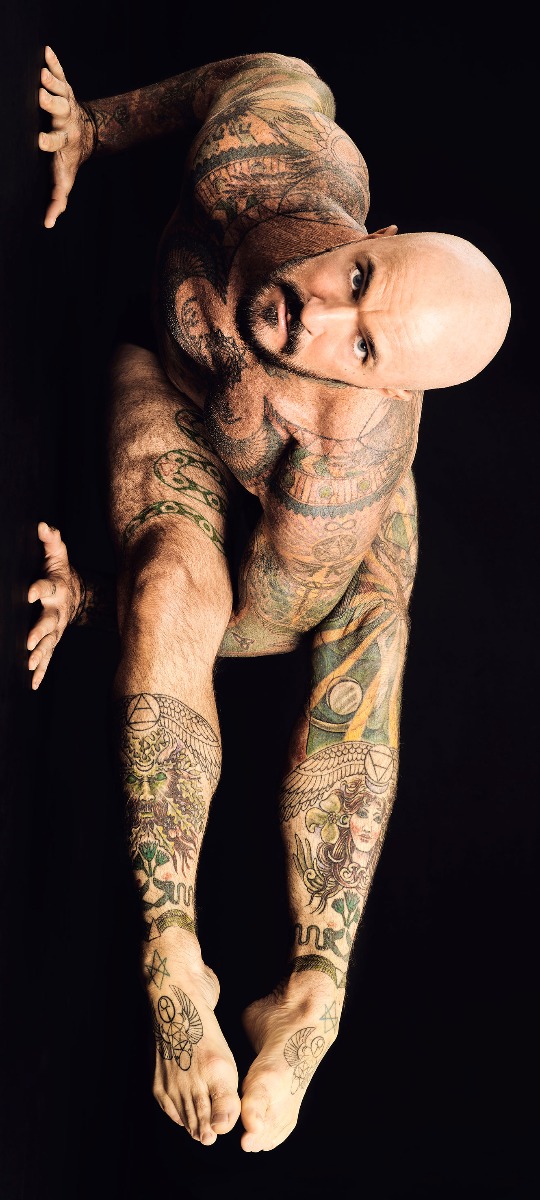 Your portrait subjects come across as very confident, but did you still need to put thought into how to create an environment in studio where people would feel comfortable to share their stories and skin? 
We had Zoom meetings with the talent first so we had a chance to meet them and talk to them about the project and their role. We talked through what they would wear and what to expect on the day so it was not too much of a surprise when they arrived on set. 
What were the most satisfying, fun and most challenging parts of making this work? 
Having the opportunity to collaborate with Terese Casu, Dino Dimitriadis, my awesome team of creatives and all of the incredible people who allowed me to photograph them was the most satisfying part this project. 
My team made it all possible: Kelvin Harries who did all of the styling in collaboration with the talent; Gavin Anesbury who did hair; Annette McKenzie who did makeup and Heather Fletcher who was my fantastic assistant.
 

Every portrait was a team effort! SUNSTUDIOS generously lent me all of the lighting and studio space to make this project happen.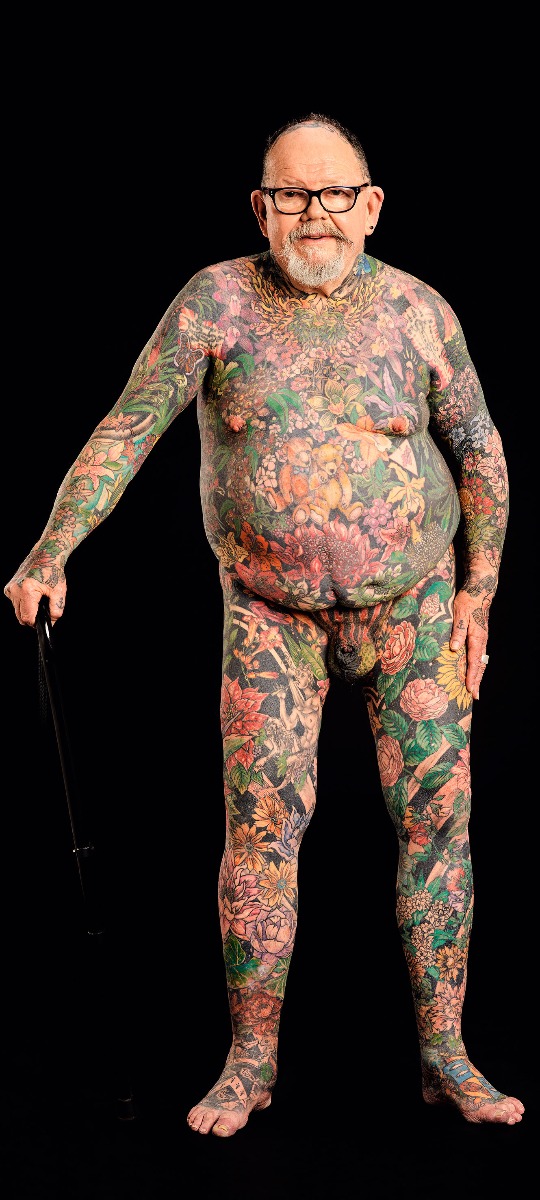 The skin of Geoff Ostling alone must contain a novel's worth of stories. Did you have a favourite or memorable portraiture session or story that emerged from a person or tattoo you've photographed? 
Geoff is so incredible, but everyone was fantastic to meet and to photograph. Everyone's story was amazing. No favourites!
Any common themes or stories you've found among LGBTQI+ ink? 
There was a native Australian Flora theme actually.
Any reflections on the work now you've experienced the first performances of the full show?  
I would like very much to continue this project with Terese and Dino and one day publish a book of all of the incredible people I've had the pleasure of photographing.
SKIN DEEP continues this weekend at the National Art School, on view until 7 March 2021 with ticketed performances on February 26-28.

Behind the scenes by Gracie Matthews