Feature shoot: Stephen Chikazaza This Path (We Walk Along)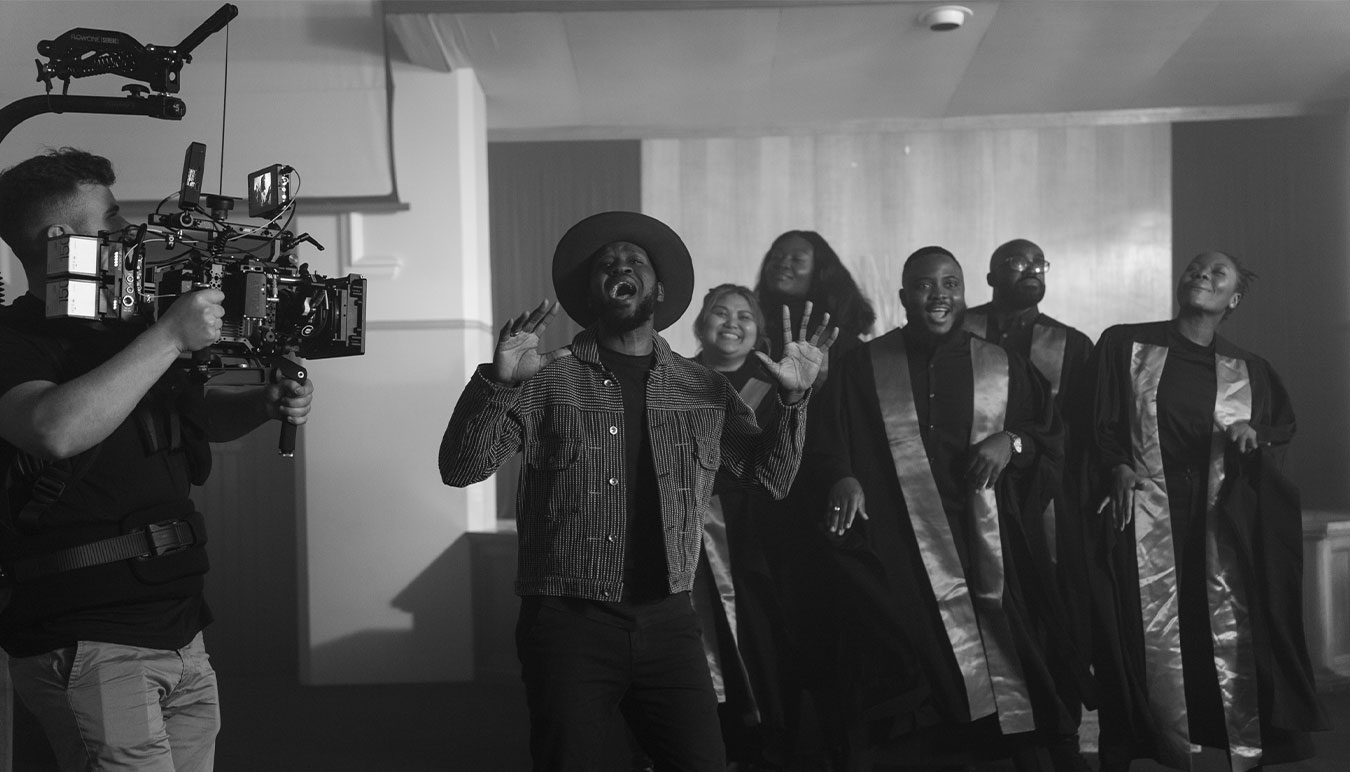 Director/Producer Renny Wijeyamohan and Director of Photography Ben Blyth spoke to Sunroom about the process behind making a video that extends song and tells a story, making the most of Studio 7's 4m height, and the full power of the ARRI Alexa Mini LF.
The project was a community effort and brought diverse groups of people together. There's a remarkable effort to highlight a handful of stories within the African Australian community. This was a beautiful thing to experience, especially when you don't see or hear these voices shared on a bigger scale in our society. - Stephen Chikazaza
Proudly supported by SUNSTUDIOS.
---
What was the initial concept for this clip and how did it come about?
Renny Wijeyamohan: When you listen to Stephen's track, the music just hits you ... it's so joyful, uplifting and powerful. I wanted to create something just as soulful, energetic and soaring – that captured the essence of the song visually.
The themes that came through strongly for me were a sense of triumph over struggle, onward movement, faith and love, so I came up with the idea of a multi-narrative music video focusing on four different storylines featuring a diverse set of characters – each going through their own personal struggle.
It was really important to me to stay true to Stephen's cultural background and experiences as a member of the African diaspora, so we cast an all African-Australian cast and tried to tell each of the stories with emotional depth and authenticity. I think the black and white visual treatment that we were committed to from an early stage, helps enhance these storylines and really take the audience on the journey with each of the characters.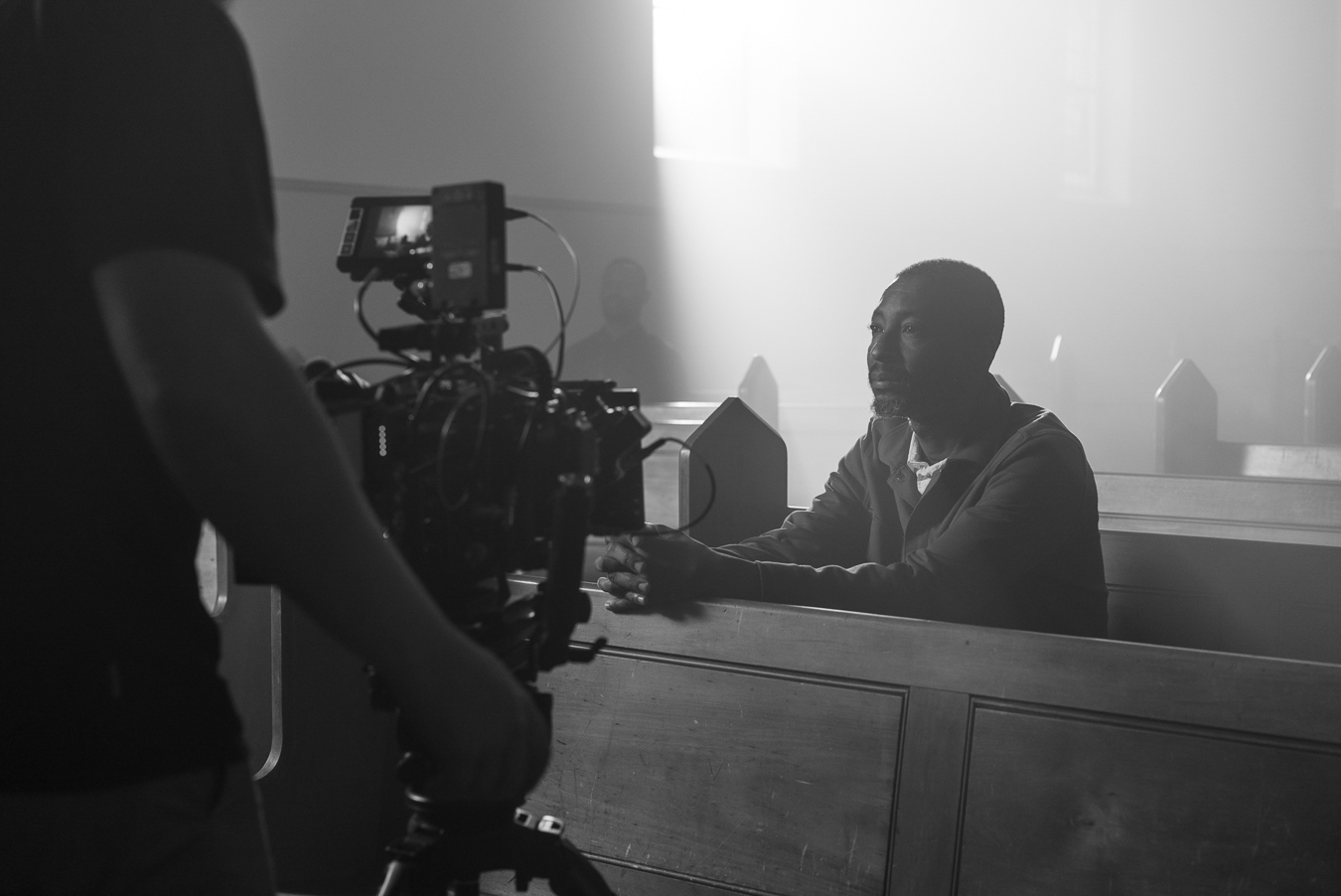 Image by Christina Maras
How does the relationship between musician and crew work – how collaborative was this video?
RW: Look, it always varies with artist and the involvement of the record label. In this case, Stephen is an independent musician so we had total creative freedom in concept and approach. Usually record labels will either have a creative concept ready to go that they want a director to interpret and execute OR it will be an open pitch, but there's still a lot of creative oversight from the label. It was so nice to be able to dodge all that and work with Stephen and my DOP, Ben Blyth, on this project directly and have open creative discussions.
What are the biggest things you can get wrong when working on a video clip?
RW: I think when you're working on any music video, it's easy to try and go too large on an idea. It's better to be realistic on the parameters of what you can achieve with crew and budget and then hone down and simplify an idea and do it really well. Sometimes that can be tricky for a director – especially with the amount of big budget videos coming out of the US that are super technical and well-resourced – that often form the basis of our creative references.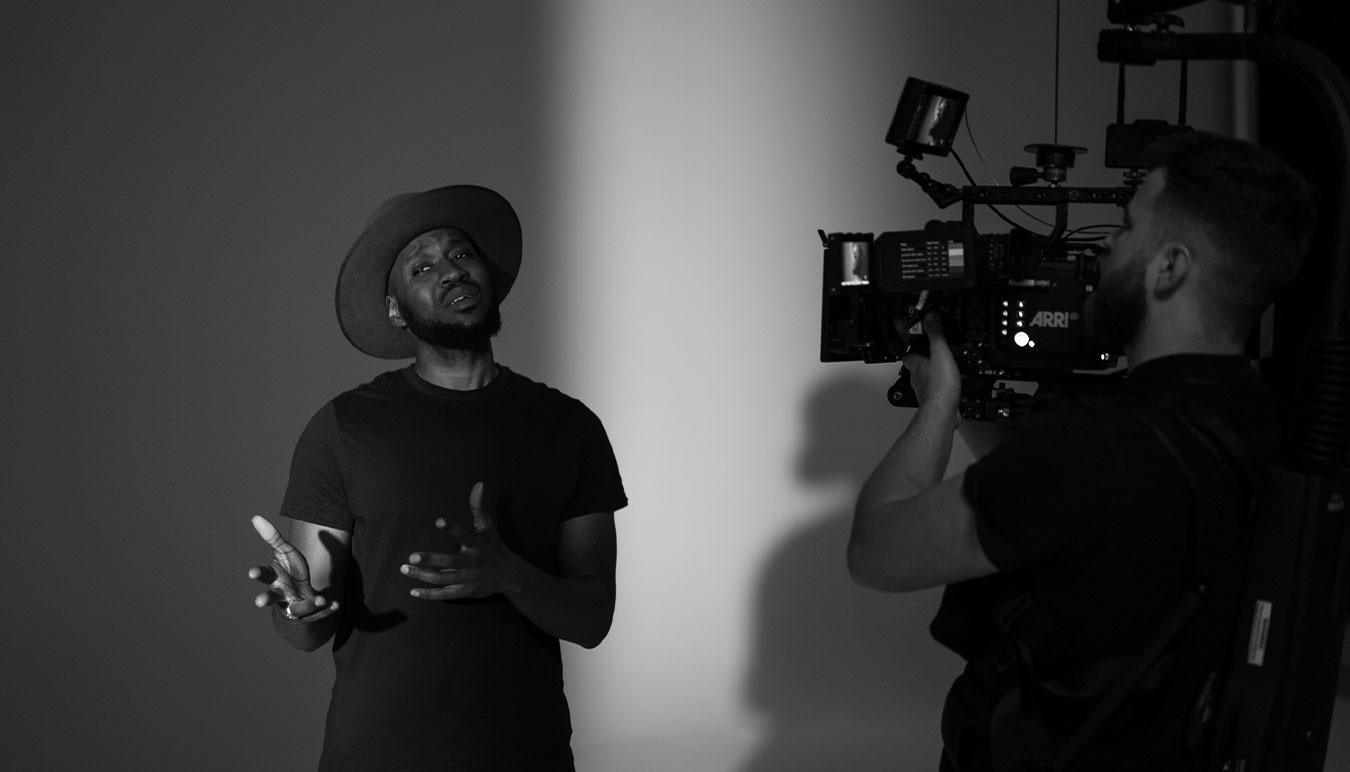 Image by Christina Maras
When working on a treatment, what are your key narrative considerations you wanted to get right?
RW: Authenticity is really key here. Authenticity to the song – the visuals have to match the flow and feel of the song. And also authenticity in performances.
For us in this clip – we deliberately pared back the visuals to black and white to enhance the emotional power of our various storythreads, even though we were shooting on an epic camera like the ARRI Mini LF.
If these threads didn't feel authentic, with a strong character / narrative arc within each of them, the audience wouldn't connect to the clip or Stephen's music.
What were the key technical challenges and considerations on this clip and building it visually?
RW: I'll pass this one onto Ben for the camera stuff, but for us in general time was a huge factor. When you're doing a multi-thread music video it takes days to shoot well as you don't want to rush each of your sequences. Time was really key and luckily we had a really passionate crew and cast, who believed in the creative vision of the project and were happy to devote time towards it.
Ben Blyth: When shooting in B&W it can be a challenge to create separation between your characters and their environment. Having the ability to control the full range of your light sources is integral to creating a cinematic image. We needed access to a studio to give us this control and create the performance sequences – and SUNSTUDIOS were kind enough to offer us their space to work in.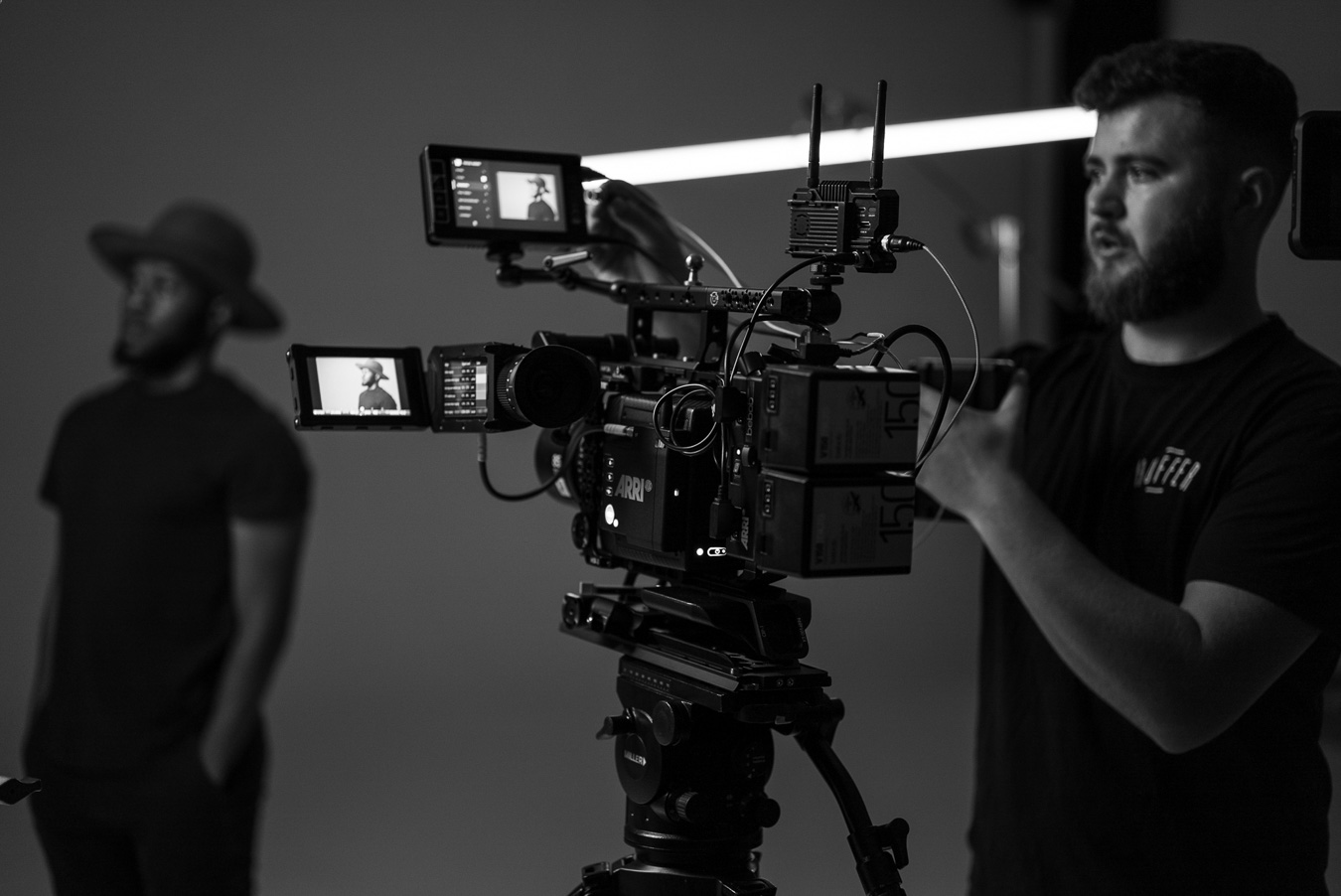 Image by Christina Maras
What gear did you choose for your kit and how was it used to bring your vision to life?
BB: The Alexa sensor is world class when it comes to rendering skin tones, so the ARRI Alexa Mini LF was an obvious choice. The majority of the footage was mid to close up shots on faces and the range of the sensor assisted in giving us separation for our talent when we didn't have the use of colour.
In the studio we needed motivation for the lighting and decided to go with a moving light source to match the energy of the song. We strapped an Aputure LS600D with the fresnel attachment to a Wally Dolly and set up a stack of poly boards to create the shapes for the moving shadows.
The key light was simply an LED Kino and 1/2 diffusion which was manually dimmed in time with the music. From the moment we walked into the church it was clear we needed some haze and hard light. We took an ARRI M18 from SUN to that location, as that day it was pretty overcast!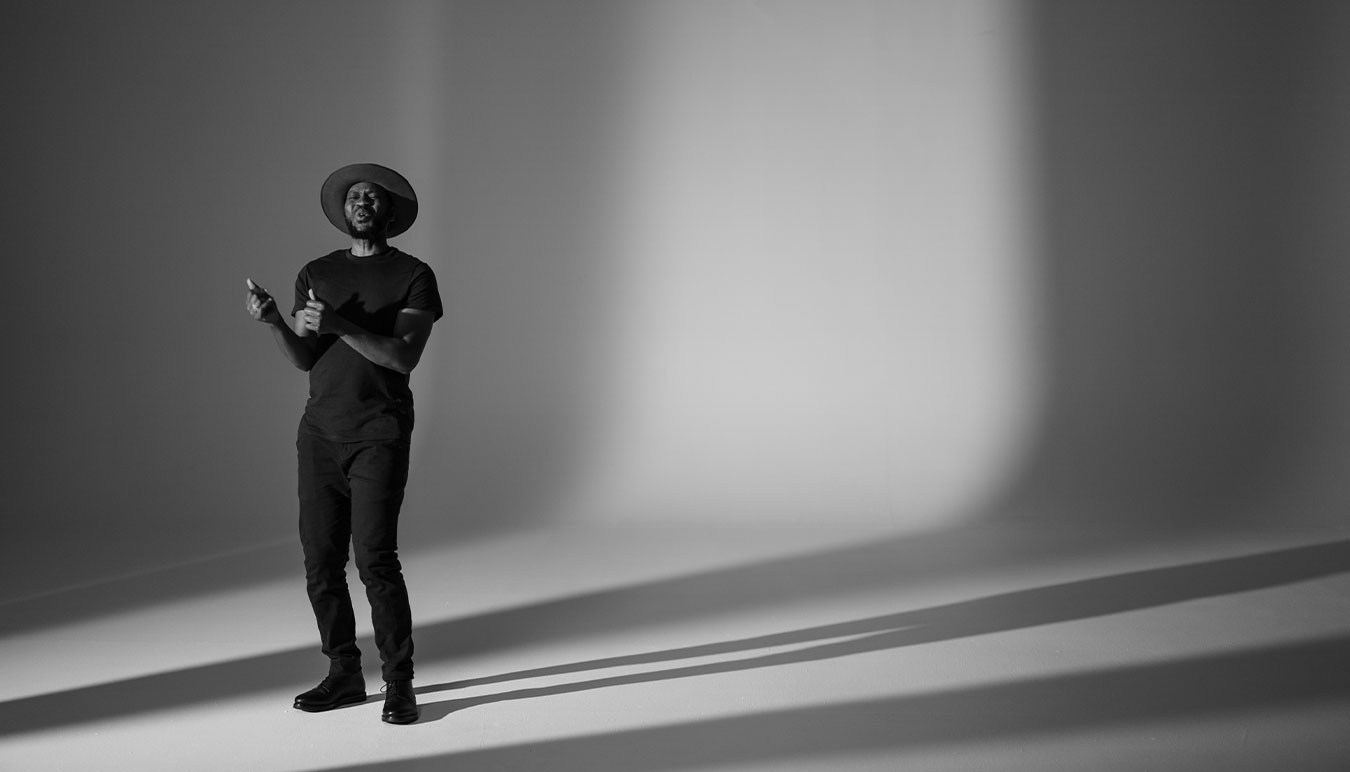 Image by Christina Maras
What was behind the decision to shoot partially in studio?
RW: It's always handy – even in a narrative music video – to shoot performance. You never know how much coverage you're going to get and how exactly those narrative sequences will cut together, so we thought it would be a good idea to still shoot the performance. We also wanted to hero Stephen, the artist, so that he didn't blend too much into the background of our narrative world and the studio sequence was handy for that. It was important to create a really unique lighting setup, distinct from the "real" narrative world, and I think Ben really achieved that.
BB: We needed to feature the artist in a performance space that allowed for coverage of the lyrics and create a feeling of isolation and revelation.
The size of Studio 7 at SUNSTUDIOS allowed Stephen (the artist) to move around and interact with the light.
Interestingly, one of the limitations of shooting Open Gate on the ARRI is you have a lot of vertical real estate to fill. Fortunately the studio cyc was high enough to accommodate our widest shots.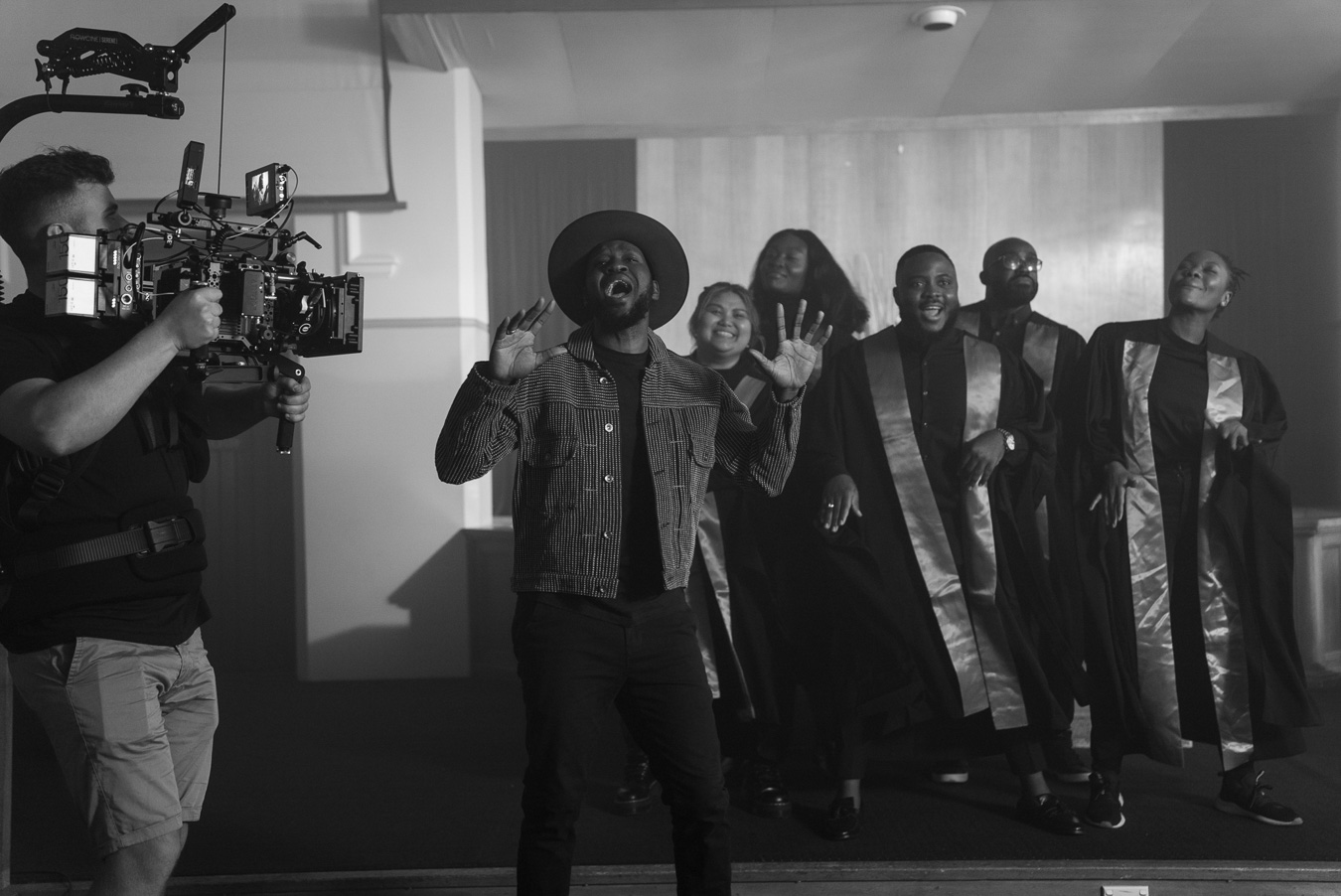 Image by Christina Maras
Any reflections on the final result – from the director, DP and artist?
RW: Thrilled. It feels real, genuine, emotive and also with an ambiguous international/global flavour that feels bigger than Sydney.
BB: All music videos require a lot of passion and commitment from everyone involved. Fortunately we had that in spades. The commitment from Renny, Stephen and all the cast gave this music video its own unique style. Darren Mak the 1st AC did an incredible job pulling focus on a full frame sensor and T1.4 lenses. I'm very pleased with the visual consistency we managed to create for this piece considering the limitations of lockdowns and budget.
---
Full Crew & Cast List
Director: Renny Wijeyamohan
Producers: Stephen Chikazaza, Renny Wijeyamohan
Director of Photography: Ben Blyth
1st AC: Darren Mak
Choreographer: Liliana Cevallos
Production Assistant: Michael Lo
Editors: Cameron Drew, Renny Wijeyamohan
Colourist: Alina Bermingham
Stills Photographers: Christina Maras, Richmond Kobla
Man in church: Daniel Chiundiza
Dancer: Lucky Lartey
Woman: Norah Masige
Man: Ibrahim Intwari
Gospel choir: Jess Cumla, Ebube Uba, Rumbina Chigiga, Alex Ankomah, Samtayo Olanipekun
Old man: Aloys Rubasha
Piano player: Mitema Emmanuel
Nurse: Anna Van Schie
Little Girl: Tia Mukundwa
Girl braiding hair: Michelle Gatsi
Artist: Stephen Chikazaza
Song: This Path (We Walk Along)
Song produced by: Joel Woolf