The stories behind the 2021 National Photographic Portrait Prize finalist images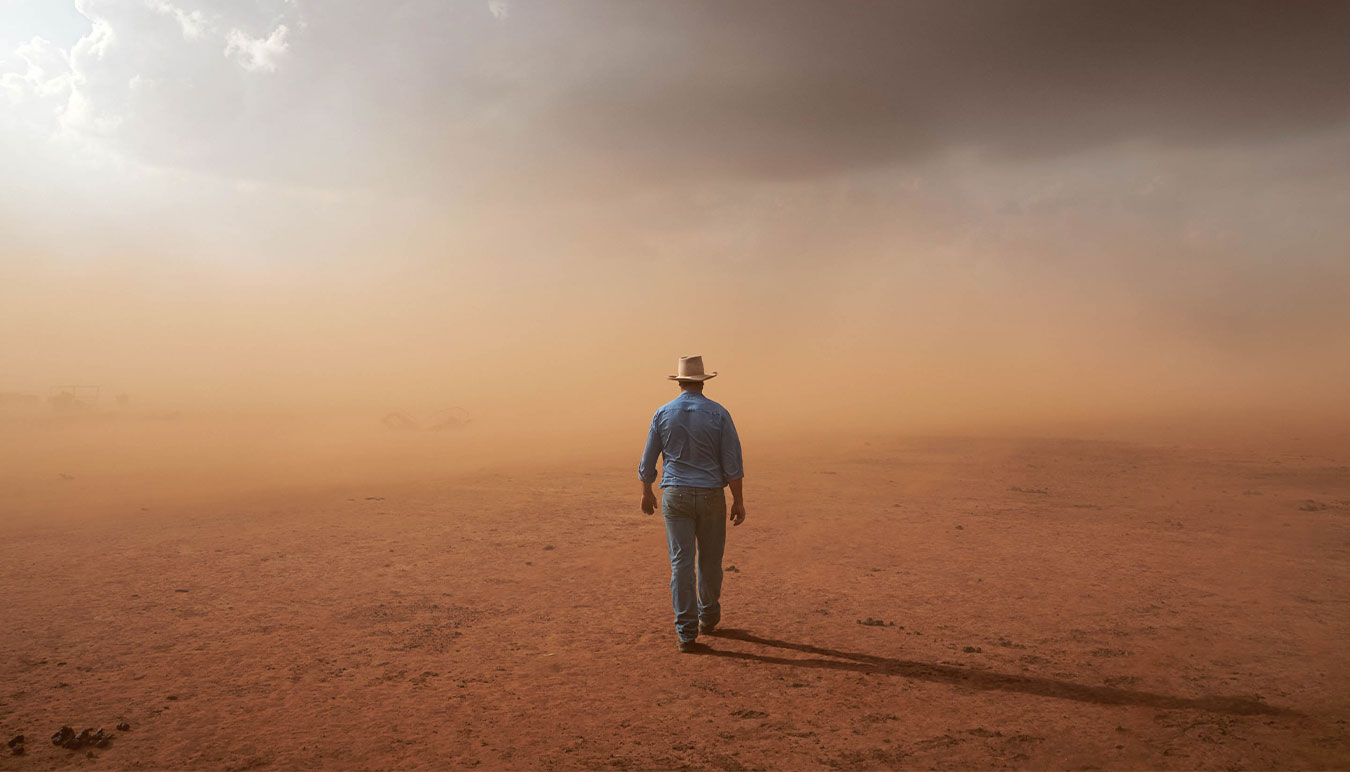 How do you create an award-winning photograph? We speak to finalists in the 2021 National Photographic Portrait Prize "In Living Memory" to learn about the shoot, printing and framing considerations that go into making a work strong enough to catch the eye of judges Bill Henson (Photographer), Nick Mitzevich (Director, National Gallery of Australia), and Karen Quinlan (Director, National Portrait Gallery).
---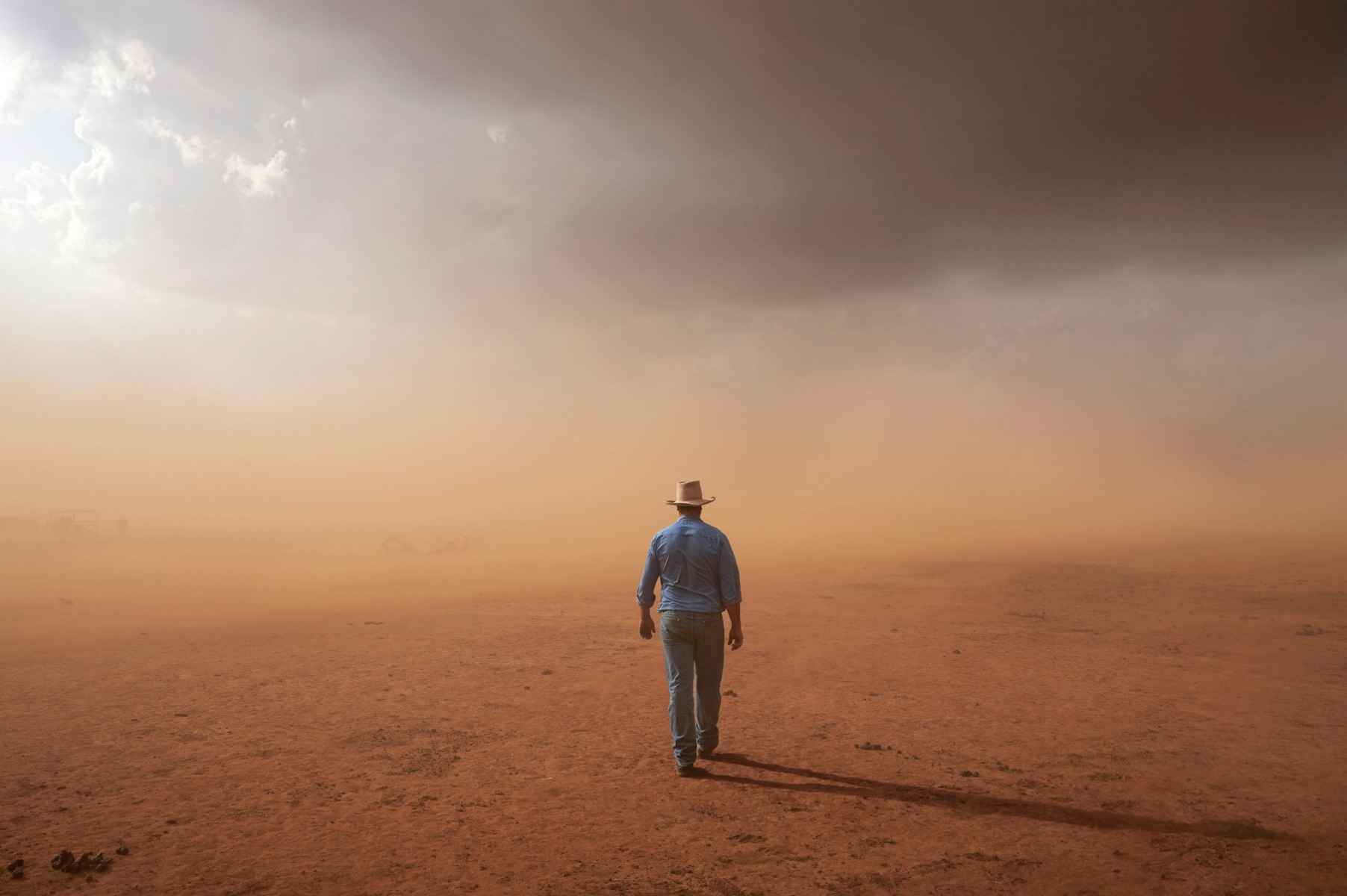 Joel Pratley 'Drought Story' – 2021 winner
What brought us out to Forbes originally was that we had a job to do, the goal of which was to show how tough farmers were doing it in the peak of drought, and how you could donate to help.
This image came about when we were photographing David and Emma Kalisch going about daily chores against a very dry and hot backdrop. This storm was approaching on the horizon, and at first we thought it was going to miss us. Then all of a sudden, we were right in the thick of it.
We shot like crazy during that storm. I knew it was special but I had to go back to see what I had captured. This exact moment spoke to me the most during that storm: To march off stoically into an unknown future, in the present with such pressure you can you feel it in your whole being, and sometimes with only a glimmer of hope. It could be against a backdrop of droughts, bushfires, the isolation of lockdowns, along with our own internal struggles. Yet we persist, and through overcoming our adversities, we are usually better for it - better for others and ourselves.
This represents something very deep in our collective consciousness; it's very beautiful to me.
I was a very small piece of that puzzle in a group effort to get this photo. There's the Kalisch's of course, who gave us their time during this moment of hardship along with other farmers we visited. Campbell Brown (DOP) and Kyra Bartley (Director) who led us into that shot. I'd also like to thank the others involved: RuralAid, Basir Salleh and Doug Hamilton (BMF Australia). Selena Simpson at SUNSTUDIOS brought this image to life as a gorgeous print that's now hung in the National Portrait Gallery. And Dung, Britt and Sarah at BPAY.
This image isn't about me. I believe in it though, and I am glad to know it connects with others deeply as well.
See more from the project at gritstories.com.au.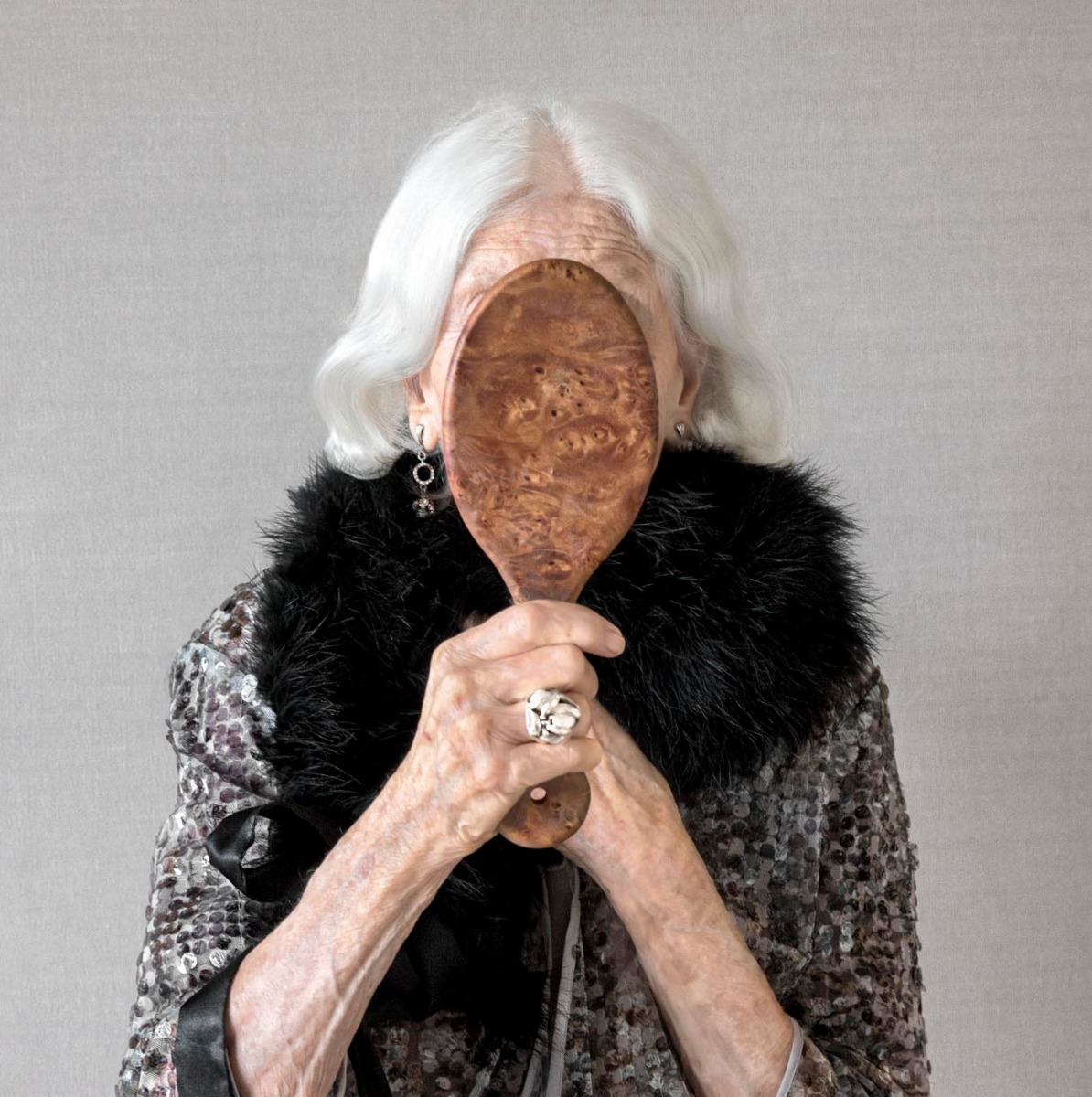 My portrait Forget Me Not is about my mother-in-law's experience of dementia and forms part of my new series Patricia's Room.
Beautiful, elegant and engaged, Patricia defied the stereotype of a woman at 90 before a sudden heart operation triggered confusion and memory loss and she was diagnosed with dementia.
I had originally planned to make a few portraits to explore how she perceived herself at 90. I hoped to build on previous work where I'd documented women ageing after 50 in my series After Midnight and associated book The 50 Book: Women Celebrate Life.
But Patricia's dementia soon changed my focus and raised new questions. What happens to your sense of self when you lose your memory? How might you feel and how might others view you? How could I shed light on a subject laden with stigma?
Patricia soon became isolated in her home. And as conversation became difficult, photography became a wonderful way for me to spend time with her.
Our portrait sessions became an affirmation as she dressed and posed for the camera. She would continually thank me and say how surprised she was that I considered her a worthy subject – she was "amused to be my muse".
I took a number of images of her looking at herself in her beautiful old hand mirror. And although her face is hidden in Forget Me Not  I feel it raises many questions about ageing, about what is seen and not seen. In Western culture we often render older people invisible especially when they are at their most fragile, such as with dementia. I wanted to provoke thought about that.
I also think it's sad that so often we only equate beauty with youth. So rather than erase her imperfections, I wanted the viewer to see her as she is, complete with marks and scratches on her skin. These concerns played out in file preparation, printing, paper choice and size of image. Guided by the wonderful master printer Selena Simpson at SUNSTUDIOS, I selected Canson Platine Fibre Rag for a realistic, photographic feel that helped give Patricia more presence, especially printed at almost life size.
In a large, black box frame, almost a metre square, Patricia now hangs at the National Portrait Gallery. It's a celebration of her, but also I hope by extension, half a million other Australians with dementia.
I thank the judges and everyone at the National Portrait Gallery and SUNSTUDIOS for making this such a great experience.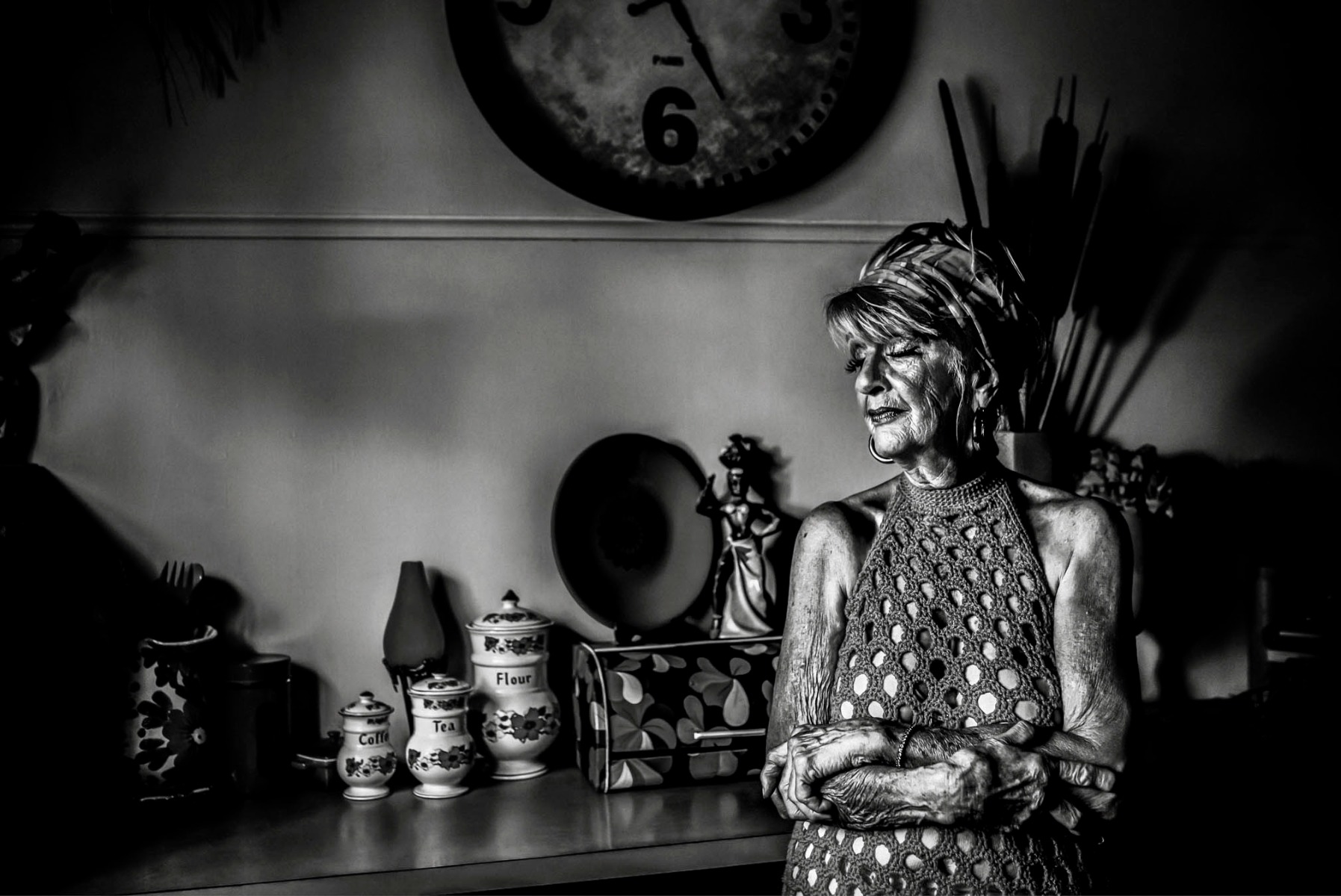 "I am Kerryn" is an image that came about after a conversation with my 73-year-old neighbour. Kerryn lives alone and during lockdown 2020 I would check in with her often to make sure she was well and had supplies.
She always has an amazing story to tell and, although some seem far-fetched, she would often bring out relics to back them up.
The story that influenced this image was about her time as a Go-go dancer at Whiskey a Go Go in Sydney during the late '60s and early '70s. She showed me photos of her time there and some of the outfits she had kept.
Her headshots of this time show a glamorous girl, confident and full of life. In my image she is reminiscing about her time then, caught between what was and what's now. There were some equally painful and joyful memories brought up. Her eyes are closed, remembering stories of the past and the light from the window illuminates on her skin the full life she has lived.
When considering printing for the image, I wanted the glamour of the late '60s to shine. Selena at SUNSTUDIOS encouraged me to test the print on metallic rag paper (and others) and it totally brought the image to life. I framed in black with a non-reflective acrylic to let the print speak for itself.
Selena did such a fabulous job coordinating the printing and framing and getting it ready for exhibition. Living in country New South Wales it was impractical for me to travel to Sydney to look at the test prints so I really valued her expertise and the test prints she'd send overnight for discussion the following day. When Sydney began lockdown, Selena kept me informed and got it to the gallery on time.
When I saw the image hanging in the gallery I was ecstatic with the job she had done.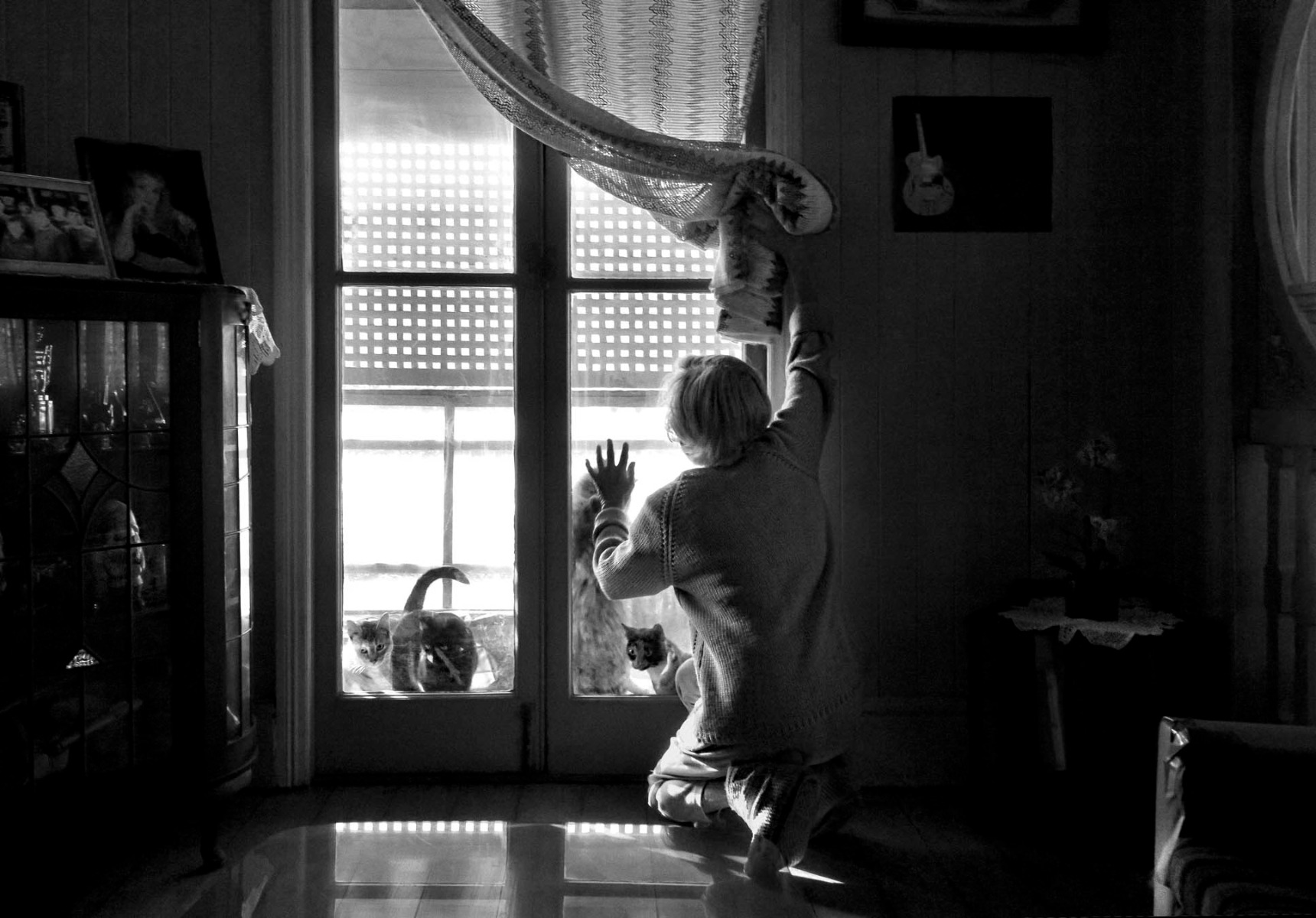 Marjorie is a high spirited older woman. We meet at the gate and she offers me a cup of tea and a biscuit while we chat.

Marjorie shares the history of her home with me. She shows me two metal elephants on the front gate that her husband made years ago. On the veranda, in the sun, there is an unfinished crossword puzzle, her morning coffee and her two dogs patiently waiting.

Around her veranda are hanging baskets with flowering succulents which I mention are beautiful, just like her. Marjorie flicks her hair back and says she is ready for her beauty shots. I laugh. I laugh multiple moments while with Marjorie.
Her back yard is scattered with concrete sculptures that she has repurposed and given a lick of paint. There are intricate embossed art deco patterns on all of the ceilings and you can tell there has been a huge amount of work that has gone into the build of this home. Even though it's old, it's still going strong.
My image, "The Cat's Out Of The Bag" was captured mid photo session in the spur of the moment. Marjorie was chatting to me about how her daughter had moved in with her at the beginning of COVID with her two cats. The cats then had babies and then there were nine!

I was commissioned by artist Jane du Rand to document people and their homes for her ceramic house series, "Living in Ipswich". Jane's body of work is a collection of thirty-one clay houses with intricate details of front porches, bedrooms or living spaces. Documentary photography is a favourite of mine, so I was excited about this body of work, and collaboration.  
   
When I was ready to print my image, Selina at SUNSTUDIOS was very professional and made me feel relaxed. Working with a printer in Sydney was a new experience for me, as I normally do my own printing or print with a local business here in Brisbane. When the test prints arrived, I was so happy with the quality of the images. The paper was stunning and supported my purist, raw photographic style of photography.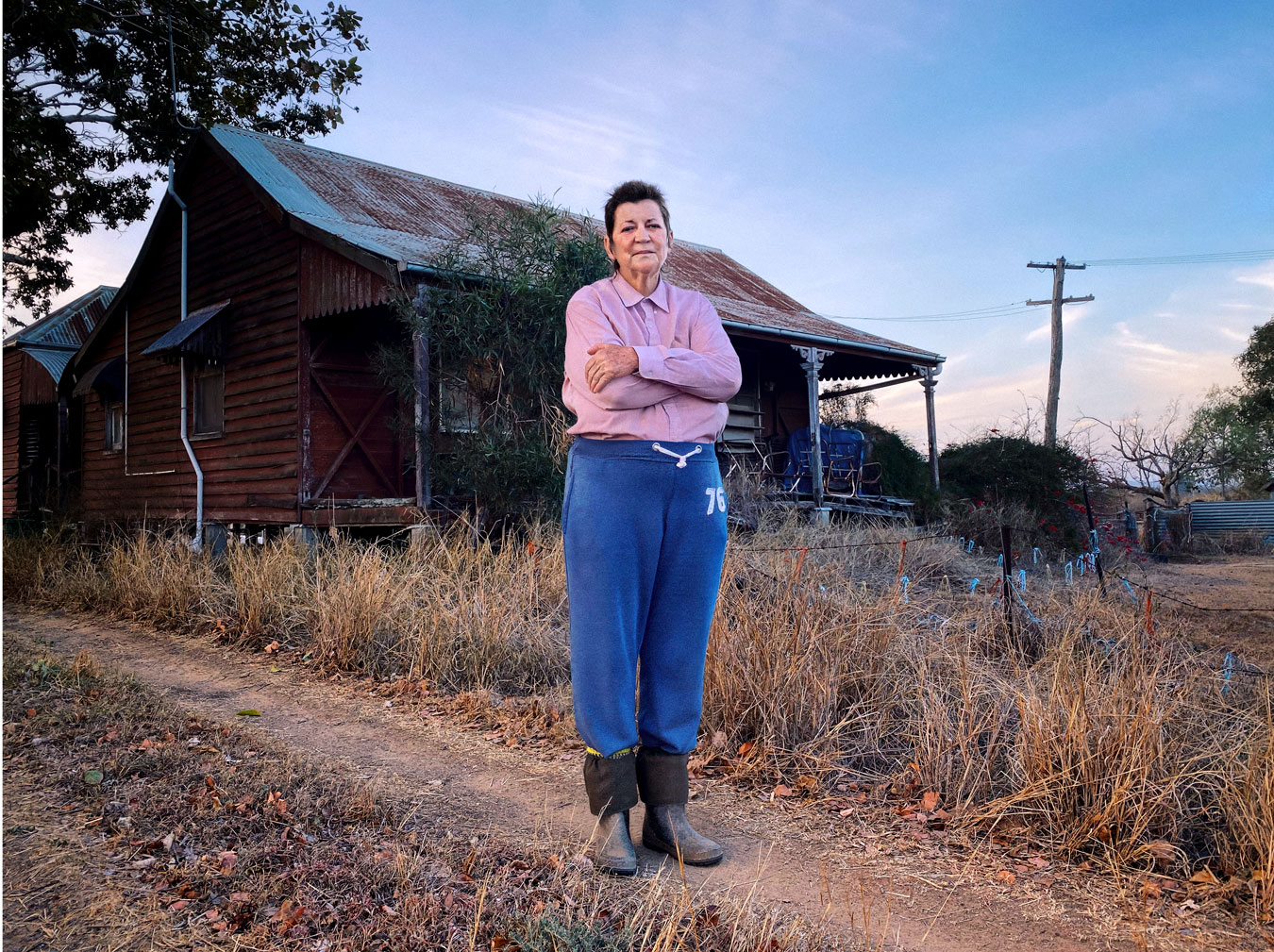 I first met Marion on one of my exploratory drives between Brisbane and Toowoomba. I was on the lookout for old rustic cars or homes when I came across Marion's old place, set back from a quiet road. As I approached the door I could hear a lovely voice singing an older tune.
It was Marion.
Originally, I simply asked if I could take some shots around the property, to which she kindly consented. Afterwards, we had a quick chat where she explained she had lived there alone for many years. An ex-school principal, and an avid lover of all things equine, she now lived a simple life looking after some miniature horses.
I made a point to go and visit Marion from time-to-time as much for the lovely company and conversation as for the chance to snap some images of her life. She is tolerant of my photography and I was able to capture her quite a few times. 
The shot I chose for entry into the NPPP was a very spontaneous one, taken as I was leaving one afternoon with lovely dusk light blanketing Marion and the house.
As the image was captured using my iPhone (I've worked exclusively on my iPhone for ten years now), this presented some unique challenges when it came to producing the framed image ready to hang at the NPPP.
As well as some enlarging of the image, some artifacts from the original capture required attention. Calibration of colors is also something that provides issues with iPhone photography, so a little bit of trial and error and attention to the paper stock produced a final product I was absolutely delighted with.
Thanks so much to SUNSTUDIOS for the assistance in getting my image from my phone to the walls of the NPG.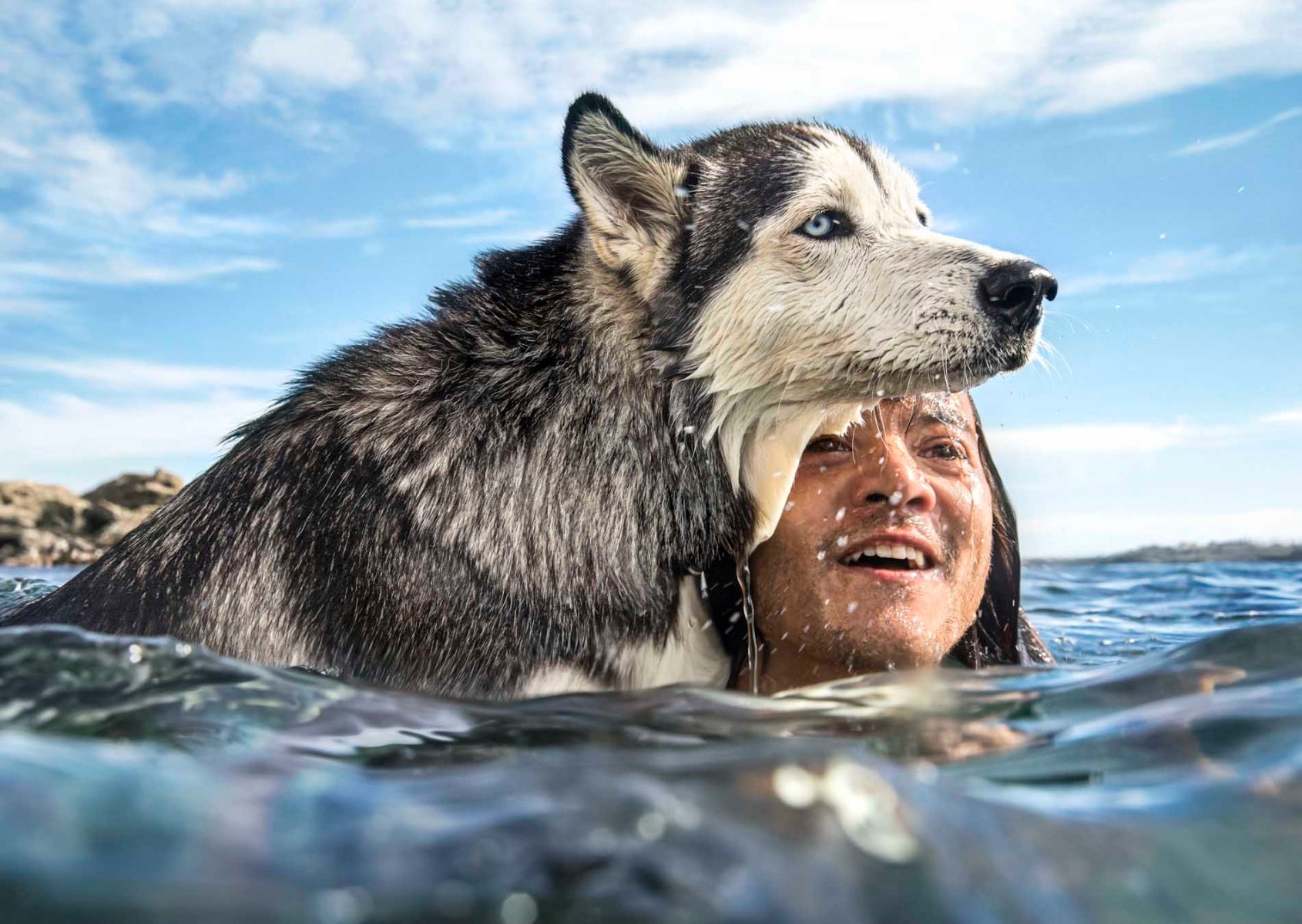 Jessica Hromas 'Mark and Saskia cool off' – Distinction Award
I have been mucking around with underwater housing for many years - there is so much which is unpredictable when photographing in the water especially in the ocean.
This photo of Mark and Saskia was taken at the end of news shift for the Sydney Morning Herald. It was towards the end of the first lockdown in Sydney. People had at times been banned from Bondi Beach. On this particular day that had been lifted and many people were enjoying swimming with their dogs by the boat ramp.
For me, this was a welcome joyous moment. 
While trying not to drown while getting some sharp frames, I managed to get Mark's first name and Saskia the dog but that was it. It wasn't till after they had left that I had a good look at the frame. I thought, "This isn't a bad frame but I need to get in contact with Mark". How could I find him?
I left a poster by the boat ramp asking for him to contact me. Old school! Lucky for me, he got in touch. 
As for the printing, I have known Selena for a long time and really trust her judgement. Selena is the best l! When will there be the printers prize?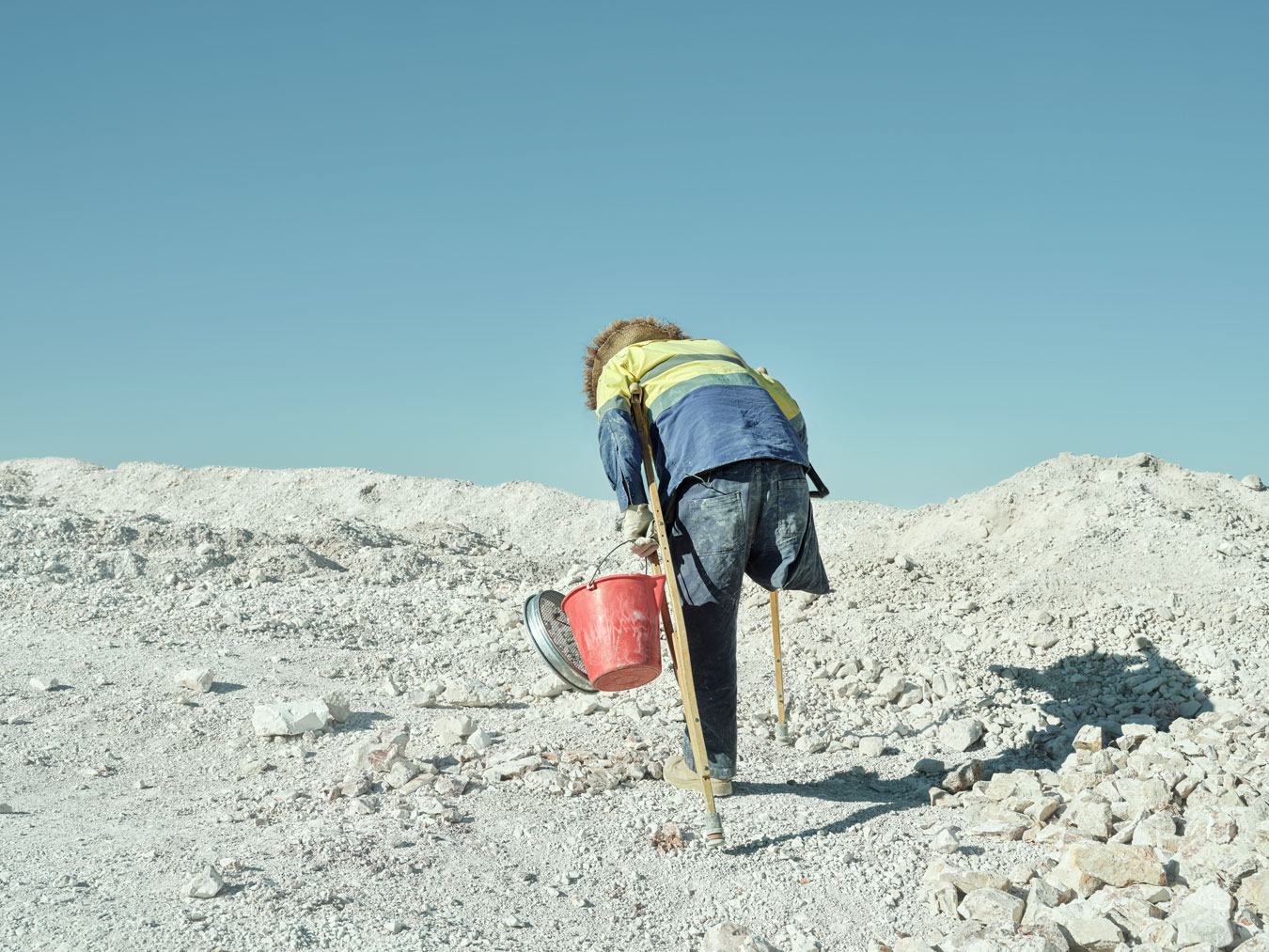 Grawin mine dump is where Bill spent his days fossicking for opals.
He told me it was the doctors who handed him a map of the opal fields around Lightning Ridge: "Doctor's orders to get out of town, forget about she stress of life for a while."
Last year I started shooting a long-term project exploring the creation and displacement of communities throughout Australian mining regions. This portrait wasn't planned. It just worked out. 
The harsh thermal waves of Australian heat flooded this mining dump site, where anyone can try their hand at finding a gem. I didn't find any opals, but I did have a great chat with Bill, his optimism and positivity was humbling and infectious. This portrait was taken as one quick photo when Bill turned away and continued to fossick.
Bill's has a personal mantra: Positivity breeds opportunity. I think this portrait speaks to his confidence and resilience.
I worked with Selena at SUN to print this image for the National Photographic Portrait Prize. Selena printed a number of tests on different papers, and I'm glad she did, as I ended up using an unexpected paper. We printed the final print on Canson Rag Photographique. and I don't often print on a smooth matt. For this image it gave the scene a dusty feeling that fit the scene well.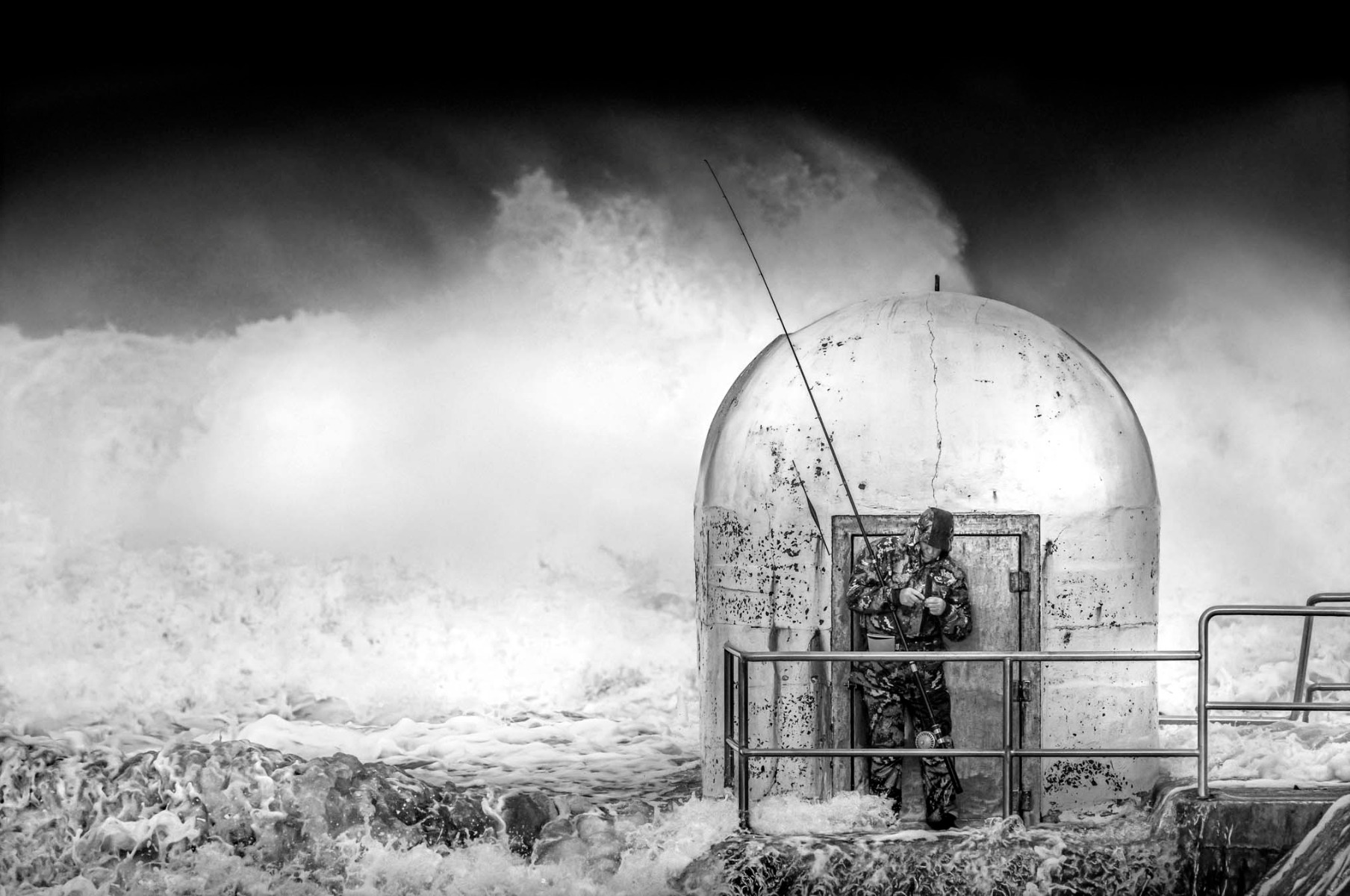 The Photo was taken on the July 16 last year during the east coast low that hit our beaches and provided enormous swell.
The photo came about by being in the right place at the right time through good luck rather than good management although I think it is pay back for the previous 300 days I turn up and not much happened.
I had been at Newcastle Beach and Merewether Beach most of the day trying to capture the enormous swell and wild conditions but was a little frustrated as I like a person or animal in the frame for a sense of scale, and to let the viewer imagine what it would be like if it was them in that environment.
I spied a fisherman fully decked out in all the gear heading down the street towards the beach and baths so I thought, "Wherever he goes, I'm going."
When he went out to the pump house at the baths I knew I had a great opportunity to capture something unique and hopefully spectacular. The weather was extreme - freezing cold, blowing a gale, and raining. And I was the only photographer around.
I was probably 15 metres from the fisherman (Mickey Adams) and I so focused on nailing the shot that I was totally swamped by a few huge waves. Fortunately I got the shot and a whole series of them from different angles that I'm very proud of. 
I can certainly vouch for Canon's weather sealing! The camera used was an EOS 5D Mark IV with an EF 70-200mm f/2.8L IS II USM.
I knew the final print would be black and white as I feel  it captures the emotion and raw power of Mother Nature. I also favour black and white as it removes distractions and concentrates the viewers focus onto the subject.
Selena at SUNSTUDIOS was absolutely brilliant retouching the file and showing test prints of the look achieved on different paper. I couldn't be any happier of the final print. It looks outstanding and portrays the emotive feel I was after at the time of capture.