SUN speaks to: Andy Taylor ACS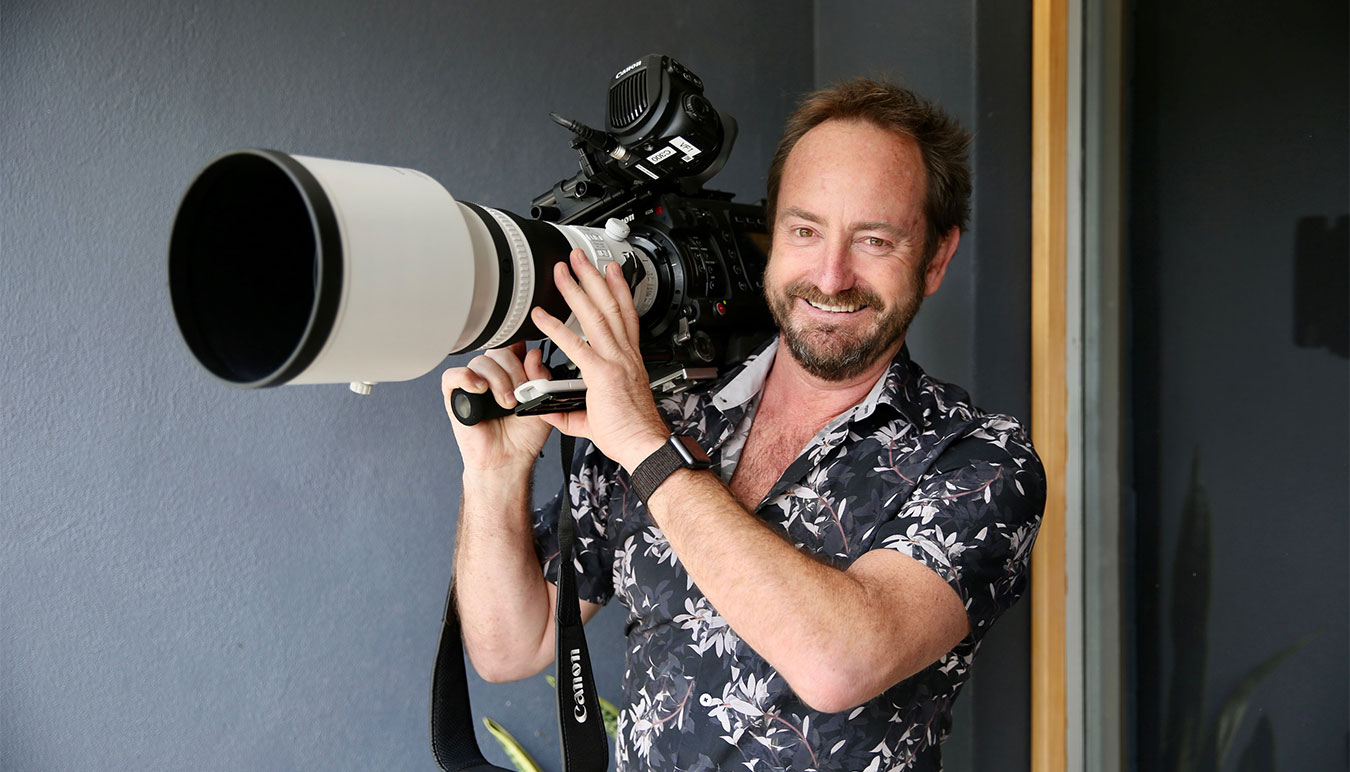 We caught up with cinematographer Andy Taylor ACS about how he built a career with such longevity and a kit that will cover you in almost any situation.
---
When did you realise you wanted to be a cinematographer? Was there a moment or a film that brought the path to your attention? 
When I was at high school I developed an interest in photography. I was a bit of an AV nerd, so I was keen to use a film camera and learn about processing and printing my photos in the dark room. The first time I picked up a video camera was to film the footy at school, it was black and white and recorded onto a reel-to-reel, which seemed very high tech to me in those days. 
After I finished school I watched Salvador an Oliver Stone film about a photojournalist covering conflict zones, which to me seemed like a really cool and exciting job with plenty of travel and adventure. It inspired me buy a 35mm SLR film camera which I still use today, 40 years later. 
The thought of taking pictures for a living seemed like a great career option, shooting something different every day, often in amazing locations and meeting interesting people, so I set out to get into the ABC.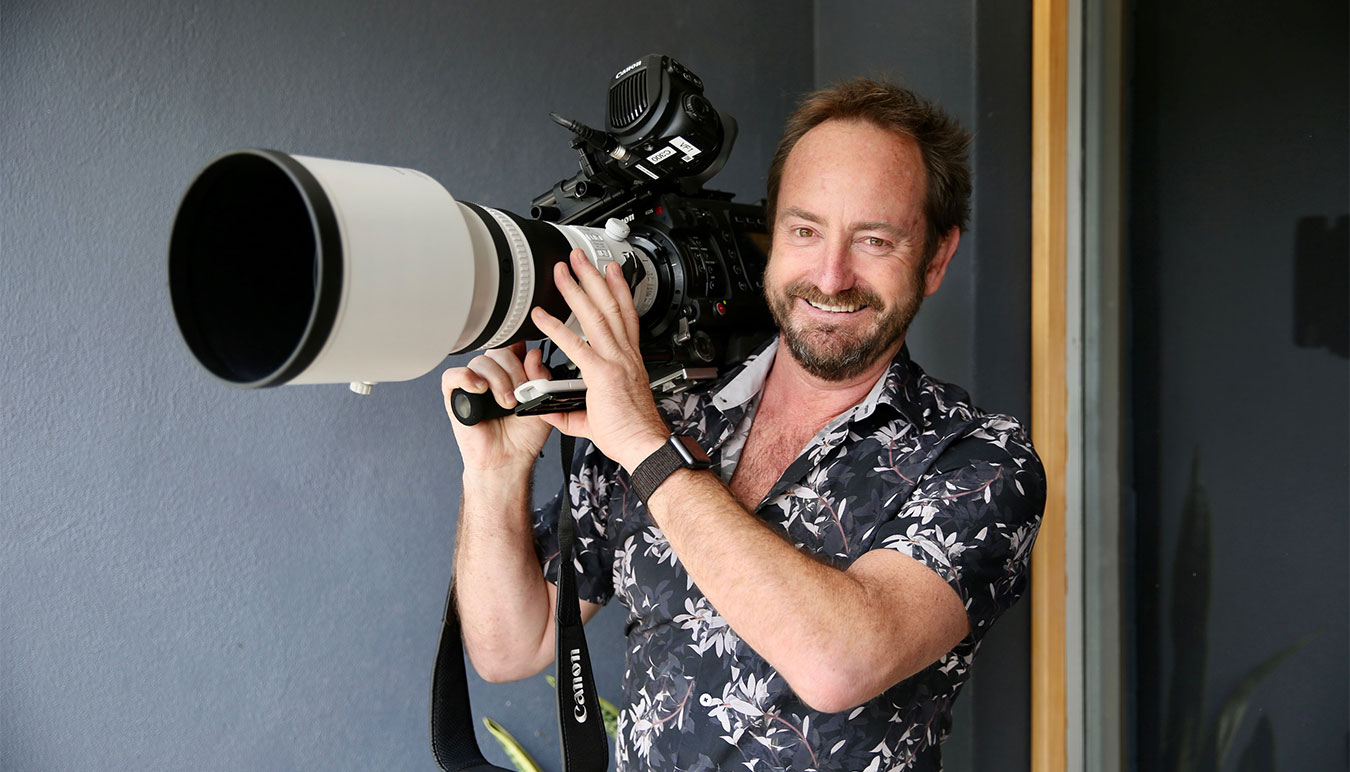 Is there anything from back then you still carry with you now?
It was a good grounding which I still remember most of, but I don't draw on it much anymore, mainly because those technologies have become redundant. However, the basics of camerawork were drilled into me while working as a studio cameraman, particularly picture composition, focus and following the action. This has become second nature to me, to the point where it just happens automatically. 
And getting into the ABC, that was your break?
Yes. I started in 1986 as a junior studio cameraman for a couple of years. Then I moved to the cine-camera department, I was offered either a camera assisting job working on film or I could go straight into shooting news on videotape.
By 1990 I was shooting my first overseas documentary (at ANZAC Cove on the 75th anniversary of Gallipoli). In 1991 I was sent to cover the first Gulf War for three months in the middle east, filming in Israel, Saudi Arabia and Kuwait.
Then from '92-'97 I was posted to the ABC foreign bureau in Moscow and then London, covering the former Soviet Union, Europe, Africa and the Middle East. By 1997 I was back in Sydney where I shot Four Corners for twelve years.
So you went into news more for career opportunity than feeling it as a calling?
Exactly. So when I started in cine-camera there were 15 video crews and 15 films crews. The film crews at the ABC in those days were probably the most senior and experienced, they shot dramas, documentaries, TV features and Four Corners. The remaining crews shot nightly news and current affairs shows on video tape, mainly because of the ability to go live and edit packages reasonably quickly. I shot news and current affairs for a long time, progressing through the system, I ended up working at the ABC for almost 25 years.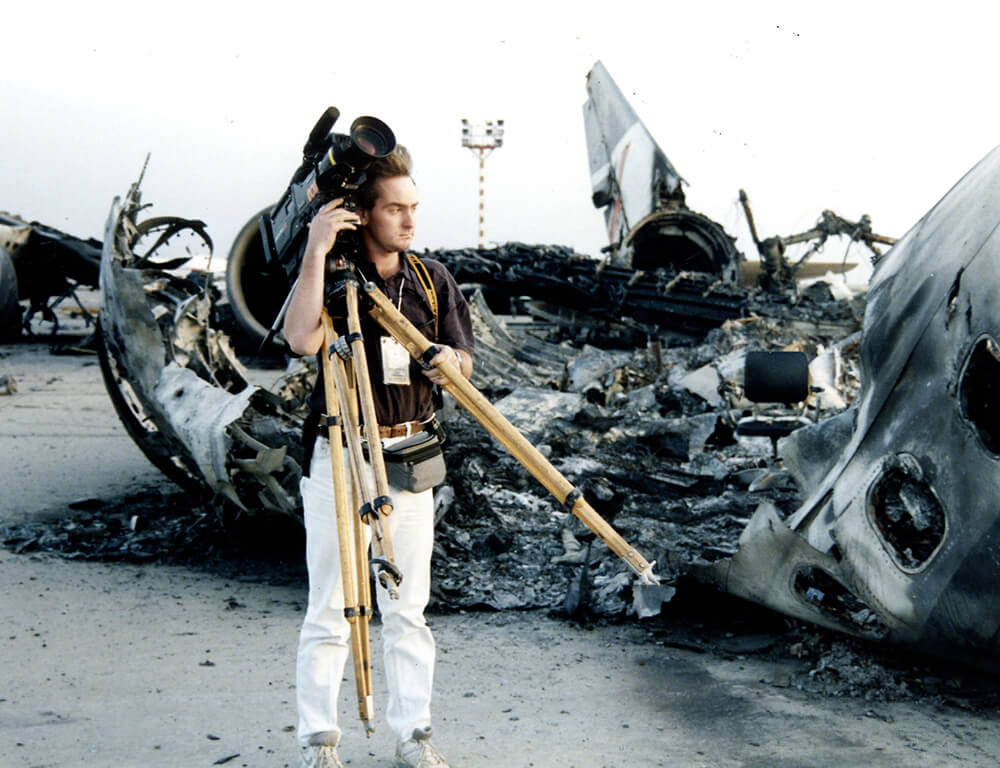 Andy filming a British Airways 747 at Kuwait Airport which was blown up at the start of the first Gulf War in 1991 by Saddam Hussein. (Pic: Trevor Bormann).
That sounds like a really amazing team environment where you can learn from a lot of talented people.
The ABC Cine-Camera Department was fantastic. When I started there I was a very junior cameraman, but there were so many other really experienced people around who had been at the ABC for a long time and happy to share their knowledge. We had an awesome helicopter parked on the pad right outside, with some of the best film/TV pilots around (including the legendary Gary Ticehurst) and we could jump in and cover stories in the bush like floods and fires, or send live aerial shots back via a microwave link. It's not like that at the ABC anymore! They don't have anywhere near the resources or the training that we were lucky enough to receive. 
You've worked on a real diversity of programs, from children's programs to true crime, war-zones and documentaries. Have you found a niche you most enjoy or do you still to this day enjoy diversity? Which projects have you found most satisfying and why? 
Although most of the camera operators I know are very versatile, many cinematographers take slightly different career paths, usually into either TV commercials, feature films, reality TV (which I try to avoid) or for me, daily news and current affairs. For me this was the perfect steppingstone into long form current affairs and documentary work.
It teaches you to think on your feet, act really quickly and film sequences that the editor can use. So I enjoy working in small crews of 4-6 people, probably more so than larger crews, where you can feel like a small cog with less control over technical and creative decisions. 
I normally travel with a sound recordist, producer, presenter (and an assistant if I'm lucky). In smaller crews everyone puts their 10 cents worth and chips in, we can make decisions quickly and easily, no one is too precious.
Which projects still stand out today as something meaningful or a turning point?
I loved working in the bureaus of the ABC. I covered lots of amazing events around the world. I've been to over 110 countries I think and I remember every experience – the fun and the dangerous. The most memorable for me would probably be the 60 Minutes shoots where we would travel to the most incredible places, for example: filming the Northern Lights in the Arctic Circle, then to London to interview Sir David Attenborough, followed by a trip to Antarctica, scuba diving under icebergs looking for leopard seals. Or climbing to the summit of Mount Kilimanjaro, Everest Base Camp or the Kokoda Track.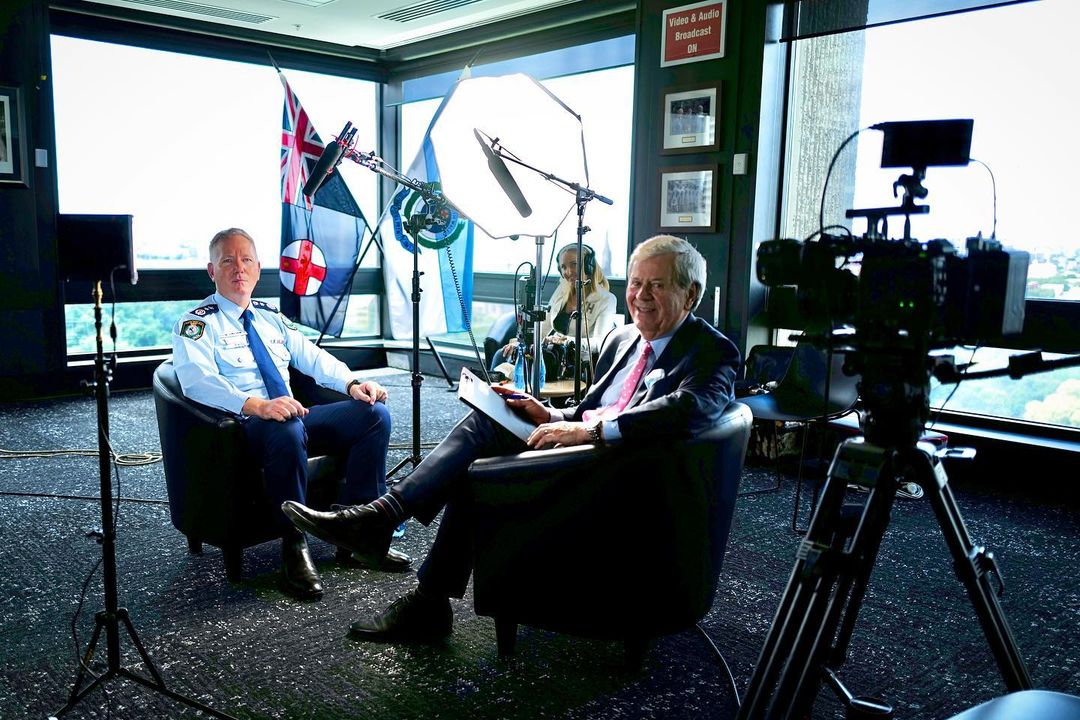 Andy Taylor still works reguarly with 60 Minutes presenter and colleague Ray Martin. Pictured here on set for a NSW Police Production. 
It must be daunting moving from a secure job to freelance. What was that like for you and what were the keys to making a success of it? 
That's hard to answer. After eight years at 60 Minutes, it sounds silly but I got a little bit tired of travelling and being away from family and friends. Permanent being on standby to travel, and go anywhere in the world at a drop of a hat was exciting but exhausting at the same time. I always kept a bag packed so I could go to the airport at a moment's notice, with three cameras, tripods, lights, drones and underwater gear. Sometimes I'd travel with 40 cases, I became a little tired of going on long trips without much idea of when I'd be coming home. 
So six years ago I decided to dip my toe in the freelance world. I still do some work for Channel 9, mainly network promos. I love the people there, in-fact I worked for them again yesterday.
For the past few years I've been mainly filming documentaries, I really like shooting something from start to finish, which gives a feeling of ownership, which is much more rewarding. 
I did a three-month stint on the ABC's Griff's Great Australian Rail Trip with my wife Jo on sound, just travelling around Australia on trains, which was different but cool. I shot Exposed: The Ghost Train Fire for the ABC, about the 1979 Luna Park ghost train fire. It took 18 months and was especially difficult during COVID. 
How do you go about finding a look for a project? I'm thinking about the balance between realism and aesthetics achieved on something like Ghost Train where you knew it would be watched most likely and need to ring true with interviewees, some who were who were eyewitness accounts to the fire. 
So with the ghost train story I worked with producer Jaya Balendra and Caro Meldrum-Hanna was reporter/presenter. We sat down before starting filming and looked at a whole bunch of visual references to try create a look for the interviews and intro sequences of each of the people we interviewed. I think we shot around 70 interviews over an 18-month period, each interview was 3-4 hours long, always two cameras and our visual reference was based on a Netflix program Murder in the Bayou.
A lot of our interviews were filmed with the talent sitting in my motel room or perhaps in their lounge room. Because of COVID, we had trouble going into people's houses, we needed to remain socially distant from them. It all worked out really well, having its own distinct look and feel which a lot of people really loved. Combining the interviews with the re-enactment has a nice flow, and the edit and music is fantastic.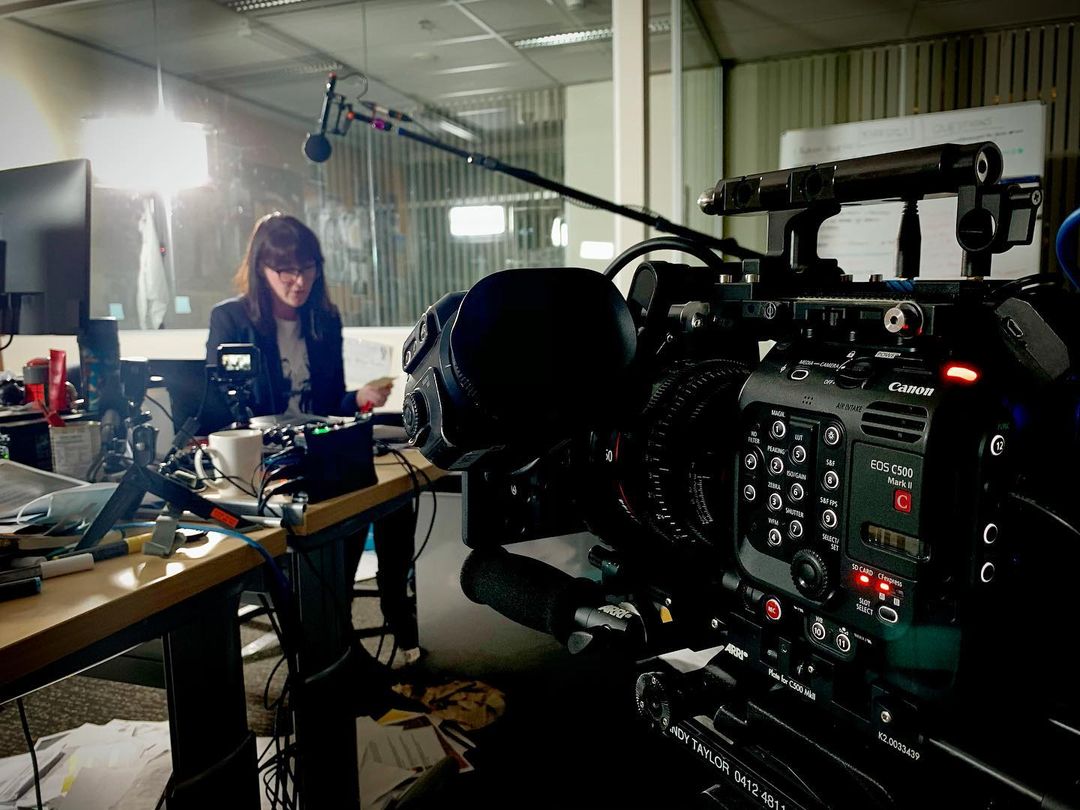 Behind the scenes of Exposed: The Ghost Train Fire with reporter/presenter Caro Meldrum-Hanna and Canon EOS C500 Mark II. 
There would have been a few technical challenges to the recreations too, I imagine.
I shot the bulk of the re-enactments at the old ABC studios in Gore Hill. The ABC still have a scenic art department who build and paint sets, so we asked them to build a replica of part of the ghost train and one of the carriages, which was set up in Studio 26, then we filmed it burning, mainly as a series of close ups, in an abstract and impressionistic way. We had extras dressed in period costume, who were playing some of the characters we had previously interviewed.
For five days we burnt most of the set down to the ground, then we took what was left of the facade out to a quarry one night, and the pyrotechnician blew it to pieces. That explosion was shot on my two Canon cameras (EOS C500 Mark II and EOS C700 FF) at 50fps in Clog3. Exposing the flames was crucial, it was really difficult to maintain the orange in the flames and not over or under expose. Authenticity was very important and sometimes tricky to achieve, but I was very happy with the final product.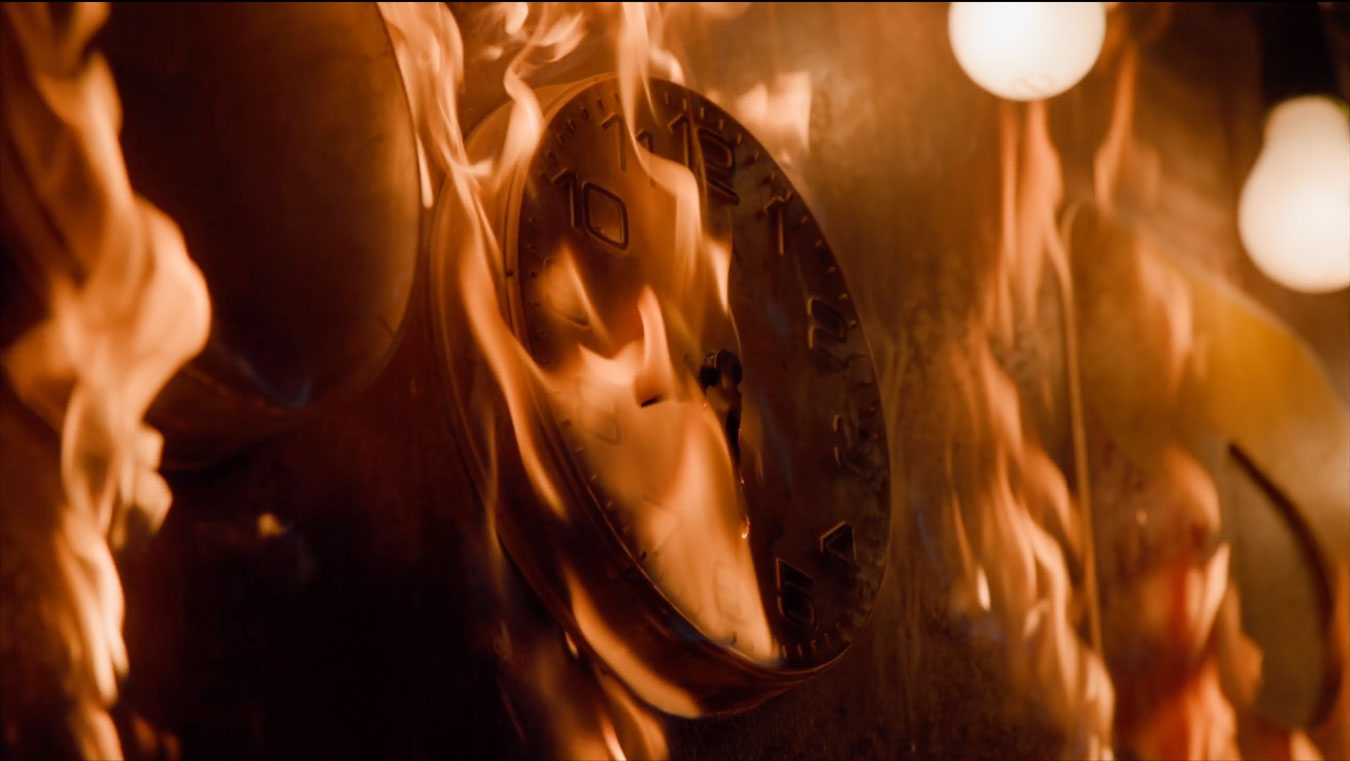 Still from Exposed: The Ghost Train Fire  
Your social media often shares set ups you've worked with and is an educational resource for up-and-coming camera operators. After a career with real longevity, what have you learned about what's essential in a kit and and what you like to use? What have you been shooting with lately and why?
I was doing an ABC doco last week and the kit I took on this shoot was for me quite large, I had sliders, extra cameras, gimbals and drones. I am about to go to Europe and I'm cutting down to the bare minimum and for me that means my Canon EOS C500MII with Canon cine-primes. My B camera is the Canon EOS C70. And my 'C' or gimbal camera is the new Canon EOS R5 C. My kit includes three Canon bodies and about a dozen Canon lenses. Then it's a question of how many lights I can squeeze into the car!
I'd usually travel with at least two tripods, four lights, stands and a drone. There is a fine line between having enough gear to shoot whatever is thrown at you, and being able to manage all of the cases, especially if you're expected to carry everything yourself. Often I am working by myself without an assistant so I'm geared up to do it all by myself if I need to, and I've developed a system where I can do a multi-camera shoot on my own, and monitor each camera. 
The new EOS R5 C is fantastic, it's a true hybrid and does everything! If you switch between stills camera and a cinema camera you get a totally different menu, and I love that the cinema menu has the same look and feel as the menu on my other cameras.
It's full frame, with a viewfinder, has timecode and shoots 100fps in Clog3, perfect on a gimbal. Everything I need except internal ND filters, which is where the C70 comes in handy – that's really useful if you want to shoot with a narrow depth of field. 
Is there a magic light that you've found that works for you in most situations with a small footprint?
If my aim was to carry the most compact kit with minimal weight but deliver maximum quality, I'd take the R5C with a fast RF 50mm f1.2L USM lens, a small tripod, and the Aputure Lightstorm LS C300DII light which I bought from Neale at SUN, I use it all day everyday – I pair it with the  Broncolor Beautybox: a kind of fabric folding, portable soft box which has a gold disc inside allowing the light to bounce back onto the internal walls and out through an eggcrate. It's just the most beautiful light, especially for skin tones.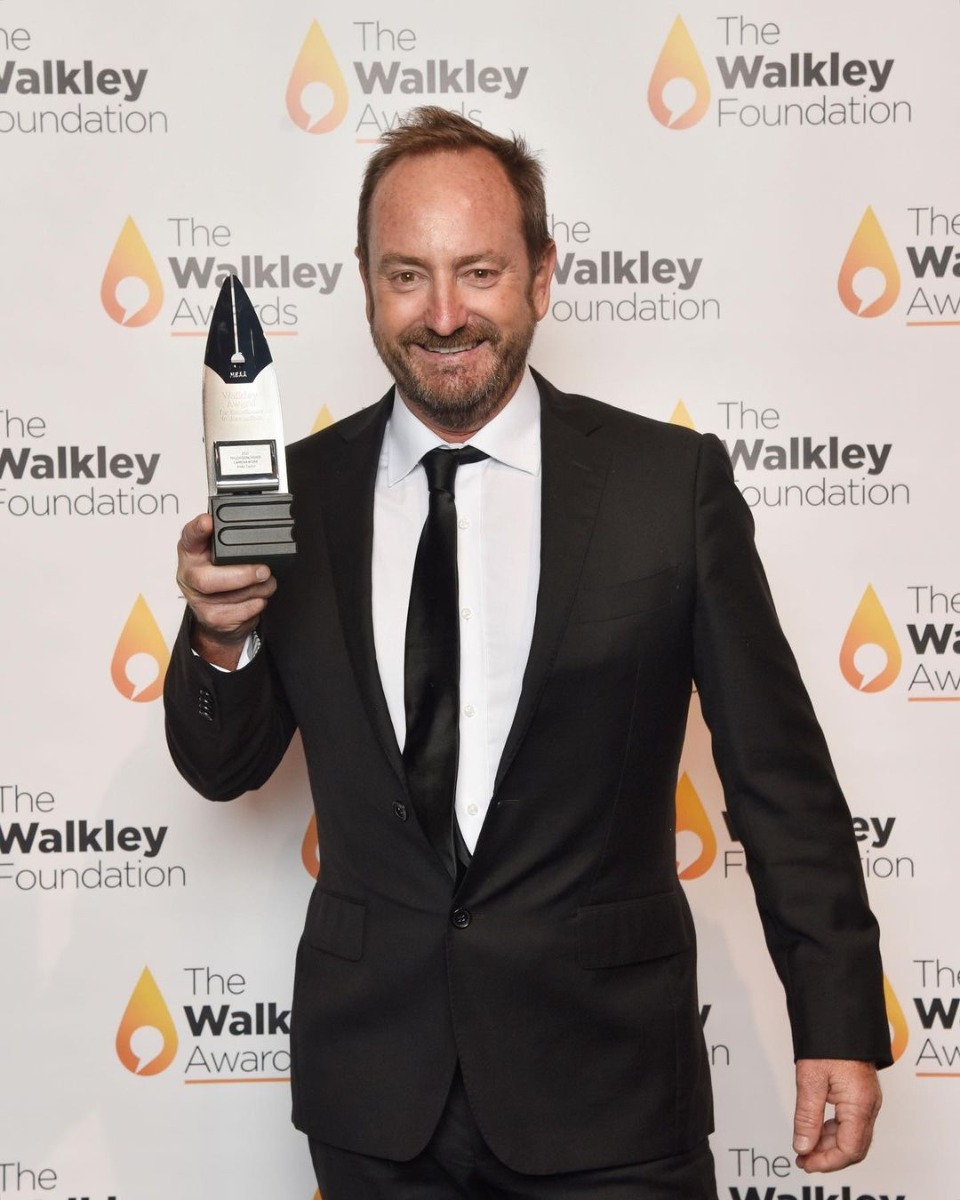 You've just won your sixth Walkey Award for your work in photo-journalism, and this year you are in the running for a Golden Tripod at the ACS National Awards. Having been recognised in so many circles, do any awards stand out as most meaningful or affirming? Things you wanted to win since you were first starting out?
I love the ACS because of its very open, easy-going nature, an organisation willing and happy to help cinematographers share knowledge and techniques about how they work.
I think I've won 30 ACS Awards now for many different shows, from corporate work to coverage of war zones. The ACS NSW/ACT Golds I won last year were for Nel Restaurant, a shoot for Destination NSW and the other was for the Ghost Train doco.
It was really nice to win another Walkley, my first four were for the ABC: the Moscow uprising (when I worked there in 1992) the second was for a Foreign Correspondent show I filmed in Russia. The third was for a Four Corners story I shot after the 2004 tsunami in Ache. I won another for a story I shot in Afghanistan and Iraq for Australian Story. My fifth was for a shoot I did for 60 Minutes in Antarctica, and this is my sixth for the Ghost Train documentary.
So throughout my career I've won one for each major show I've worked on, and I'm very proud of that.
What's next for you – any projects you can share or is it all top secret for now? 
I'm just about to do a doco on cheese in Europe for four weeks. We are going to France, Greece, Cyprus and the UK, which should be fun! Then I'll be working on more of the Chasing The Light series with Ray Martin and Ken Duncan (pictured below on set). Ray Martin is great to work with – he's Mr Australia and everyone loves him. Very easy going and knows what he is doing. Ken Duncan is one of Australia's most recognised landscape photographers, so following them around taking photos is kind of the ultimate shoot for me! Shooting two nice blokes and travelling to incredible locations. I'm not very fussy about what I shoot, but I'm thrilled to work with nice people.