The best camera yet for shooting surf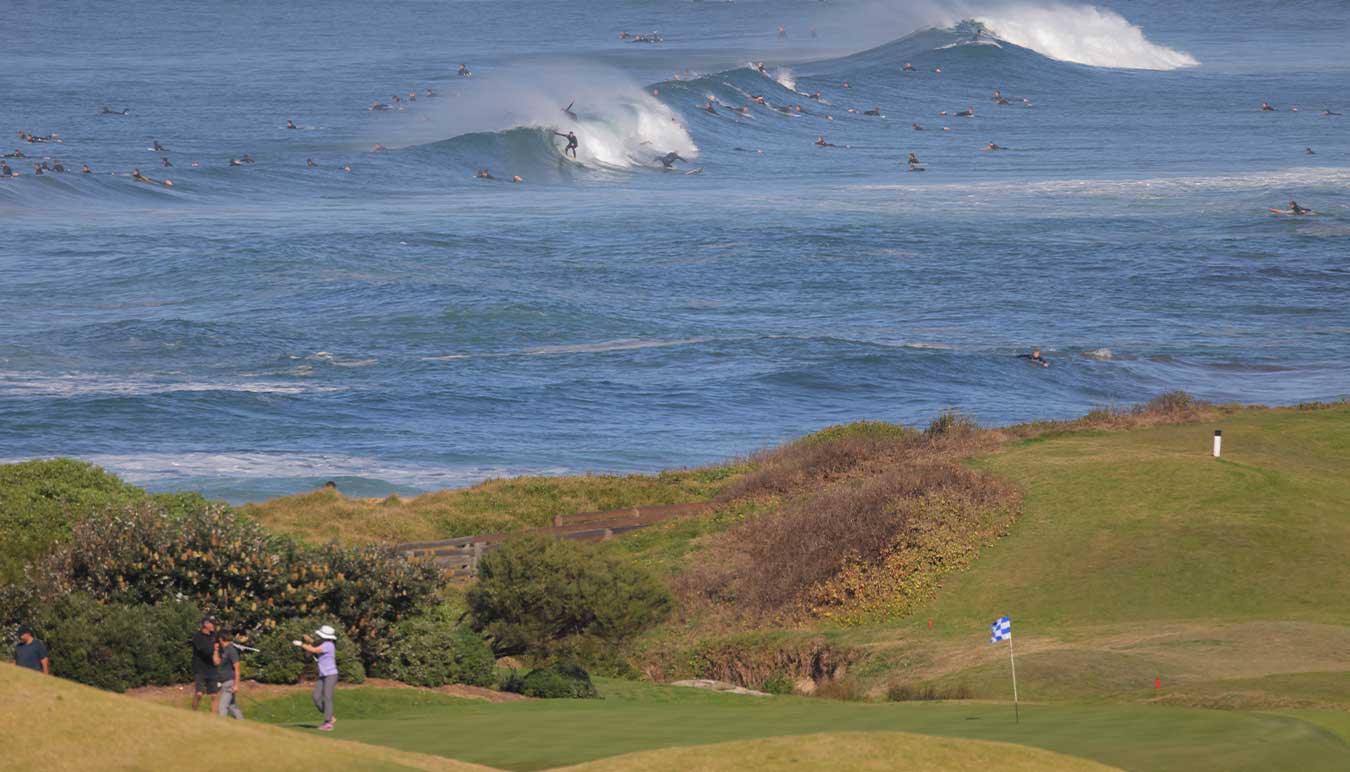 Surf has been the one constant in a long exploration of photography for Canon Professional Services Technical Support Representative Colin Lucas. He shared some recent work and gear tips from one of the best years in living memory for swell conditions.
---
People know you from Canon Professional Services but you also have a long standing surf photography practice. When did this begin?
I guess when I started taking photos as a teenager, I mainly concentrated on shooting my friends surfing and skateboarding. So that is 25 years now - it's been the one constant in my photography.
I have always been a bodyboarder and whenever I go to the beach I always take photos before or after.
As I have gotten older when the surf is really good, it's a bit to weigh up – do I take photos or go surfing? And photography seems to be winning these days.
It's been handy working at SUNSTUDIOS and now CPS where I have access to really good equipment.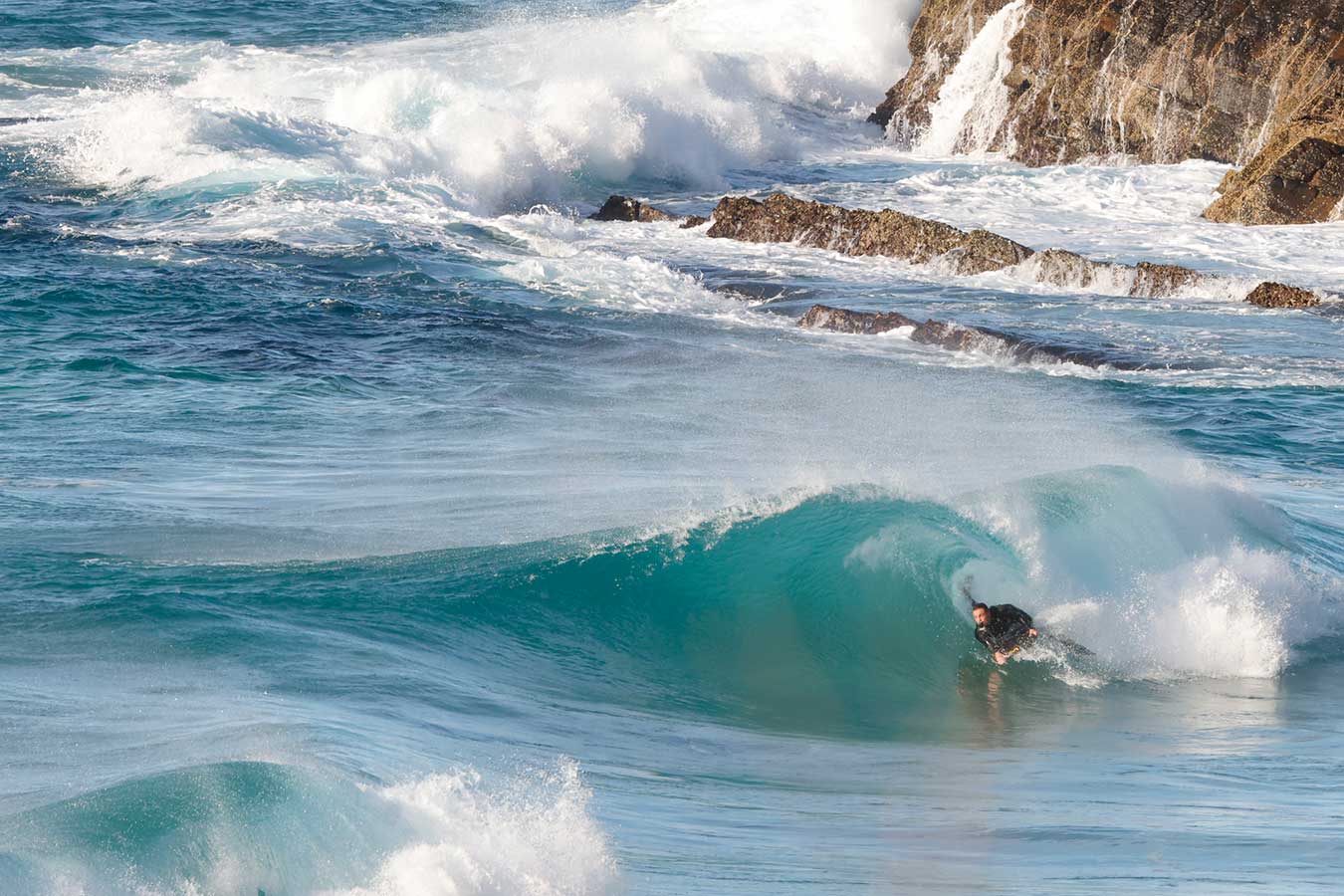 Shot with the Canon EOS R5 with in-camera 1.6 crop @ f 11, 1/1250 Canon EF 600mm f 4 IS III © Colin Lucas
And you've shot some big talents over the years?
I have never been a commissioned photographer; it's always been a hobby - a love.
This year I've been shooting Tom Carroll, Nathan Hedge and Ben Player in some of the recent swells that have hit Sydney.
I have been lucky enough to go to Bells Beach one year when CPS was providing support. I was able to shoot some of my lifelong heroes, in particular Kelly Slater. That was in 2017 – it was on my bucket list.
But it was always more about my friends to be honest. I did have some friends who went on to become champions at body boarding, Dave Winchester for example. We used to surf together and I'd photograph him in the early days.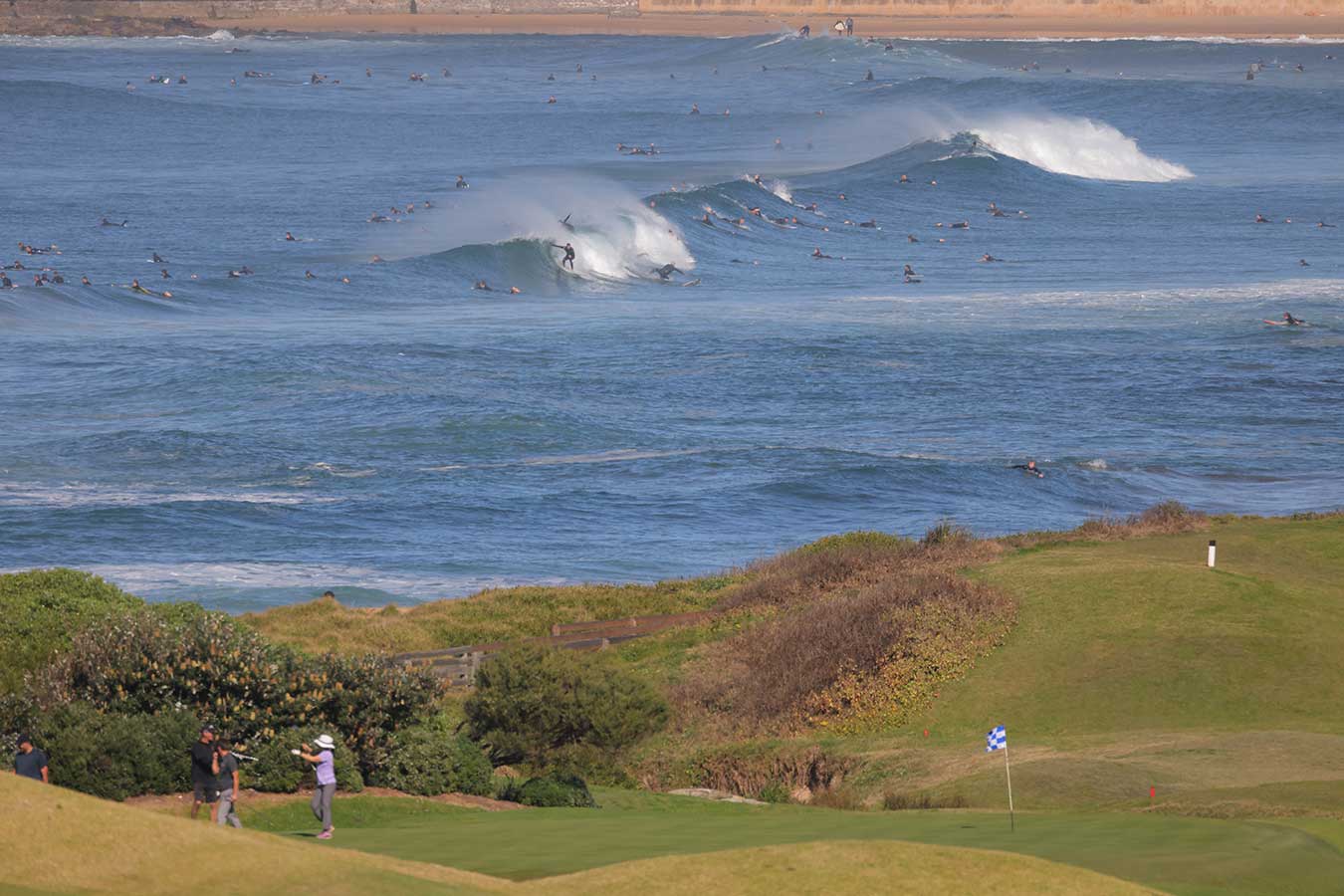 Shot on the Canon EOS R5,  800mm F11 1/1600, 640 ISO © Colin Lucas
How has the swell been this year?
As a surf photographer, 2020 has been probably the best year I've ever experienced. We normally get a couple of really good east coast lows and maybe a cyclone swell. And we've had about four or five major east coast lows so far this year and winter hasn't even finished. I think there's another one coming.
Often east coast lows bring a lot of bad weather with them and unfavourable winds. But we've been really lucky where most of the big swell events this year have had clearer westerly or south westerly winds with quite a few sunny days.
I you talk to any surf photographer shooting for a while, they're all saying it's the best year we can remember.
What gear have you taken out?
My main kit is always a Canon EF 600mm f4L IS II or III - it's my favourite lens. I tend to use a Canon EOS-1DX Mark III if one is available. However, I've been lucky enough to take the Canon EOS R5 out on two occasions to shoot surf. And surprisingly, think I enjoyed this most of all.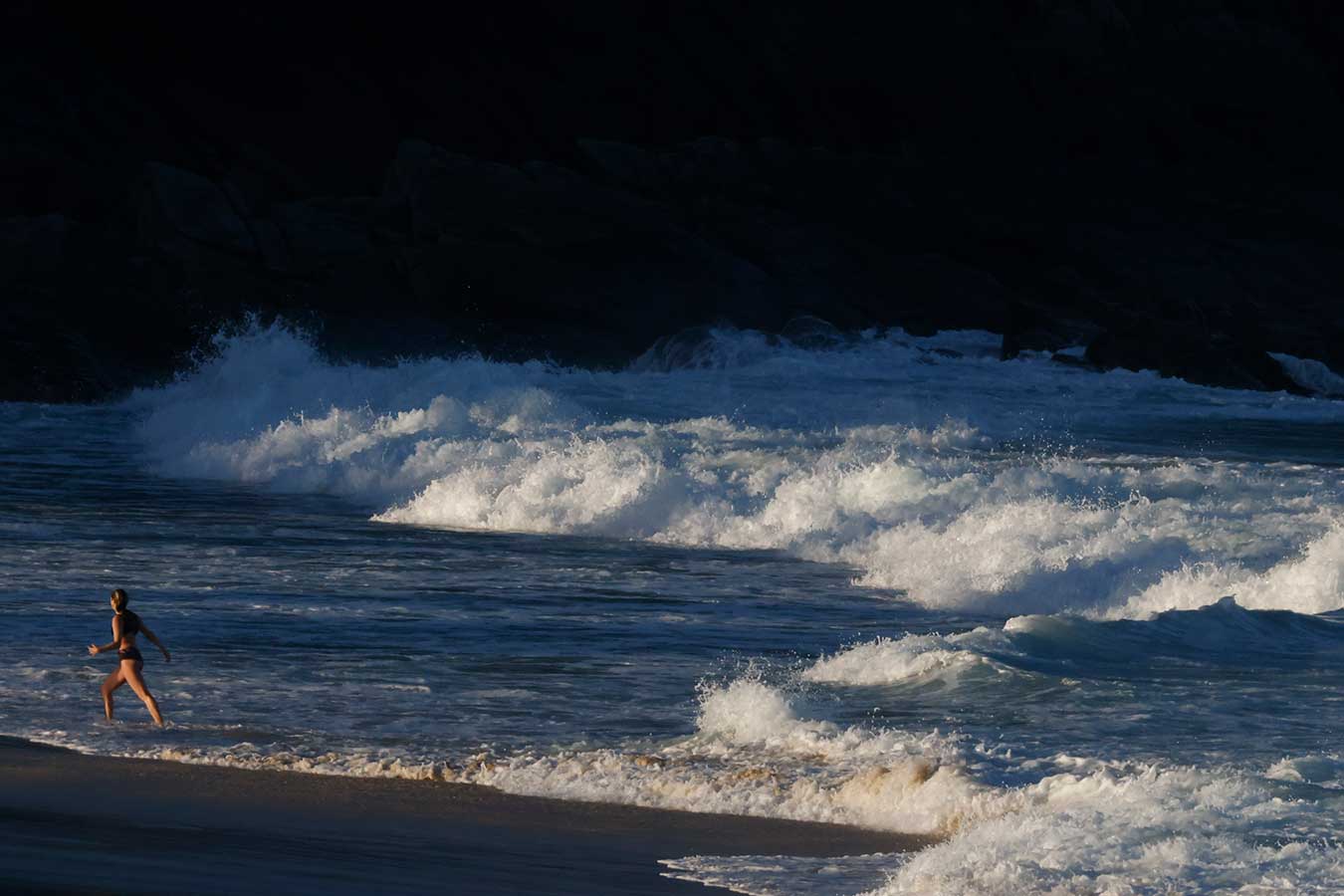 Shot on the EOS R5 with EF 600mm Mark III with 1.4 extender F20 1/2000th ISO 3200. By Colin Lucas. 
Why?
1.         Exposure simulation – actually seeing a true representation of the image in the electronic viewfinder. With surfing that's quite important because of the shadows and highlights and extremes. It's obviously a very bright scene most of the time, you generally need to under or overexpose around a stop and it's constantly changing. So having the exposure simulation is really handy.
2.         Eye detect paired with auto focus coverage across the whole sensor on the EOS R5 is probably the biggest advantage for me because I can track a subject composing right to the edge of the frame.
Being able to compose on the edge easier just gives you that creative freedom to shoot in a more artistic way. With a DSLR your focus points are always grouped around the middle when you are looking through an optical viewfinder. In mirrorless, the EOS R5 gives you total autofocus coverage over the whole sensor. So you can put your focus point anywhere, top bottom or either side.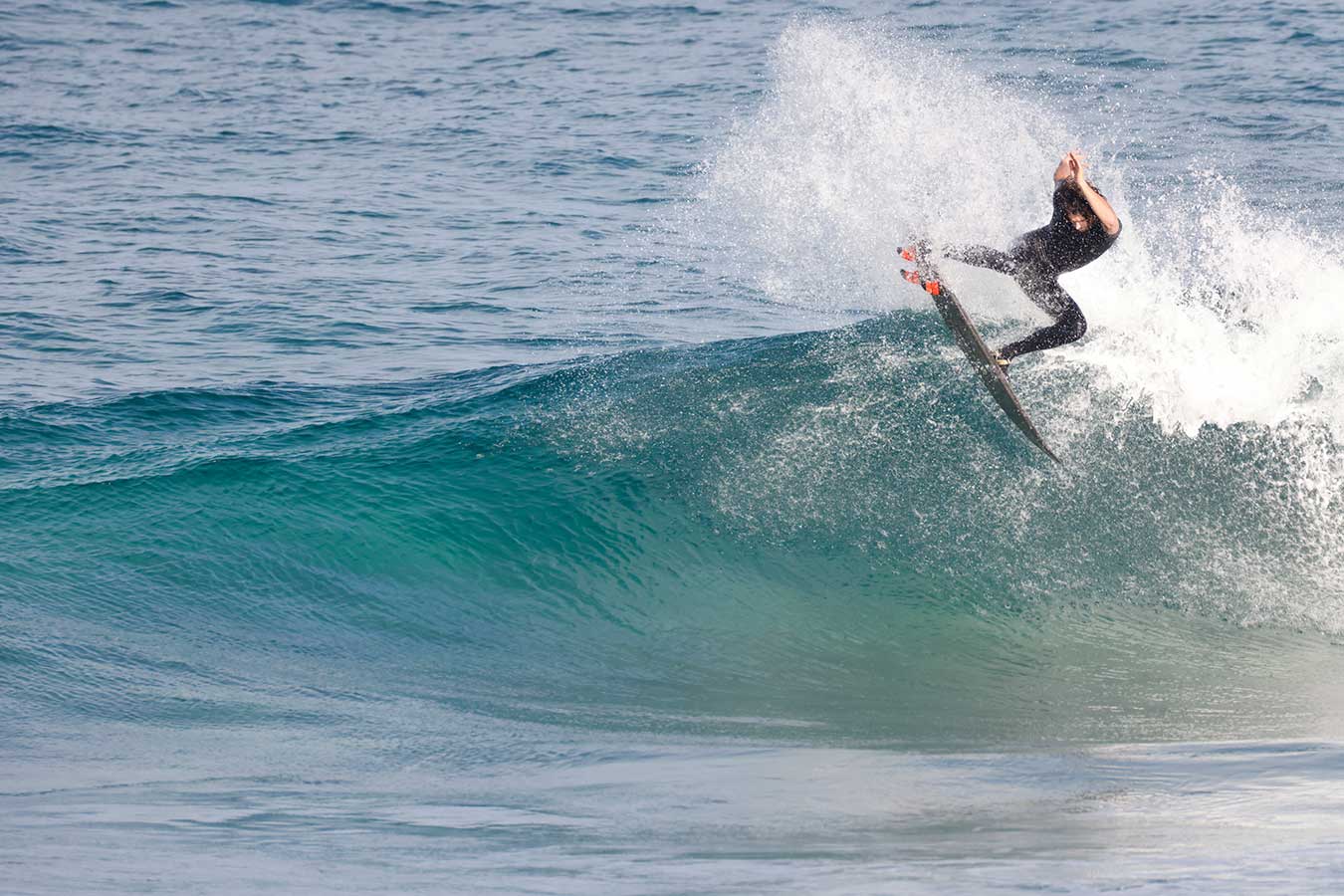 Shot on the Canon EOS R5 (AF demonstrated on the edge of frame) F8 1/1600 ISO 800. 600 mm Mark III with 2 x extender. By Colin Lucas. 
This is a screen shot from Canon's DPP software that shows where the active AF points were. You can see right there in the right-hand side it's just nailed the surfer using tracking. It does seem to lock onto people really well.
Tracking modes tend to be confused easily in surf. With DSLR it seems easy for the focus points to be confused by the water splashing around the surfer, whereas with the EOS R5, once it locked on to a surfer it held them for the whole wave, even when whitewash was breaking on a high contrast day.
I even found to my surprise that with the Canon EF 600mm f4L IS II or III, shooting subjects probably half a kilometre away, it would still actually track the surfer's eye. It's just a joy to shoot with.
3.         The other interesting thing was the concept lenses. Two f11 RF lenses were announced with the EOS R5. I trialled them, the Canon RF 800mm f 11 IS STM, the Canon RF 600mm f 11 IS STM and the 1.4 x and 2 x converters for a test. Being someone who likes surf these are appealing as they are lightweight and can fit in your camera bag like other lenses.
4.         Another thing that impressed me a lot is the ability to crop in either in-camera or in post. Especially for Instagram. Often when you are shooting surfing your subject is quite far away and even if you are using a convertor and 600mm there are times where you are tempted to do a heavy crop to fill the frame.
I'm pretty used to pumping out jpgs straight to my phone via WIFI with the Canon app. And if you upload straight to Instagram you can usually make a 10-20% crop before the image starts pixelating and falling apart. So I have some photos with the EOS R5 where I was shooting surfers a long way away, and I got a pretty good shot of a surfer in air, but wasn't worth posting in its original composition – too wide, no detail.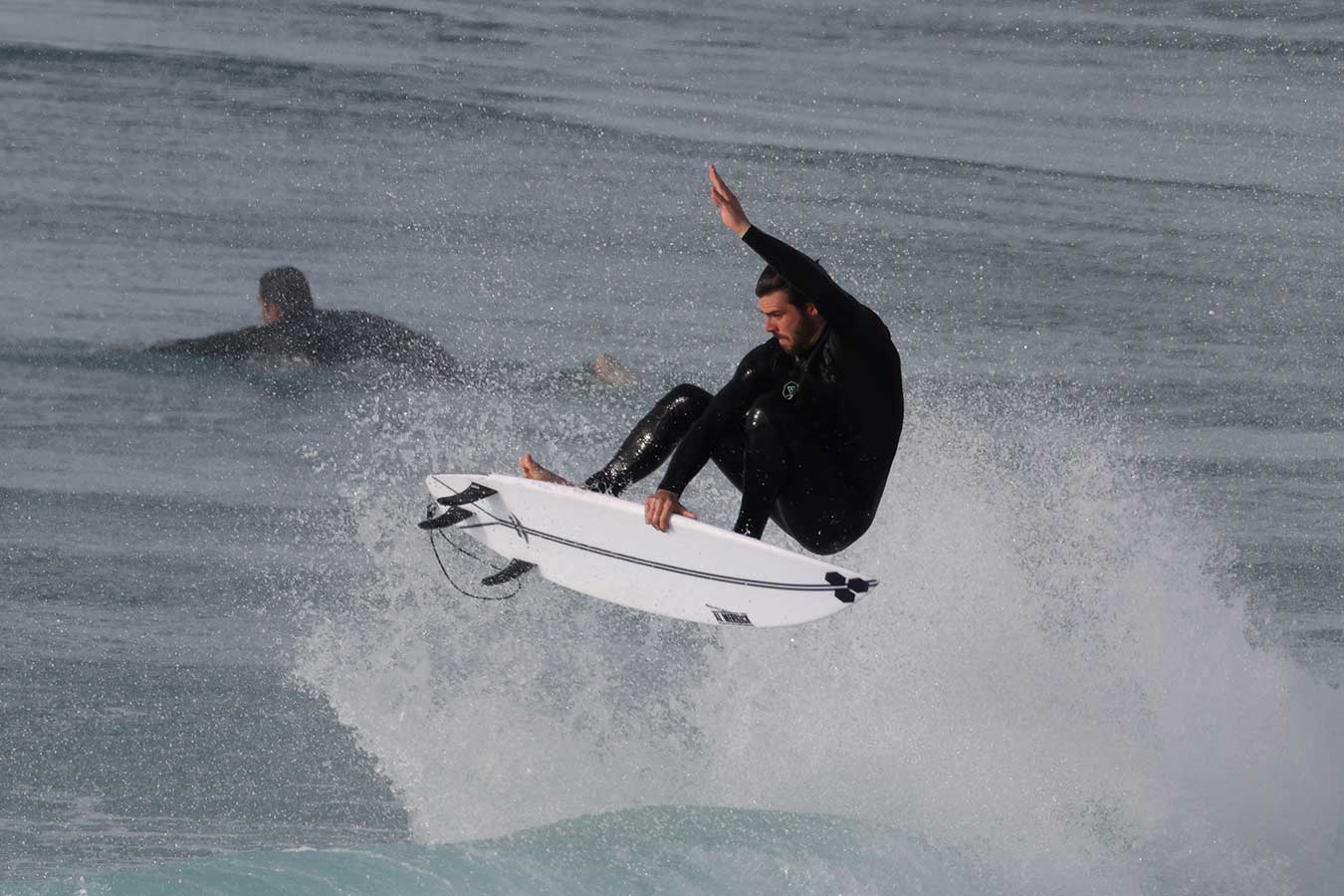 An example of the in-camera crop shot on the Canon EOS R5 with 600mm f4 Mark III + 1.4 extender F9.0 1/1600 ISO 1000. By Colin Lucas. 
But I tested putting it into Instagram and the amount you can crop in before it falls apart is phenomenal.
It's almost like having extenders within the resolution of the camera.
5.         Speaking of which the performance of the camera with extenders is without question a huge jump in quality. The Canon EOS-1DX Mark III has also gone up a level. But using 2 x convertors with a 600mm I could not tell I was using a convertor. Some of that would be the accuracy in a mirrorless camera. But I think it also just shows how sharp this camera is. In a press release from Canon they called it Canon's highest resolving camera ever made – this really shows in the photos.
What are the challenges to shooting surf in this part of the world?
On the east coast of Australia, the waves are usually best in the morning around dawn. That's a problem as the sun is rising behind the waves - so from 6am to 10am it's really hard to shoot. It's backlit and if there is large surf you also get a bit of spray and the sunlight is diffused through, making challenging shooting conditions. The Canon EOS R5 handled really well in backlit conditions.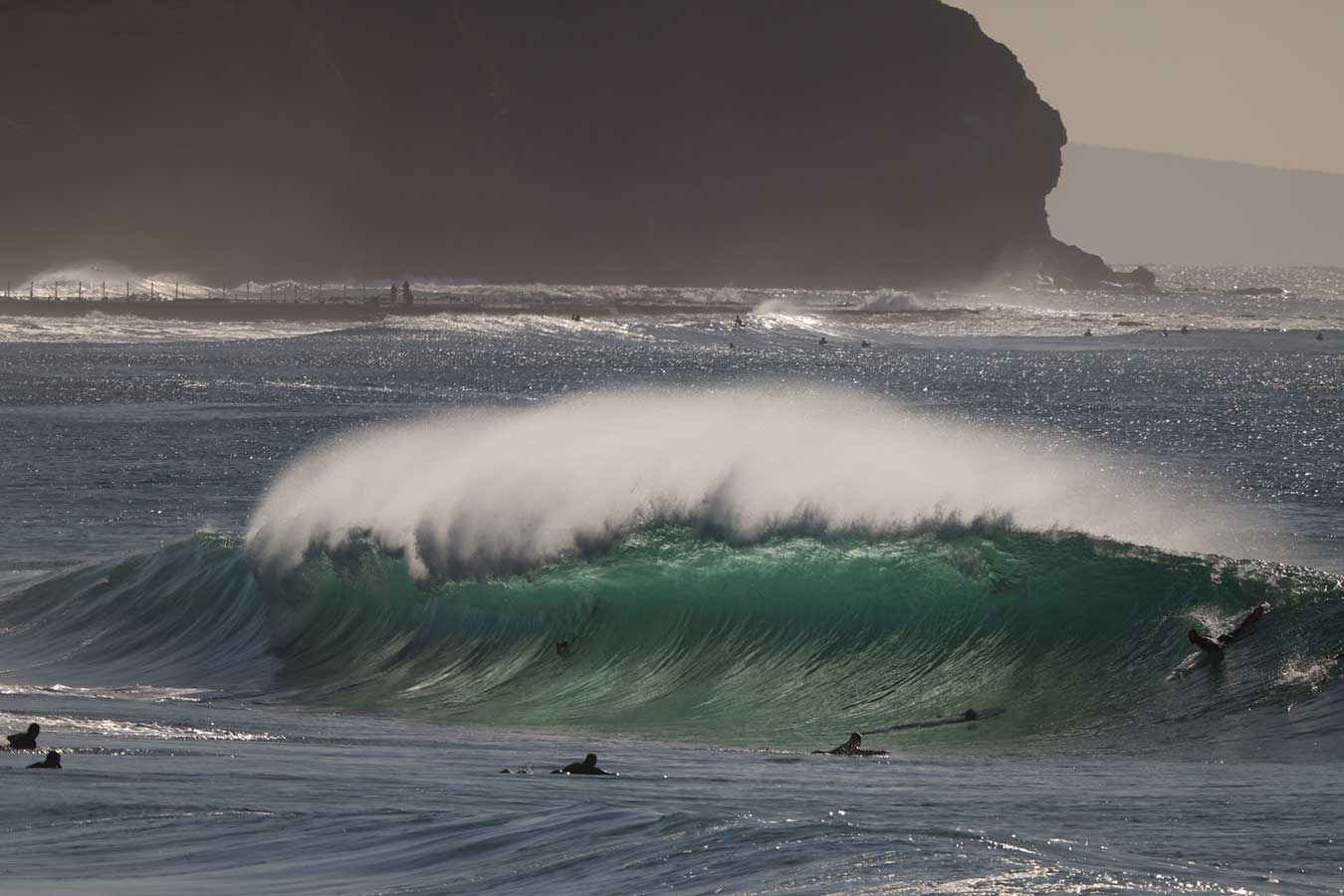 Shot on the Canon EOS R5 by Colin Lucas | RF 800 with f1.4 extender @ F16 1/2000th ISO 640. 
One of the other things I found handy is the new clarity option. If I know I am going to work on images in post, I tend to deal with clarity then. But like many surf photographers I like to get my images out while I am out there shooting. From the sand I'll send an image to my phone, and the in-camera settings become more crucial in that scenario. I have found that pumping up the clarity in these backlit hazy conditions really helped in these conditions.
I would say the EOS R5 is the best surfing camera ever.
There are some benefits to DSLR still, there are times when an optical viewfinder could be beneficial to you in the middle of the day in harsh sun conditions, and Canon 1 series DSLRs have a better battery life and weather sealing.
But like everything in photography it's a whole bunch of factors rolled into an entirety. I think the auto focus capabilities of the EOS R5 are so advanced I think it's definitely it would be the camera I would take as my first option.