World Press Photo feature artist: Matthew Abbott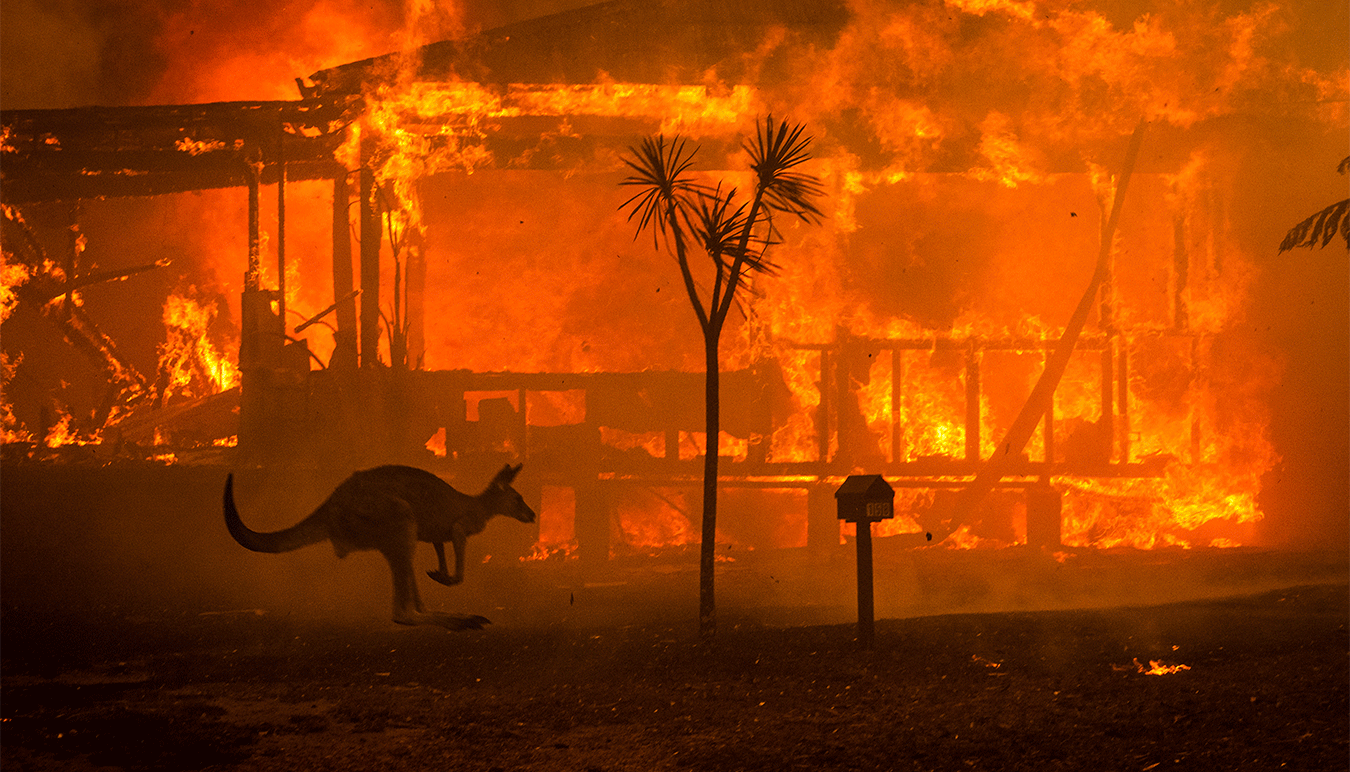 It was photojournalist Matthew Abbott's first season photographing fires and he was covering Australia's most intense summer to-date. His iconic imagery shot for the New York Times struck a rare chord with an international audience, appearing on covers across the globe, and on the Instagram walls of Greta Thunberg, Leonardo DiCaprio, Prince William and Kate Middleton.
He spoke to Sunroom about what it's like to have an image go viral while you are trying to holiday during a surreal and devastating summer.
Abbott's images were awarded Second Prize in Spot News in the World Press 2020 Photo Contest and are currently on display at the State Library of New South Wales until October 18.
---
Set the scene a little: where did this begin for you, what drew you in?
The Eastern states had been through one of the worst droughts since European settlement, and the consequences of that would be very dry conditions ripe for extreme bushfires. Early on, colleagues of mine who had been covering fires for years were saying get ready for this this season because it's going to be really extreme. But no one predicted just how crazy it would get.
In October we saw bad fires in Queensland that were burning vegetation which hadn't burned before. That shocked people, got them talking. Then maybe a week later there were catastrophic fire predictions for the area around Taree. It became a news story I covered for the New York Times – just one day. That was in early November and where I took the image of the bush waterfall.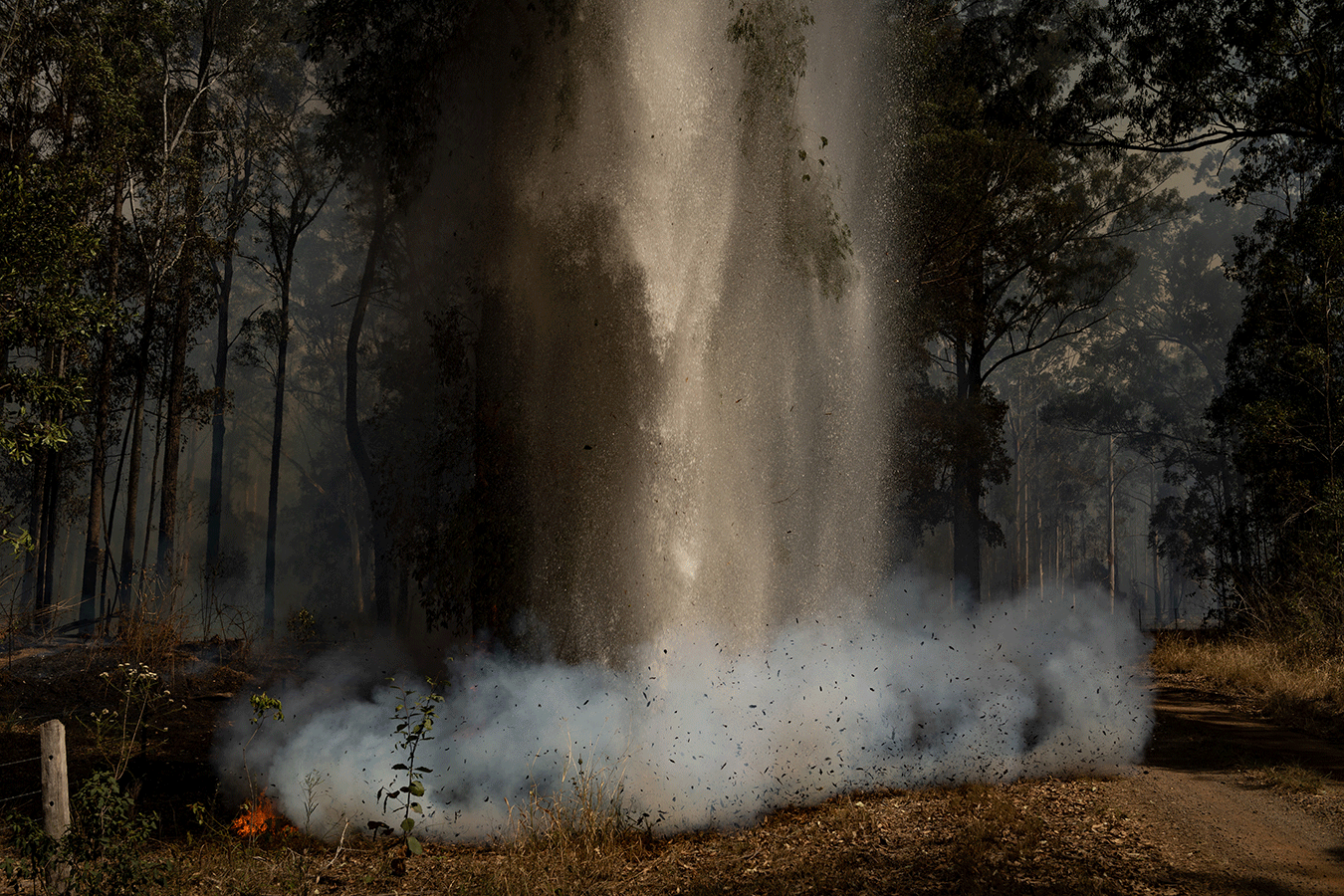 Water is dumped by a Rural Fire Service helicopter on a spot fire. Hillville, NSW. Australia. Tuesday 12th November, 2019. Matthew Abbott for The New York Times.
I was shooting with Dean Sewell and Nick Moir who were showing me the ropes. You can't just jump into a fire without any idea how they work. I mean you can, but it's dangerous and hard to get good photos.
How physical is it doing this type of work? And how psychological?
When I went into that first fire I definitely learned a lot. I am really energetic when photographing, I'm running around, looking for the best angle and how to get there. I quickly learned with fires that you have to conserve energy. You are breathing through a mask most of the time. It's incredibly, incredibly hot. I learned in the media training that the biggest risk is not being incinerated by fire, it's heat exhaustion. Having a heart attack – that's the way most people die in fires.
So for me, it was about getting used to the limitations, moving slowly, calming down and picking the right times to move closer.
What else have you learned that has put you in better stead for photographing fires?
The biggest challenge in photographing fires is to be in the right place at the right time. These are extreme events and there is a whole bunch of people including police, who want to shut it down. And they don't care if you are media.
It's a dynamic situation, it's moving. So you have to be responsible for yourself.
You can coexist with a fire. But you wouldn't want to be right in front of it among a bunch of trees. You want to be at the side, in a clearing with an escape route, considering the wind.
You also need to be aware of what could happen: a tree could fall down, a telegraph pole. There are a lot of things that can happen from a lot of directions. So when you get home after a day of photographing it's quite hard to sleep - you're wired.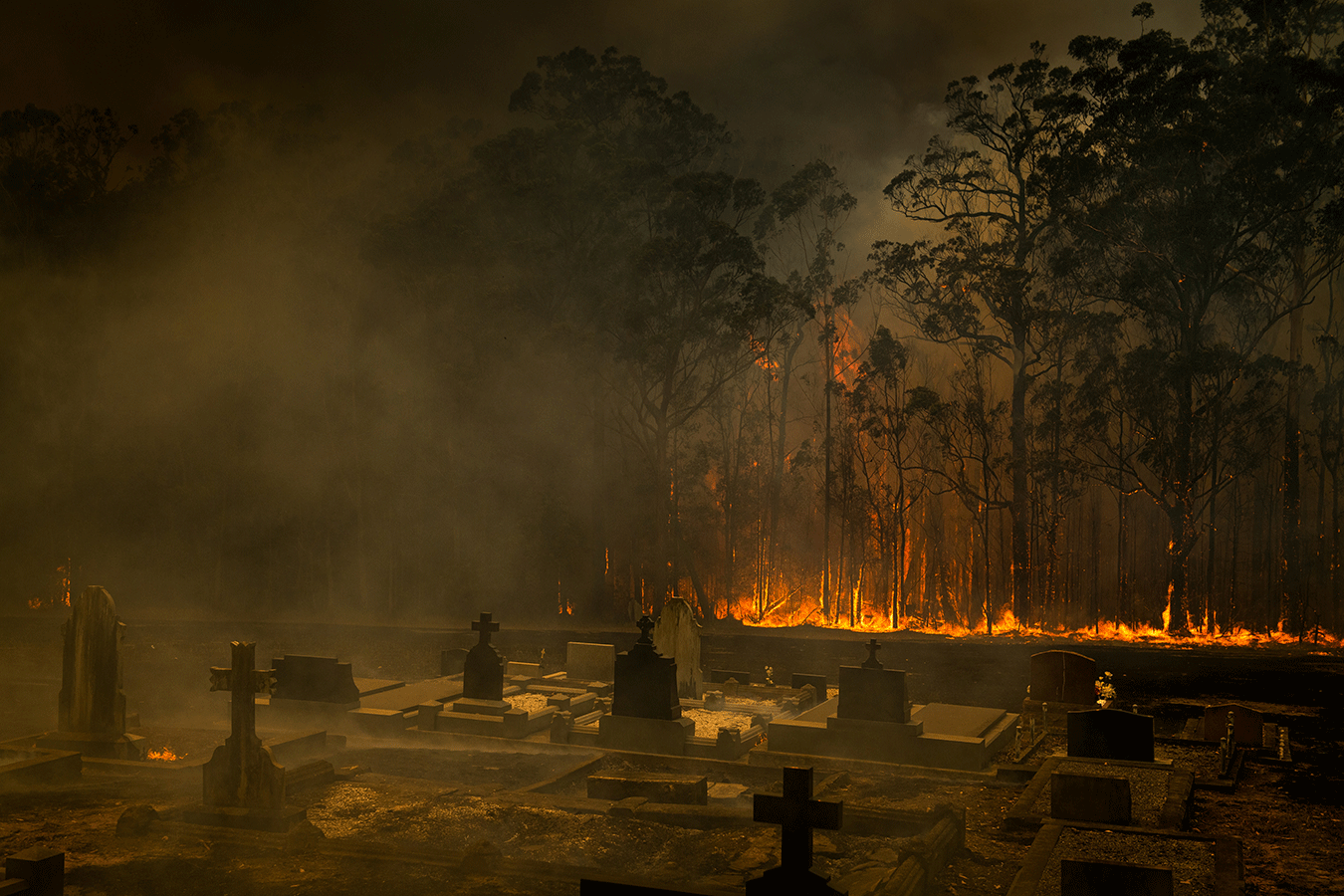 A graveyard close to The corner of Princess HWY and Fishermans Paradise Road Conjola, NSW. Matthew Abbott for The New York Times.
So you came home from Taree and you had a sense that you were in for the long haul. How did you retain longevity through such a long fire season?
After the first story for the New York Times, international interest in fires just dropped off. Unfortunately, the stories I am often interested in -– and the relationships I have – are with international outlets. So I was photographing fires through November and December but I couldn't get the work published.
On December 31 – two months later – I was on holidays down the south coast. Coincidentally, Nick Moir had a house nearby. So we were chatting all the time about the weather and predictions.
He saw an intense weather system coming through. I think it was Friday night. We started preparing for it, but I was still very much in holiday mode.
I left quite late that morning on the 31st. Cobargo had been burning already at that point since around 3am. Normally fires don't get really crazy until mid-afternoon but this was a very early start. I was way behind, and hours away.
As it turns out, there were fires everywhere and I drove right into the middle of a beast of a fire at Conjola at 10am. One of the things Nick always taught me was if you find a fire, just stay with it – don't worry about what is happening elsewhere, as you can often leave and not get access to anything.  
So I found myself in the middle of this catastrophic fire without other media around and very little RFS. I feel lucky I was able to be there and document it - it was a historic moment.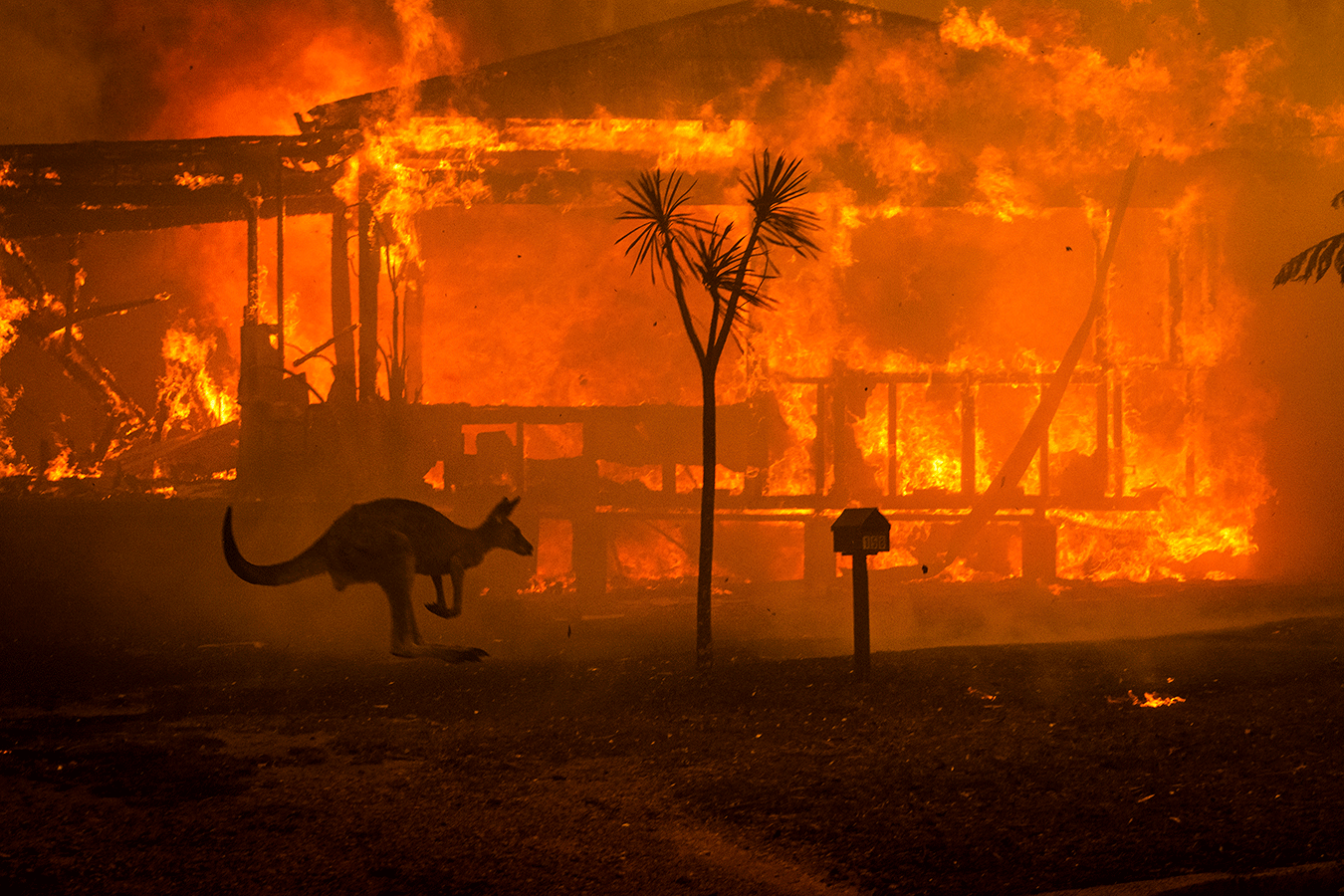 A kangaroo rushes past a burning house in Lake Conjola, NSW, Australia. Tuesday the 31st December 2019. Matthew Abbott for The New York Times.
This image was shared by news outlets, Greta Thunberg and celebrities worldwide. Not many people get to experience an image they've made becoming so well known. What was that like as a photographer?
When I saw the kangaroo hopping towards the house I had a very short time to react. There was so much going on that I barely registered taking the photo as there was so much else to keep documenting. So I'm thinking, "What's next? I have to make the most of my time here".
Because it was the 31st, I drove back from my most intense fire and just 100kms up the road my family were all trying to celebrate New Years Eve. It was such a culture shock – it was surreal. 
The following day, as I was trying to do family time at the beach, I saw that the kangaroo photo made the front page of the NYT.
We were trying to holiday but there was smoke everywhere, dead birds washing up against the shore. It was a terrible summer.
The next morning I woke up, January 2. My Twitter was blowing up and it was on nearly every front page in the UK. From that point on, the Australian fires were a massive international story.
It was great to see it shared so widely. It's rare that a photo taken on assignment for one newspaper is seen by so many people in the traditional and social media.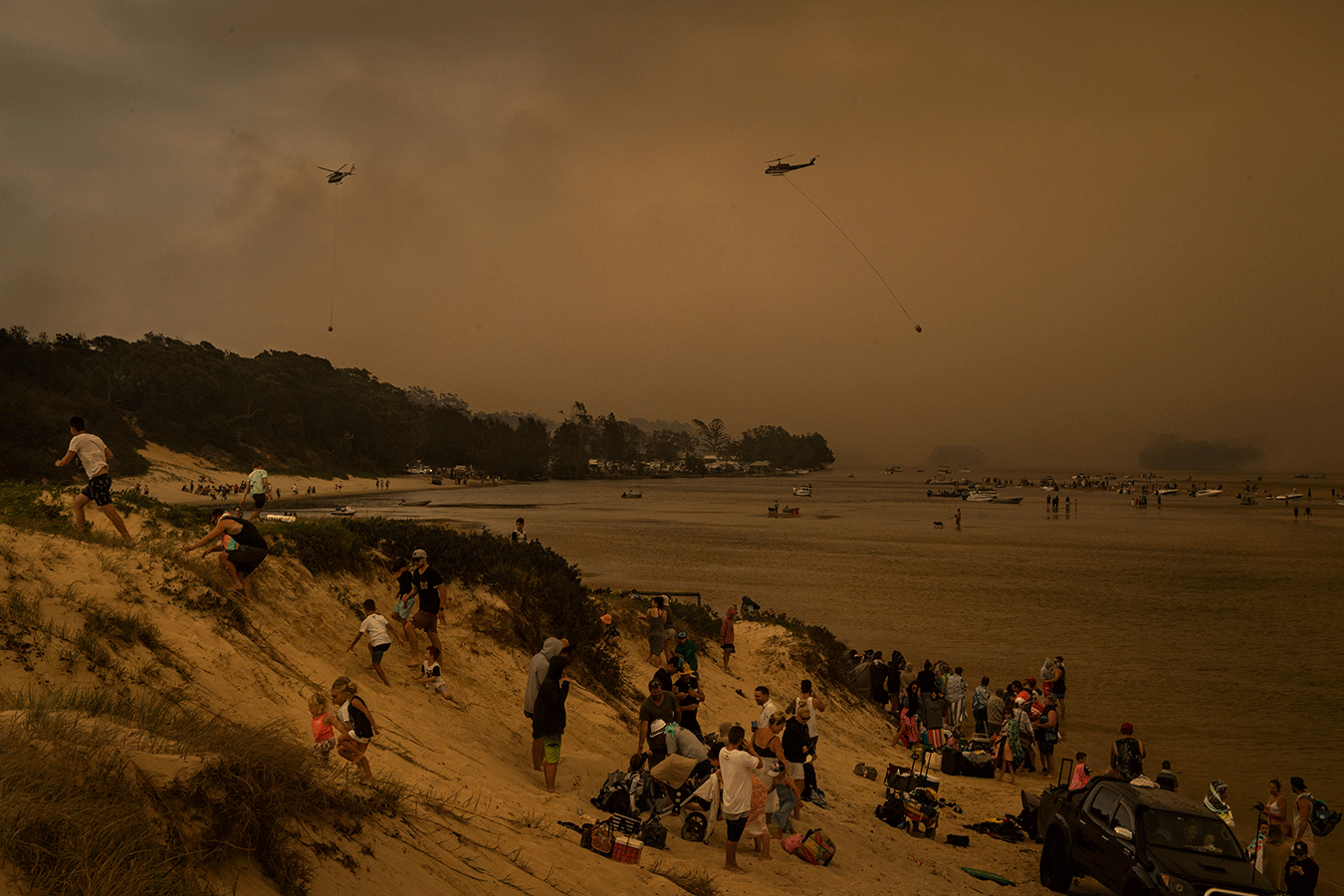 In Lake Conjola, people take refuge on a beach near the caravan park as the fire approaches from the Southwest, threatening the town and destroying property. Thousands of holiday goers have been cut off and stranded without power, food and water by the New Years Eve fires. Matthew Abbott for The New York Times.
Can we walk through some of the other images selected by Word Press Photo – starting with the people on the beach? It looks like the end of the world.
That was made shortly after the photograph of the kangaroo in Conjola. New Year is one of the busiest times for some of these South Coast towns. People were on holiday, partying. And all of a sudden, there were several one-road-in communities that were completely cut off.
The challenge of documenting an event like this is that you are always missing photographs. There's so much going on and all at the same time.
I photographed the kangaroo, documented the town, raced to the beach as I knew people were sheltering there. And it was shocking to see a couple of thousand people standing in the water like they were fleeing violence, like refugees during a war.
In a first world country like Australia we are not used to this kind of thing happening.
I think the reason this was such a massive story is because for the first-time, everyday Australians who don't necessarily live in the bush were directly impacted by a catastrophic event that's a consequence of climate change.
This whole season, but especially that moment, made people realise that their life can be affected.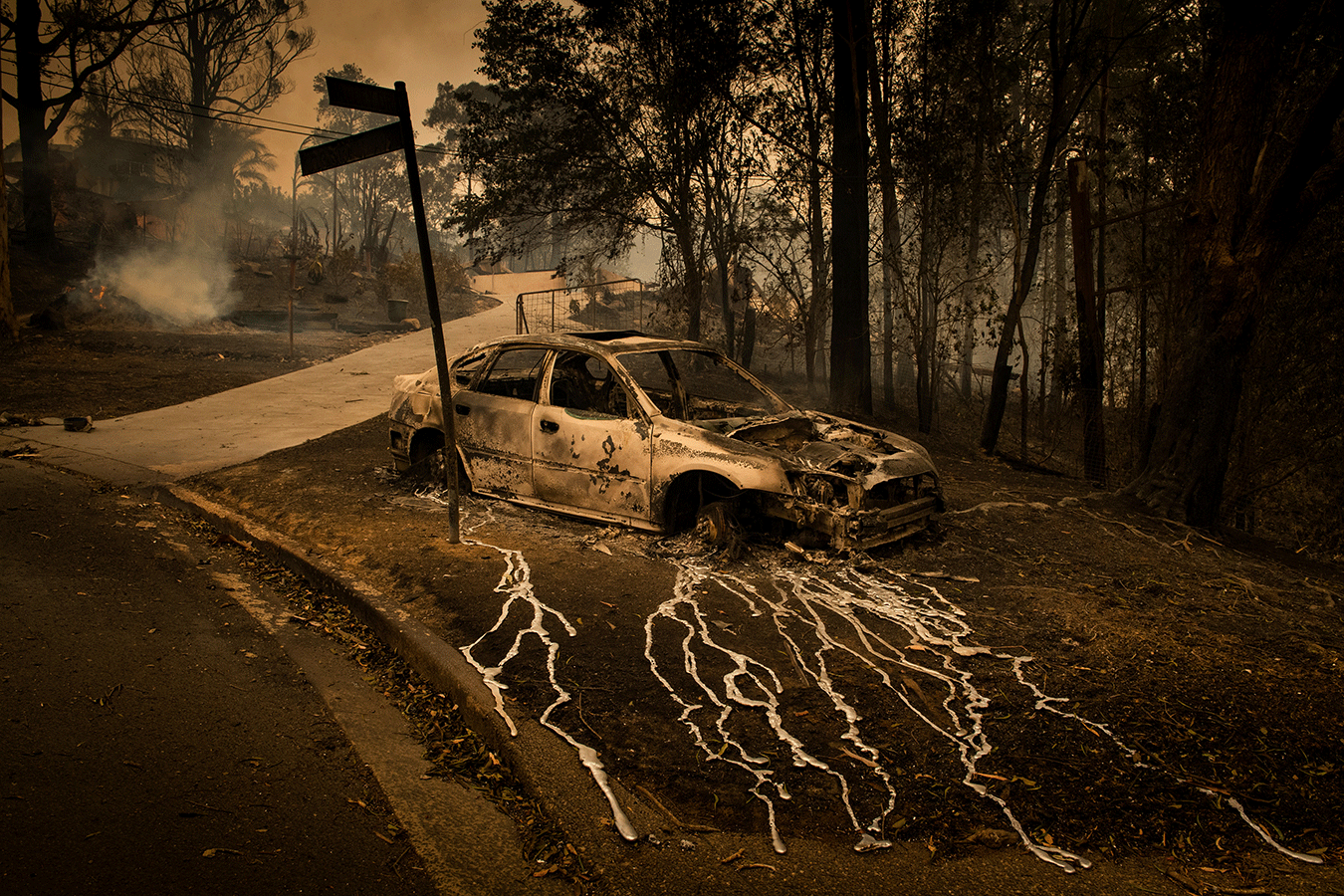 A melted car on a street corner in Conjola Park. Two people died and at least 70 properties were lost. Matthew Abbott for The New York Times.
Melted car: same day?
That was just up the road from the beach. I like this photo and I spent a long time composing it. It spoke to me immediately. This whole suburb had been wiped out. I saw the aluminium melting like blood. It gave it an emotional connection and indicated just how hot it must have been.
I'm trying to make images that are challenging, surprising. Images that make people stop to question what's going on.
My role as an image maker is to make people feel. And wonder.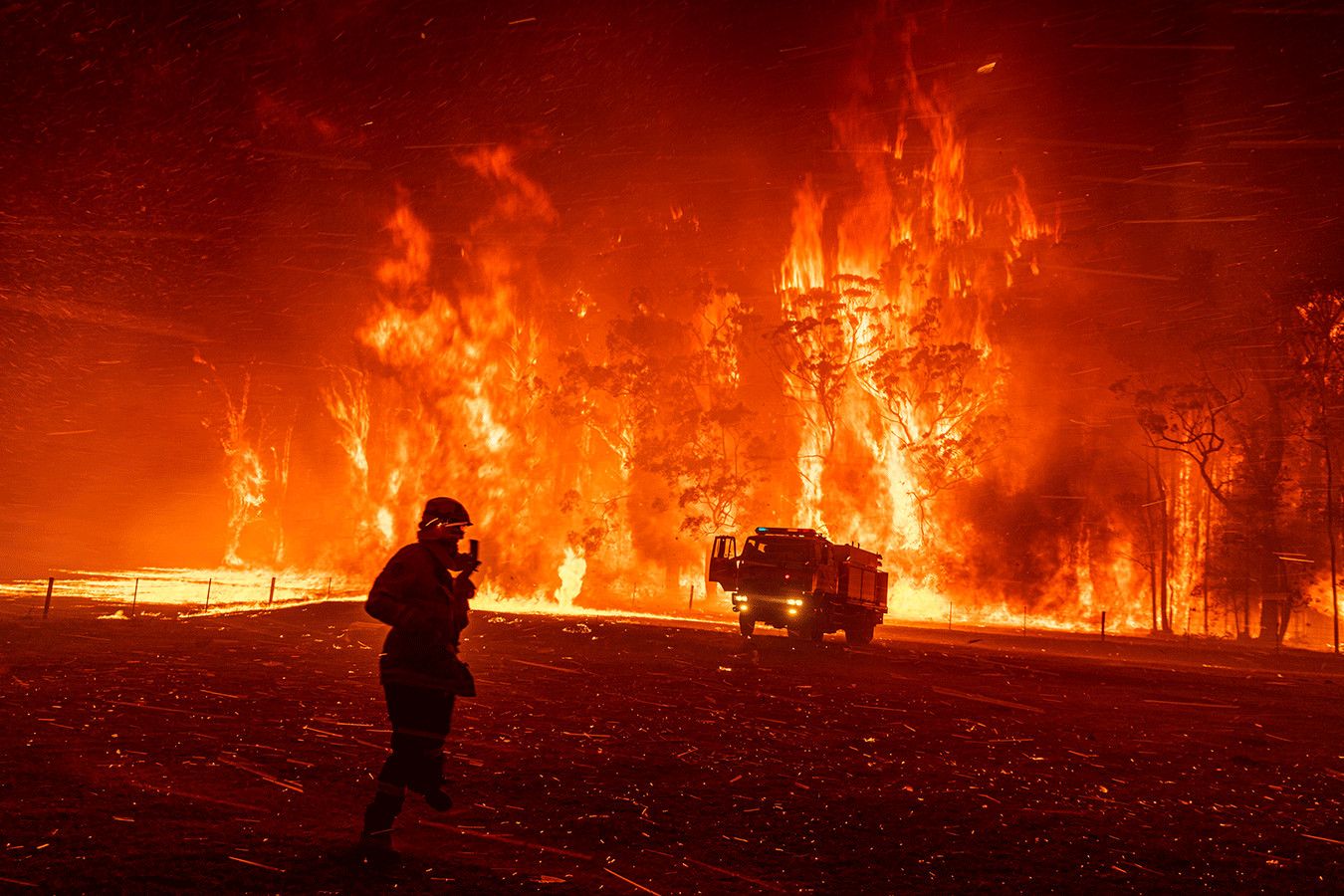 A fire erupts from bushland, 'crowning' the tops of the surrounding eucalyptus trees, forcing firefighters to flee. Matthew Abbott for the New York Times.
What about the image of the wall of fire?
The fire was moving super slowly, coming up about four metres from the ground. We were standing in a massive clearing. There was a house 50 metres behind me with a 200 metre clearing each side of it. It should have been easy to protect from fires. It felt very safe.
Nick Moir and Dean Sewell were both there that night. We'd been trying to find fire the whole day and it felt like nothing was happening. Suddenly, the fire rose up like a wave and just did not stop. It went from this tame fire to a 100 metre wall of flame in the space of 15 seconds - really intense.
With all that forward momentum it reached the very top of the trees, and in the crown of the tree are obviously the leaves which burnt fast and exploded into a fireball shooting up into the air. They become embers, millions scattering in our direction.
That's when Nick took that photograph of the guys running (I am actually the second guy in that photo to the left). It was like a bomb had gone off. There is some well shared footage shot of this fire by the firefighter in the foreground also.
If you look closely there is one guy who very bravely stayed with the truck and you can see his arm extended, about to close the door. The house that was 200 metres away was beginning to burn and it was challenging to save it.
What does it mean to you to have this work recognised by the WPP?
I feel really proud it's been recognised by World Press. As a freelance photojournalist, one of the challenges of working here is finding stories that have an international point of view. When this big story came to Australia, it felt good to make a contribution and have my images out there being seen by the world.
It validated all the work we'd been doing on the drought for many years – work that was hard to get people to care about.
All of a sudden, we had a climate change catastrophe on our door step and the world was watching.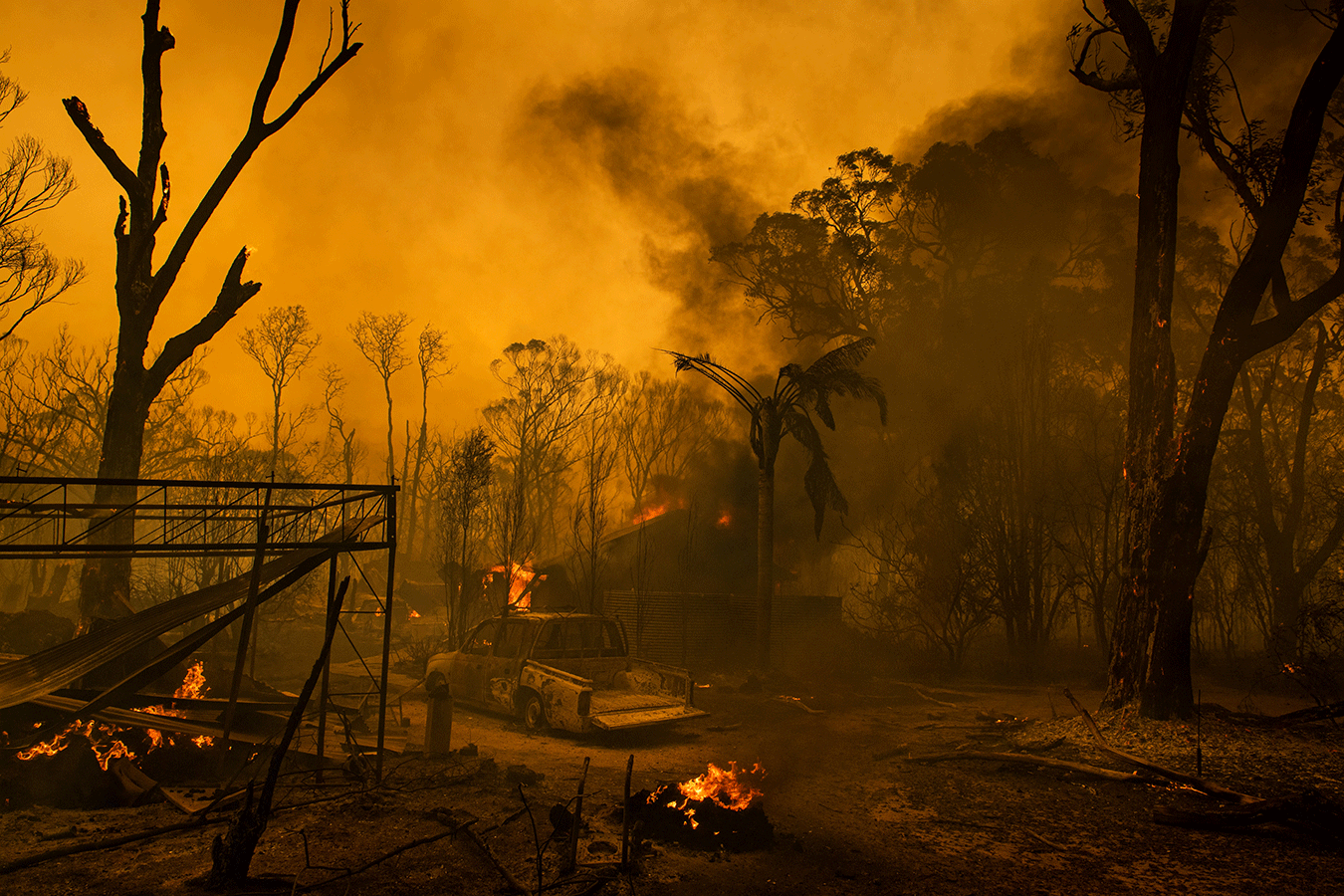 A property in Balmoral was completely destroyed by the Green Wattle Creek wild fire when it roared through the area twice in three days. December 21, 2019. Matthew Abbott for the New York Times.