World Press Photo feature artist: Sean Davey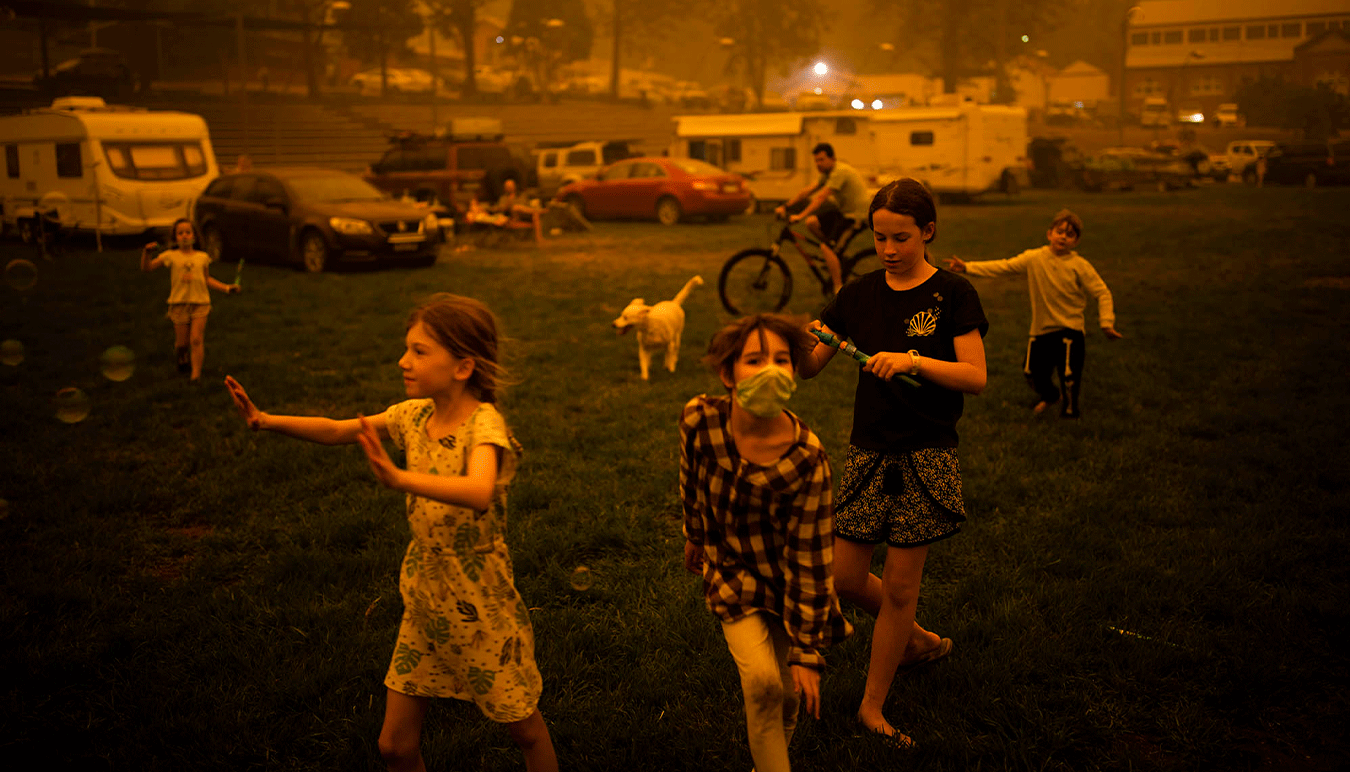 Canberra news and documentary photographer Sean Davey won second place in Contemporary Issues, Singles at the 2020 World Press Photo Contest, now showing at the State Library of New South Wales until October 18. We caught up with the Australian talent featured to learn more about the important stories told within their work.
---
Bushfire Evacuation Center
Abigail Ferris (in mask) plays with friends at a temporary evacuation center in Bega, New South Wales, Australia. Abigail and her family had been evacuated from a nearby camping spot during bushfires on New Year's Eve.
Widespread drought conditions, higher than average temperatures and strong winds triggered devastating bushfires in New South Wales and other regions in Australia, well ahead of the usual bushfire season. By the end of January 2020, more than 30 people had been killed, 3,000 homes lost, and around 12 million hectares of land burned (nearly three times the size of the Netherlands). The months from February 2017 to the end of 2019 had been the driest on record in New South Wales for any 36-month period. University of Sydney scientists were among those who saw the drought, low humidity and westerly winds as part of the climate emergency. Australian prime minister Scott Morrison faced a public backlash for his response to the fires and for his continuing reluctance to link them to Australia' s climate policy.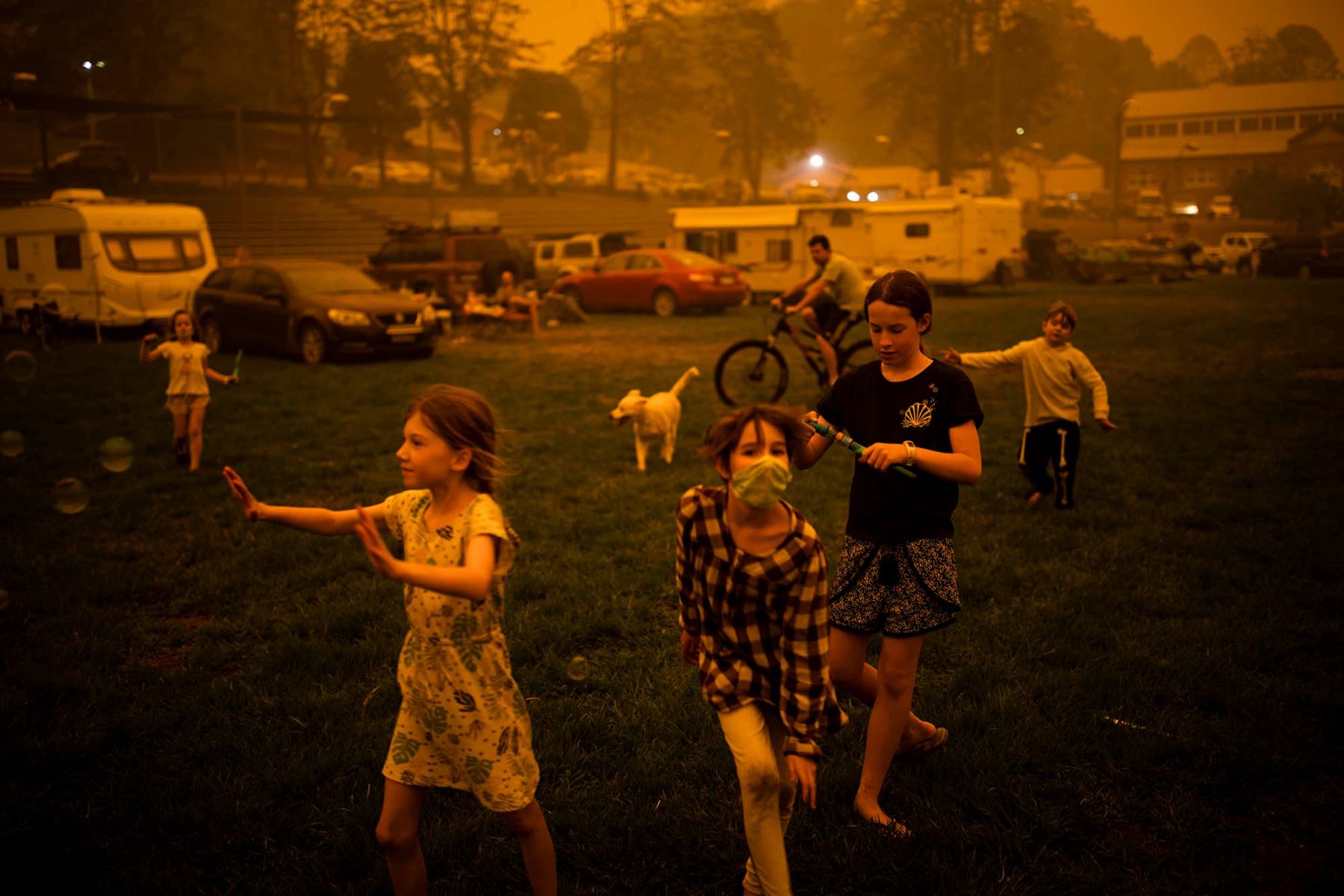 Bushfire Evacuation Centre © Sean Davey, for Agence France-Presse

On 31 December news spread that massive fires had impacted towns on the south coast of New South Wales. Living three hours away in Canberra, and with my car already prepared for covering the ongoing bushfire crisis, I made my way to Bega and arrived in the late afternoon.
Many roads were closed due to the bushfire, and large parts of the south coast were completely cut off with no electricity, fuel or water. Even getting there was an arduous journey.
Locals and tourists alike had been evacuated to the Bega Showgrounds for safety as the fires were still ongoing and there was great fear that other towns would be impacted, it is not an exaggeration to say it was a chaotic situation.
Upon my arrival I saw hundreds, if not over a thousand people camped with their tents and caravans set up. The smoke was thick, turning day to night with an strong orange glow.
Many people work in face masks to protect themselves form the smoke and there was little to no access to information about what was happening. Many people were asking where I came from and how I got there, evidently weighing up how they could possibly themselves and their families to safety.
I saw a group of children playing in the middle of the show grounds, and made my way to them. I approached a woman whose daughter was in the group, and asked how she was, identifying myself as a photographer. Her name was Kath Ferris and her daughter Abigail is the young girl in the face mask in the picture.
Kath and her family are from Canberra also and had evacuated from a nearby campsite and had come to the show grounds for safety. They were on the way to visit family in a nearby town of Candello, who unfortunately lost their home in the fire.
The children appeared to be very happy, and in that microcosm, the gravity of the surrounding situation seemed suspended by their innocence.
I knew there was a strong picture to be made in this situation, and looking through the camera's viewfinder, I saw the scene as a photograph, as well as being there in real life. When I get this feeling with photography, it is like a type of time travel, very surreal, and it is something that only happens very rarely. When I reviewed my pictures from that afternoon to send to the desk, I knew this picture would be the one, even though I sent two variations of the same scene. The surreal quality I felt when making the image is still there when I look at it today.
I let Kath Ferris know the picture was nominated for a World Press Photo Award. It is undeniably a great professional honour to be recognised by the jury of World Press Photo, however in the context of what so many people have been though this summer, and what many more have lost, on a personal level it is bitter sweet to celebrate such an achievement.
---
Sean Davey for Agence France-Presse
Shot on the Canon EOS 5D Mark IV
Instagram @kenton.davey
Website http://www.seandavey.com.au/