Ultra-fast, and responsive – first details of EOS R3 revealed, Canon's latest professional mirrorless for sports and news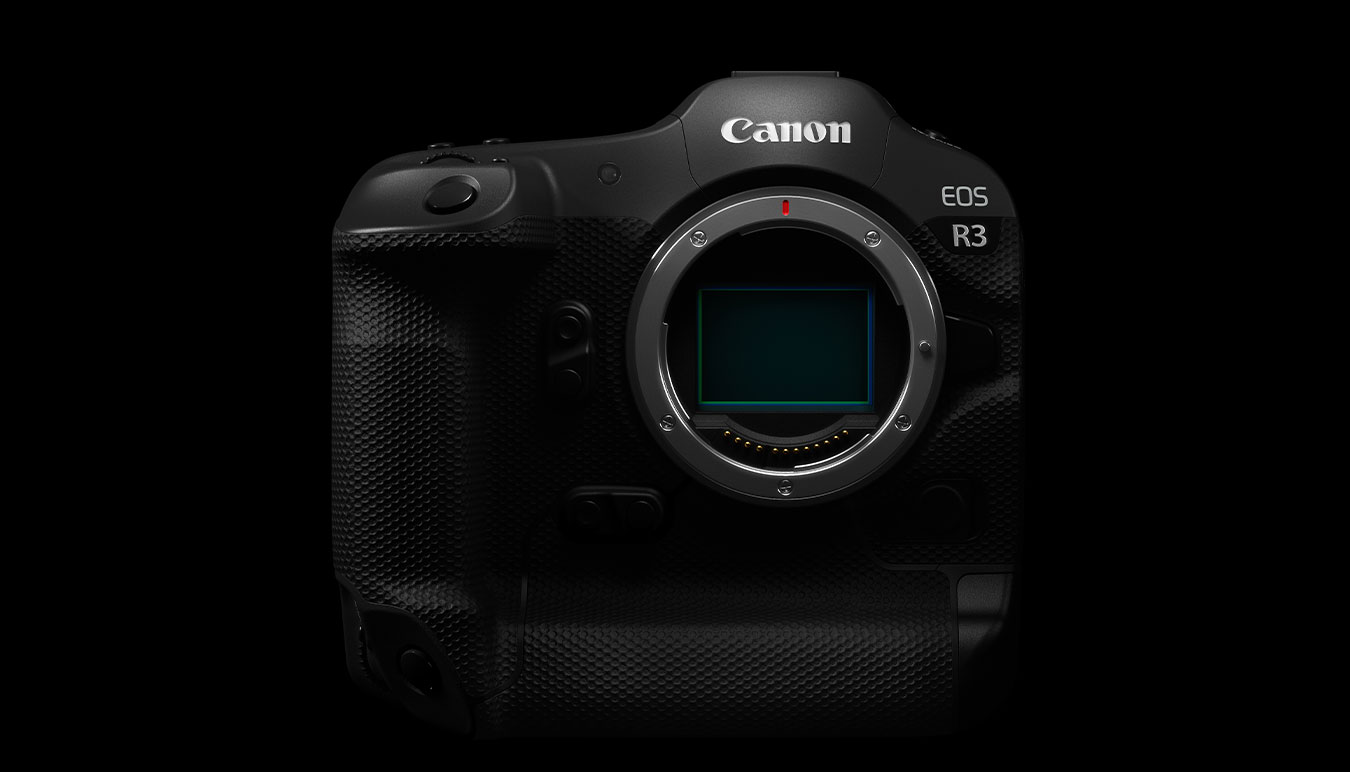 Sydney, AUSTRALIA – 14 April 2021: Today, alongside the news of three new innovative RF lenses and a new version of Canon's Mobile File Transfer smartphone app, Canon Inc. announces the development of EOS R3 – its latest high-speed and ultra-responsive professional mirrorless camera. With its ground-breaking design, the camera will empower professional sports and news photographers to meet challenging demands, outpacing mirrorless EOS cameras to date. Boasting qualities seen in Canon's DSLR and mirrorless bodies, the EOS R3 truly will be a hybrid, next generation camera for the sports and news photographers of today and tomorrow.
The EOS R3 will feature a new Canon-developed back illuminated, stacked CMOS sensor, a powerful DIGIC X imaging processor, shooting capabilities of up to 30 frames-per-second (fps)[1] with AF/AE tracking, eye, head and body detection and a pioneering new autofocus Eye Control Function. It will be the ideal camera for action photographers looking for quality images, both still and moving, of objects travelling at fast speeds.
The currently-in-development EOS R3 is based on the concept of high-speed, high-sensitivity, and high-reliability. The EOS R3 will be introduced into Canon's line-up of professional and enthusiast cameras that currently includes the EOS-1D X Mark III flagship DSLR camera (released in February 2020) and the EOS 5 series, including the EOS R5 full-frame mirrorless camera (released in July 2020).
Built on the revolutionary EOS R System, with its unparalleled RF Mount and paired with one of Canon's innovative RF lenses, the camera will offer capabilities unseen in any other EOS camera/lens duo. With lenses like the today launched RF 100mm f/2.8L Macro IS USM, RF 400mm f/2.8L IS USM and RF 600mm f/4L IS USM, professionals can achieve optical excellence and performance.
Claiming the title of the world's first autofocus (AF) macro lens with 1.4x magnification - the versatile RF 100mm f/2.8L Macro IS USM is a kit essential for all photographers, from enthusiasts to professionals. Featuring the new Spherical Aberration Control Ring, photographers can vary the look of the background and foreground bokeh, creating striking imagery unlike ever before.
Here's five things you need to know about the new EOS R3:
 1.     High quality, at high speed
The EOS R3 will be the first EOS series camera to feature an entirely new 35mm full  frame, back illuminated, stacked CMOS sensor, developed by Canon. The camera will feature a DIGIC X image processor for high-speed image processing that realises high-speed continuous shooting of up to 30 fps[2] with AF/AE tracking when using the electronic shutter. In addition, the camera will significantly reduce image warping - a common challenge with electronic shutters; and, will also be capable of capturing moving subjects with reduced noise in such low-light environments as indoor areas or night time scenes– - perfect for the likes of professional sports photographers challenged with capturing action within a fraction of a second.
 2.     Impressive tracking of fast-moving action
Professionals can push creative boundaries with pin-sharp accurate tracking and focus on fast-moving action. The EOS R3 will feature next generation Dual Pixel CMOS Auto Focus (AF) capable of tracking subjects' eyes and heads as well as a new capability to detect subject torsos, while travelling at speed – excellent for capturing even the finest of details in a split second. What's more, Canon INC has revealed development is also underway to enable detection of additional subject types[3].
 3.     AF control – with your eye!
The EOS R3 will feature new and improved technology first seen in Canon's EOS 5[4]. The EOS R3 will be the first EOS digital camera to provide a new generation of photographers with ground-breaking Eye Control Function, which enables users to simply select and move the AF point using their eye via the viewfinder[5]. This instinctive feature offers professionals natural and speedy control over AF. Reducing the time to focus, which is usually done with a multi-controller/button, this feature will again be perfect for photographers looking to capture the most important subject for their frame at speed – whether that's during a news conference or photographing a team sport.
 4.     Professional build
Inspired by the EOS-1D series, the EOS R3 body will allow for ultra-intuitive, reliable, and ease of use control in the most demanding professional situations. Professionals can expect the same durability, dust, and moisture resistance as provided in Canon's legendary EOS-1 series bodies. The camera will also feature the integrated vertical handgrip that EOS-1D series users love and trust.
 5.     Fast connection – introducing Canon's new Mobile File Transfer
The EOS R3 will be compatible with Canon's Mobile File Transfer smartphone app[6]. The new software provides a new way for professionals to transfer images and speed-up workflow while on the move, using mobile network services, without the need for wired LAN equipment.
Version 1.2 of Canon's Mobile File Transfer smartphone app  for iOS will be available via the Apple App Store in June 2021. This version will be compatible with Canon's EOS-1D X Mark III, EOS R5, and EOS R6 in addition to the impending EOS R3. Android support will be added in the future.
Initial EOS R3 key features announced today by Canon INC (14th April 2021) are:
New Canon-developed 35mm full-frame, back illuminated, stacked CMOS sensor
High speed 30fps electronic shutter with AF/AE tracking
First Canon digital camera with Eye Control Function
Improved subject eye and head detection with a new capability to detect subject torsos
EOS -1 series dust and moisture resistance
Compatible with Canon's Mobile File Transfer App[7]
Further announcements:
Today, Canon Australia also announced the RF 100mm f/2.8L MACRO IS USM – an impressive macro and portraiture lens which is also the world's first interchangeable AF macro lens for full frame mirrorless cameras with 1.4x magnification[8]. Furthermore, Canon Australia also revealed details of the new RF 400mm f/2.8L IS USM and RF 600mm f/4L IS USM – two telephoto prime lenses designed to meet the demands for sports and wildlife professionals, with incredible focal lengths and capabilities. They are set to be ideal partners for the EOS R3.
The RF 100mm f/2.8L MACRO IS USM, RF 400mm f/2.8L IS USM and RF 600mm f/4L IS USM lenses will be available in Australia from authorised local dealers from late July 2021. Pricing will be set at dealer discretion. These three new lenses will be supported by Canon Australia's 5-year warranty when purchased from an authorised Canon Australia reseller[9].
More information about today's launches can be found here and you can stay updated on EOS R3 news by signing up to SUNSTUDIOS' email list.
---